TODD-AO PROCESS HISTORY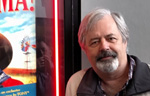 Reflections on the 60th Anniversary of Todd-AO screening of Oklahoma
By Dick Whitney
I began working at American Optical 41 years ago, and today I work for Zeiss, which is now sponsoring the Museum. They purchased AO's eyeglass business 10 years ago. My Father, Donald Whitney, began working at AO in 1947 in ophthalmic lens design. He was hired by John Davis, who later would be involved in Todd–AO.
The Ethel O'Brien Printer. Letters from Walt
By Walter P Siegmund
During our big move from Pomfret to Brooklyn many things were found which were long hidden and forgotten, including more old Todd-AO files and photos. You will may find the enclosed material of further interest in connection with the printing of the Todd-AO "Process". These are descriptions and original calculations on various ideas about corrective printing the release prints.
Schauburg Cinerama Premieres New "Oklahoma!" DCP 2. October 2014
By Born & Hauerslev
Fred Zinnemann's beloved OSCAR winning musical "Oklahhoma!" (1955) will have it's European DCP premiere at one of the most prestigious 70mm cinemas; the Schauburg in Karlsruhe, Germany. It is a single screening of the new and much anticipated digital 4K restoration of this classic musical by Rodgers & Hammerstein.
Todd-AO Sales Brochures
Provided by Robert Weisgerber
• Sales Brochure #1
• Sales Brochure #2
• AP65 65mm camera Brochure

Todd-AO Conference 1954 at American Optical Company Research Center
By Brian O'Brien, Jr
The people on the picture are from left to right: Skyler Sanford, Bob Surtees, Brian O'Brien, Jr., Walter Siegmund, Mike Todd, Steve Macnielle, Fred Zinneman, Art Miller, Brian O'Brien, Oscar Hammerstein, Arthur Hornblow
Restoring 70mm Movie Musical Oklahoma! at 30fps
By Bryant Frazer
The restoration premiered April 10 at the Chinese Theater, but the restoration process actually began about nine years ago. At that time, FotoKem had the opportunity to assess the degraded quality of the film's camera negative, which was badly faded. At that point, Fox asked that a new interpositive be made.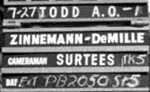 Newly Restored Oklahoma! to open TCM Classic Film Festival
This unique 4k presentation, painstakingly restored from 65mm Todd-AO elements by Twentieth Century Fox and Fotokem, will be screened at 30 frames per second — the same frame rate as when the film was originally released in 1955. The original 6 - track soundtrack has been also restored and re - mastered at Twentieth Century Fox, in collaboration with End Point Audio and Chase Audio by Deluxe.
Brian O'Brien, Jr. Passed Away
Brian O'Brien, Jr., 90, born March 13, 1923, passed away at Matulaitis Rehabilitation and Skilled Care on September 11, 2013, after a period of declining health. He was born in Pittsburgh, PA, the only child of Brian and Ethel (Dickerman) O'Brien. Brian was predeceased by his beloved wife, Kathryn "Towie" (Jensen) O'Brien.
The Todd-AO Process
By The Todd-AO Corporation
The ultimate result of intensive research by a team of research and engineering scientists headed by Dr. Brian O'Brian: "a process of motion picture photography and projection that establishes the illusion of participation in the action"
"Oklahoma!" - The First Movie Produced by Todd-AO
By Gordon Macrae
On Sunday night I will act as the host of one of the most important telecasts of my career. At that time, I will tell the story of how "Oklahoma!" was made. I will be helped in my storytelling with most of the principals from "Oklahoma!", including the wonderful team of Rodgers and Hammerstein.
Todd-AO Process Shown At MGM Studio
By The Reflector
This screening, followed by a second showing in the evening to people prominent in the Hollywood motion picture industry, resulted in "rave" notices in Hollywood and Los Angeles papers, as well as feature stories in the New York Times and Variety
Walter Siegmund Remembered
By Thomas Hauerslev
It is with great sadness I must report the passing of Walter Siegmund, one of the pioneers and engineers of the Todd-AO process. Walt was extremely kind and helpful, and always referred the "days of Todd-AO" to be among the happiest days of the working life.
Todd-AO Birth date
By Brian O'Brien
On October 15th, 1952 I received a phone call from a Michael Todd in New York City, who wished to come to see me at Rochester that evening. I had never heard of Todd, but it seems that he is a well-known Broadway producer.
How Todd-AO Began
By Brian O'Brien, Jr.

My father was a college professor, uninterested in show business, and had never heard of Mike Todd, so when Mike called him late one night saying he wanted a meeting, my dad was naturally cautious.
Distortion Correcting Printing Process
By Grant Lobban
The process was originally designed to eliminate keystone distortion, distortion resulting from using a deeply curved screen, plus correcting the distortion arising from use of the extremely wide-angle lenses
Todd-AO The Show of Shows
By John Belton
"Oklahoma!" was a hot ticket; even Cecil B. DeMille had trouble getting seats during the first few weeks of its run. Todd-AO was about showman-ship. It provided high quality subject matter, lavish production values, big screen entertainment, and six-track stereo magnetic sound.
The Amazing Optical Adventures of Todd-AO

By Jeff Hecht

Todd had just launched Cinerama, a wide-screen system that put the audience in the middle of the action. Yet he knew the cumbersome three-projector Cinerama system dated from before World War II, and had split with his partners even before the first Cinerama film opened.
Hollywood Comes to American Optical Co.
Roy C. Gunter Jr.

O'Brien was interested in what Todd said about Cinerama and sent Siegmund to New York to look at the system. He reported back to O'Brien that while the optical system was not really sophisticated, the audience response to the wide screen was clearly favorable.
Historical Wide Screen Gathering
By Thomas Hauerslev
Around the table were key personnel from three major large format systems from the history of movies; Cinerama, Todd-AO and IMAX. None of these gentlemen had ever met before.
Todd-AO 65mm Test
By Thomas Hauerslev
Wednesday 9 February 1994, review of a very interesting reel of 65mm film which had been discovered at the Nederlands Filmmuseum in Amsterdam.
---
TODD-AO SHORT FILMS
The Miracle of Todd-AO Final review May 1, 1956
Todd-AO's intense feeling of realism and its possibilities for intimacy and emotional participation convinced Richard Rodgers and Oscar Hammerstein that this was the medium in which to present on the screen their American classic, "Oklahoma!"

• Go to Full credits for "The Miracle of Todd-AO"
Full credits for "The March of Todd-AO"
Louis de Rochemont Associates has produced for Magna Theatres a colorful and absorbing 1500 foot film to be shown as a prologue to the roadshow engagements of "South Pacific".
"Man in the 5th Dimension"
By Thomas Hauerslev
One of the most unique and rarely seen Todd-AO films ever produced, was a 28 minute film filmed in 1963 to be shown exclusively at the Billy Graham Pavilion at the 1964-65 Worlds Fair in New York
Full credits for "CineSpace 70"

Demonstration Film in four major parts. Purpose of the demonstration film is to show the merits of filming with updated 65mm Todd-AO cameras. Following examples are included: zoom, steadicam, low light, high speed, slow motion, time lapse, CU´s to infinity, aerial, under water, exterior, people, nature, daytime, nighttime, extreme wide angle to telephoto etc.
---
WHAT IS TODD-AO?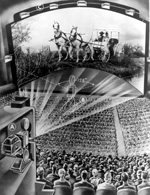 What is Todd-AO?
The Todd-AO Corporation press release 1B
"TODD-AO 70mm film, plus the TODD-AO special camera, plus the TODD-AO newly developed 6 channel high fidelity magnetic sound, plus the TODD-AO "all purpose" 70mm projector and the great arched TODD-AO screen equal the most revolutionary of all screen inventions, with clarity of perspective, detail and color reproduction never before achieved.

As a result, with TODD-AO, audience participation now has its fullest and truest expression. Todd-AO is the dream of Michael Todd, plus the technical skills of the American Optical Company whose research staff headed by Dr. Brian O'Brien, jointly succeeded in developing "a motion picture system that would photograph action in a very wide angle....with one camera....on one strip of film....to be projected from a single projector....on a very wide screen....with a quality so perfect that the audience would be part of the action, not just passive spectators."
Dr. Brian O'Brien 1953:

"....with Todd-AO (70mm), audience participation now has its fullest and truest expression".
---
TODD-AO PRODUCT CATALOG
Todd-AO Equipment Catalog
By Thomas Hauerslev
A catalog made - but never used officially - by Brian O'Brien, Jr. when the entire range of equipment was ready for production of the first movie "Oklahoma!" in 1954. Including rarely seen images of the Todd-AO Distortion Correction Printer, Mark III. A document to explain the equipment made for the Todd-AO Corporation manufactured by American Optical company between 1953-56.

• Go to Vol I | Vol II | Vol III | Vol IV | Vol V | Vol VI | Mark III Printer
Todd-AO's Mark III Distortion Correction Printer - A Galley
The Distortion Correcting Printing Process was initially meant to be an integrated part of the Todd-AO system. It was originally designed to eliminate three types of distortion, keystone distortion, distortion resulting from using a deeply- curved screen, plus correcting the distortion arising from use of the extremely wide-angle lenses, in both photography and projection.
Description of Todd-AO Mark III Printer Principle
By Dr. Walter P. Siegmund
The problem of obtaining any given overall frame keystone correction (K-correction) along with any given droop while at the same time matching the "intrinsic" printer keystone requires the control of several factors in the printing system. The focal length of the printer lens and the bridge angle determine the intrinsic keystone. The curvature of field of the printer lens and the bridge angle determine the droop.
"Oklahoma!" Printing Operation in the Todd-AO Mark III Printer
By Dr. Walter P. Siegmund
The American Optical Company has the responsibility of printing the release prints of the motion picture
"Oklahoma!"
. In order that this printing may have the closest supervision, it is planned that, at least for the initial stages, this printing will be done in the Research Center in Southbridge.
---
TODD-AO FEATURE FILMS

• Go to Fred Zinnemann's "Oklahoma!" in Todd-AO
The Samuel Goldwyn Co 1982 re-release of "Oklahoma!"
The Samuel Goldwyn Co
The re-release, to begin in November, will mark the first time "Oklahoma!" has been shown in its original form since its initial release. First dates will be in Oklahoma City, to coincide with the 75th anniversary of the state of Oklahoma, and in Los Angeles. Openings will follow in New York, San Francisco, Seattle and other key cities.

• New York Times
• Hollywood Reporter
• Other 1955 reviews
• Oklahoma! + "Oklahoma!"
Discoveries from the "Around the World in 80 Days" Collection
By Brian Travis
The Library's "Around the World in 80 Days" footage consists of 426 reels of picture and sound track material, in several languages, in 16mm, 35mm and 70mm.
Around the World in 80 Days
Cinestage 34mm in London
When "Around the World in 80 Days" originally opened in London, England in 1957, it was not in 70mm Todd-AO, but in the 35mm Cinestage format. The Cinestage format was a reduction from the 65mm 24 fps. negative with 6-track sound coming from a separate 35mm dubber.
FotoKem Restores "South Pacific"
FotoKem used its Imagica "Bigfoot" scanner to digitally recapture the faded glory of "South Pacific," the 1958 65mm Todd AO classic. 20th Century Fox tapped FotoKem's Large Format Group for the photochemical preservation and video mastering on the project, taking advantage of the facility's 65mm scanner and its high speed 4K transfer capabilities.

• Todd-AO Film Data
Howard Terpning and Joseph L. Mankiewicz's "Cleopatra"
By Gerhard Witte
A look at the different "Cleopatra" posters and the controversy surrounding the making of the famous poster art. Howard Terpning is a painter and illustrator of our time. He is the most renowned and honored Western artist painting today.
Todd-AO at "Sea"
By Thomas Hauerslev


Ron Fricke was very pleased to know "Baraka" was shown

in a Copenhagen swim bath. It was one of his original ideas to have it shown outside regular cinemas

• Baraka credits
• Baraka - A Visual Journal
---
TODD-AO PROCESS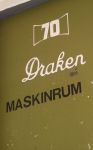 Oklahoma! in Todd-AO | Todd-AO | Magna Theatres | Todd-AO Corporation | Philips Collaborated On Projector Design | Todd-AO Projection and Sound | Six track recording equipment | All-Purpose Sound Reproduction | Rodgers & Hammerstein II | Mike Todd

Cine Aperagon | Magna Theatre Corporation | Todd-AO parts | Todd-AO patent | Todd-AO People | First Industry Demonstration | The Todd-AO Process | The Regent Theatre in Buffalo | Reference and reading | Todd-AO time table |
Todd-AO Components
Magna Theatre Corporation, Patents, AO Engineers, Todd-AO articles,
TODD-AO CINEMAS
The First Todd-AO Theatre in Scandinavia
By Thomas Hauerslev
3 Falke Bio is regarded by projectionists and devoteés of 70mm film as the best Danish cinema there ever was. It is sadly missed and vividly remembered as the cinema to watch 70mm and 6 Track Stereophonic Sound.
The Rivoli Theatre
By John Belton
In preparation for the premiere of "Oklahoma!", the Rivoli underwent an extensive, $350,000 renovation, including the installation of a new booth and new 1600 seats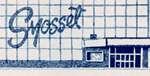 Cinerama and Todd-AO at the Syossett
by Joe Kelley
The screen frame had an adjustable curvature to accommodate the Todd AO specified deep chord depth while permitting 35mm Flat and Scope wide screen formats to form lesser chord depths.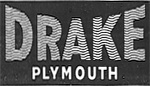 The Drake, Plymouth, England

By Kinematograph Weekly
The aim in designing The Drake was to match up to the conception of the showman's ideal form of presentation. We aimed at nothing less than perfection in public entertainment.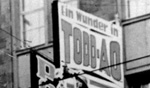 Todd-AO at the Savoy
By Udo Heimansberg
There were not too many 70mm screenings at the Savoy, because Düsseldorf already had six Todd-AO and one Cinerama theatre
---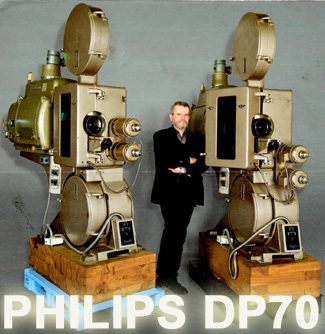 • Go to DP70 / Norelco AAII
---
TODD-AO IN THE LIGHT OF HISTORY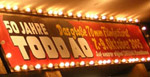 In the Splendour of 70mm
By Grant Lobban

While working on "This Is Cinerama" Michael Todd became convinced that there must be an easier way of achieving the same "wrap around" effect using only one projector and a single strip of film.
Grant's Blow-up Blog
By Grant Lobban
A blow-up is the term used to describe a print made by enlarging, or "blowing-up", smaller formats, usually those on 35mm film, but 70mm prints have also been derived from 16mm and even 8mm originals.
---
PEOPLE AND TODD-AO
Working for Mike Todd
By Glenda Jensen
Midori Tsuji was a fascinating and beautiful woman. She took care of everything for Mike and, occasionally, for Elizabeth. I wanted to be like her.
Working for Todd-AO
By Dan Leimeter
I became Chief Projectionist at TAO in 1981, and a few years later the Naify family sold their immense holdings in the United Artists Theatre Circuit, and redirected the cash into modernizing and expanding Todd-AO.
Robert Hopkins, Inventor of Todd-AO Lens dies
By Sharon Dickman
Robert Hopkins died July 4, he was 94. His lens designs included the Todd-AO lens used to produce high definition, wide aspect-ratio films shot on large format film
Walter P. Siegmund, a small bio
I was born in Bremen, Germany in 1925. We left for New York and arrived on September 13, 1930 and left immediately for Rochester, New York.
Walter Siegmund about Todd-AO
By Thomas Hauerslev
Todd-AO could be considered to have begun with the fateful meeting in 1952 between Mike Todd and Dr. O'Brien at the Rochester (NY) airport, where I was the silent witness. Who would have thought then that movies would again become so popular and lucrative? Did Todd-AO make the difference? It would be nice to think so!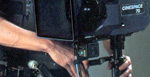 Garrett Brown meets Walter Siegmund
By Garrett Brown
Dr. Siegmund was a tall, gray-bearded, Nordic-looking fellow with a gentle professorial manner. He was completely film-savvy, in fact had developed Todd-AO.
---
---

• Go to Mike Todd Jr.'s "Scent of Mystery" in Smell-O-Vision

• Go to You are in the Show with Todd-AO
---

• Go to Motion pictures photographed in Dimension 150

• Go to Odeon Marble Arch D-150 brochure