• Go to Wide Visit With Willem Bouwmeester
---
CINERAMA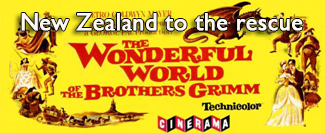 • Go to New Zealand to the rescue with "Grimm" Soundtrack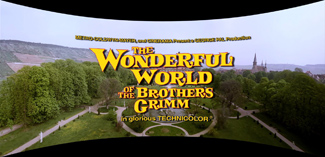 • Go to "The Wonderful World of the Brothers Grimm" Remaster Trailers

• Go to Cinerama Titles Around The World

• Go to "This is Cinerama": The North American 70mm Re-Release Engagements
• Go to "This Is Cinerama" The Original Roadshow Engagements
Cinérama Itinérant (Itinerama) Cinerama's Mobile Tent Theatres
By Gerhard Witte
A top priority of Nicolas Reisini, CEO of Cinerama, Inc. from '60 to '63, was to bring 3-strip projection to the widest possible audience, above all to the population in the countryside. Consequently, he created in a showmanly way a portable Cinerama, the so-called "Itinerama" which premiered in France in Mantes-la-Jolie on Monday, 4 September 1961 – "Why go to Paris or London to experience Cinerama, when Cinerama can come to you?!"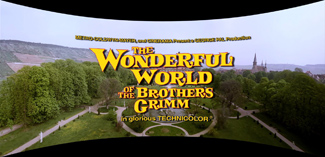 • Go to "The Wonderful World of the Brothers Grimm" Remaster Trailers
Information about the 3-strip movie "The Wonderful World of the Brothers Grimm"
By Gerhard Witte
Jacob and Wilhelm Grimm are mainly worldwide renowned for their collection of fairy tales – but they were also language- and cultural researchers, diplomats, lawyers, professors, librarians and politicians. They were born in Hanau as the eldest children of a Calvinist pastor's family with civil service ties.


• Go to Informationen über den 3-Streifen-Film "Die Wunderwelt der Gebrüder Grimm"
Betty York, A Mini Bio
By Betty York
When we [Johnny and I] separated I went to NY and successfully broke into photographic modelling and TV commercials, making good use of my SAG (film) membership which unions required. I also did freelance greeting card designs, building on the years I spent as a designer with the Hallmark Card Company in Kansas City.
California Zephyr and Cinerama Holiday
By Frank Brehm
Since its debut the California Zephyr had included among its ridership well known actors and actresses, foreign heads of state, as well as many others then in the public eye. One of those early riders was Louis de Rochemont, who proclaimed it "the finest train I have ever ridden." Because of his fond memory of that ride on the Zephyr Mr. de Rochemont invited the three railroads operating the transcontinental streamliner, to take part in his production of the second Cinerama film—"Cinerama Holiday."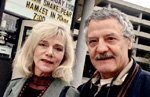 Beatrice Troller (1932 - 2015)
By Troller Family
Beatrice Stocklin Troller passed away on August 18, 2015 after a valiant battle with cancer. Beatrice was born on February 18th, 1932 in Basel, Switzerland, where she attended Kunstgewerbeschule, the school of arts and crafts. With her late husband, artist Fred Troller, she starred in the second Cinerama feature "CINERAMA HOLIDAY" (1955), directed by Robert L. Bendick and Philippe De Lacy.
HTWWW's "World Preview" in Paris
By Gerhard Witte
The Cinerama movie "How the West Was Won" (USA) had its official World Premiere on Thursday, November 01, 1962 at London's Casino Cinerama Theatre, where it subsequently successfully ran for more than 120 weeks. Previously, there had already been a "World Preview" of the movie at the Empire Cinerama Theatre in Paris on Tuesday, October 02, 1962.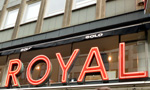 "Search for Paradise" Cue Sheet
The soundtrack of a Cinerama feature could be formatted as 6-track stereo, with mono surround or as 7 or even 8 track stereo with stereo surrounds. In some films surround format would change within the feature. The projectionist would follow a cue sheet indicating when sound channels had to be changed during the performance. This is an example from Malmø in Sweden.
The Last Cinerama Wrap Party
By Strohmaier & March
The digital scanning of "IN THE PICTURE" is complete and it has been about two years since it was filmed, so now that we have the HD digital version of the film, it's about time for a wrap party. The BBQ and movie screening were a great success and a good time was had by everyone.
Introduction to How The West Was Won
By Professor Sir Christopher Frayling
How The West Was Won began life not with a script commission from the executives at Cinerama Inc or with an original treatment sent in from an agent, but with a series of seven historical articles in Life magazine—running from April 6th to May 18th 1959.
'In the Picture': The Return of Cinerama
By Johan Wolthuis
'In the Picture' had its European premiere on April 27, 2013, half a year after the Hollywood premiere, during the Widescreen Festival Weekend in Bradford , UK in the beautiful Pictureville Cinema, which is part of the National Media Museum and the only theatre in Europe with facilities to screen original Cinerama films.
Cinerama Color recovery examples
By Dave Strohmaier
Where we had several areas of missing negatives in "Seven Wonders", "South Seas Adventure" as well as the next title "Search for Paradise" we were able to go to the Library of Congress original deposit Eastman color prints stored there since the mid 1950s and scan these areas off of the faded prints.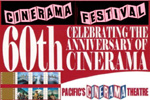 Cinerama Festival Diary 2012
By David Coles
A whole week of rarely seen Cinerama features, documentaries, breakdown films and a 3-panel film advertisement – all presented at the worlds most famous Cinerama venue – the Dome, near the corner of Sunset & Vine in beautiful downtown Hollywood, U.S.A.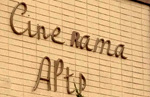 Cinerama Apartment
By Seamus Walsh
There are A LOT of these crappily-built apartment buildings from the late 50's-early 60's in Los Angeles. Many of them have exotic or grandiose names.
Cinerama Arrives
By William Latady
Finally, one week before opening night, installation of the Cinerama system was completed. Projectors had been aligned so that magnification of all three were equal, and the three films so positioned that they formed one image.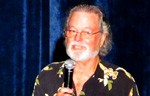 Saturday at Cinerama's 60th Anniversary
By Anders M Olsson
Impressions from the Cinerama festival in Los Angeles. Film star Russ Tamblyn introduced "Brothers Grimm".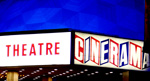 Cinerama 60th Anniversary
By Tom March
A picture report from the "Cinerama center of the world" at the Dome in LA - people from Europe and the US are together celebrating the 60th anniversary of Cinerama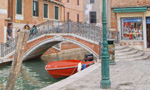 Cinerama South Seas Adventure in Venice
By Randy Gitsch
On Sept. 2, Dave Strohmaier, Tom March and myself left Los Angeles headed for the 69th edition of the progenitor of all film festivals, the Venice International Film Festival in, where else, Venice, Italy.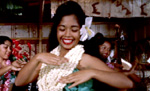 Cinerama Goes to Venice - Sensational Festival Screening
By Randy Gitsch
The Venice International Film Festival has now finalized the schedule for its 69th edition, and we wanted you to be the first to know when and where you'll get to see digital Cinerama within it.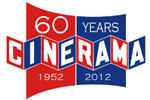 The Cinerama Dome Celebrates Cinerama's 60th Anniversary
Join us September 28th - October 4th at Hollywood's Historic CINERAMA Dome to celebrate Cinerama's 60th Anniversary! For the FIRST & ONLY time for one SPECTACULAR WEEK we will be playing twelve classic Cinerama productions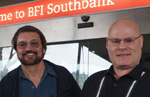 Dave Strohmaier and Randy Gitsch - in conversation with Mark Lyndon
Cinerama's future might evolve into a name on more than just a couple of theaters; Cinerama could come to mean a curved screen presentation; a noticeable distinct curved screen, perhaps not 146 degrees, but certainly more than a marginal curved screen.
"This Is Cinerama": The Original Roadshow Engagements
By Mike Coate
This list consists only of first-run, reserved-seat engagements. Not included in the list are return engagements, mobile presentations, drive-in engagements, the 70mm single-panel re-release engagements, and contemporary screenings.

• Go to in70mm.com's Cinerama page
"How the West Was Won": The Original Cinerama Presentations
By Mike Coate
This list consists only of first-run, reserved-seat engagements. Not included in the list are return engagements, mobile presentations, drive-in engagements, the 70mm single-panel re-release engagements, and contemporary screenings.
The Wonderful World of the Brothers Grimm - "Lost" Cinerama Film Reviewed
By Mark Lyndon
This legendary "lost" Cinerama feature has held up well over the years. For a fifty year old feel good film it still felt and looked pretty good. George Pal produced and directed the fairy tale sequences with Harry Levin for the real life drama.
"In the Picture": Filming Completed
By Dave Strohmaier
We shot the very last shot with the Cinerama camera the camera can go back to sleep for another 60 years until some other film makers discover it again!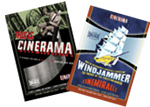 "Windjammer" and "This is Cinerama" released Blu-ray and DVD
By Flicker Alley
Now digitally remastered, the color, the music, the true artistry of these classics are reborn. Release date is medio September 2012, in conjunction with Cinerama's Official 60th Anniversary.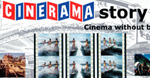 "The CINERAMA story"
By Johan Wolthuis
A brand new publication from International 70mm Publishers, about the unique large format process which has been brought back to life by the unbelievable work done by Dave Strohmaier and Randy Gitsch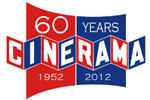 Ladies and Gentlemen, This is Cinerama!
By Thomas Hauerslev
Cinerama's 60th anniversary is celebrated in 2012, with the digital re-release of the original 3-strip film on Blu-ray and in selected theatres. Cinerama premiered in 1952 and revolutionized the exhibition industry with wide screns and 7-channel stereophonic sound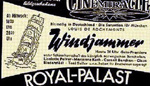 Cinemiracle/Cinerama in Germany
By Gerhard Witte
In Europe, cinemas for 3-strip films were only set up on a wide scale fairly late, that is at the end of the 1950s and the beginning of the 1960s. By then, other wide-screen methods such as CinemaScope and perhaps also Todd-AO had been broadly accepted.


• Go to Cinemiracle/Cinerama in Deutschland
A conversation with John Mitchell
By Cameron Glendinning
Let's go to Australia and meet a man who has a complete 3-strip Cinerama cinema in his garden. It all started when he heard on the grapevine that a certain storehouse was to be emptied.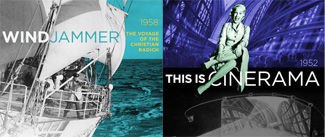 • Go to Flicker Alley presents "This is Cinerama" and "Windjammer: The Voyage of the Christian Radich" 2017 Authorized Restorations
• Go to 2018 European Cinema Cinerama Engagements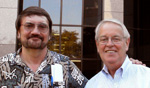 Scanning Cinerama Films
By Tom March
Now that the digital scanning of the negatives has begun, Dave Strohmaier and I were invited to the Image Trends Lab to observe the progress of the restoration work.
Historic Big Screen Films Get Major Digital Makeover
The complete catalog of Cinerama's 3-panel travelogue epics will be remastered in high definition for limited theatrical screenings at any digital venue and a home video release will follow.
The Birth of an Idea
By Ralph Walker
An architect had a unique conception of a building for a client at the World's Fair of 1939 in New York. That concept had a profound influence on the evolution of what became known as the entertainment wonder, Cinerama.
Finding Customers for a Product
By Lynn Farnol
The sponsors of Cinerama believed in Cinerama. They had faith that it presented a new sensation in entertainment. They believed that it was a new way of telling stories, without the old frame of the traditional motion picture.
This Cinerama Show
By Lowell Thomas
From coast to coast Cinerama has been the talk of the year. So far it has been presented in only three cities; New York, Detroit and Hollywood—with perhaps Chicago and one or two others by the time this appears in print.
---
FRED WALLER
mr. cinerama
By Ralph G. Martin
eye filling curved picture from three projectors and ear filling sound from multiple speakers made Cinerama seem real. Rollercoaster in this scale model gives the audience a hair-razing ride.
The Entire Development of the Cinerama Process
By Fred Waller
I'm going to tell a more or less chronological story of the entire development of the Cinerama process. It's not a short story but I'll try to keep it condensed.
How I Became A Trick Photographer
By Fred Waller
D. W. Griffith wanted a cyclone to destroy a distant Village, sweep clean a country side leaving destruction in its make and at a cross road destroy a particular Inn in a particular way. I was asked to make a cyclon and film it and quick too.
The Waller Flexible Gunnery Trainer
By Fred Waller
Before Cinerama, there was The Waller Gunnery Trainer. The Trainer was used by the U. S. Army Air Corps, U. S. Navy. and the British for the final training and retraining of machine gunners.
Cinerama Goes to War
By Fred Waller
ALTHOUGH CINERAMA had its Broadway premiere only about a year ago, that could hardly be called the first public demonstration. Years before Cinerama had been tested and approved by the U.S. Army, Air Force, the Navy and the Marines


Fred Waller's 1950 desk calendar. A fascinating account about who is visiting Cinerama and Vitarama.

• Go to Fred Waller's 1950 Diary
---
"CINERAMA HOLIDAY" REUNION 1997
A Get Together in Dayton
By David Page
This "Cinerama Holiday" performance would see "in person" appearances by the 2 couples who starred in the 1955 film - the Marshes and the Trollers.
Time Traveling to the New Neon
By David Joachim
"Cinerama Holiday", the second film produced in the process, is the most cinematic and dazzling of the three features I got to see. Yellows and greens make cameo appearances in a few scenes, but the starring color is pink
This is Oyster Bay
By Thomas Hauerslev
Behind her house, was Fred Waller´s old barn a.k.a. "Waller Stvdio". In this barn all Waller's ideas took form. Waterskiis, The Gunnery Trainer, Photometric Fit Picture and Cinerama.
See: Daughters of Mary St. Pius V Chapel
---
CINERAMA CINEMAS
Sound level in the Broadway Theatre
By Wentworth D Fling
Since the opening of "This is Cinerama" in the Broadway Theatre, there has been a lot of discussion about whether the sound is too loud.
This is Cinerama...at the London Casino
By W. G. Altria
The London Casino Theatre was selected, after an exhaustive survey, as the best available in London for the showing of Cinerama. Nevertheless, considerable difficulties had to be overcome to make it entirely suitable for the purpose.
Cinerama at the Plaza
By Eric White
For twelve years, from 1958 until 1970, Cinerama was exhibited at Melbourne's Plaza theatre. It was very popular in a period when the cinema business was struggling.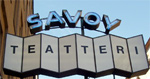 Savoy The only Cinerama venue in Finland
By Rabbe Sandelin
The Savoy was for a long time the biggest cinema house in Helsinki. It was built in 1937 in central Helsinki, when some old buildings were demolished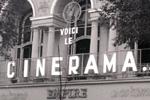 Empire - Cinerama, Paris Kingdom of curved screen
by Francois Carrin
CINERAMA arrived in 1955 in Paris near the Place de l'Etoile. It was a theatre called EMPIRE which was chosen to play "This is CINERAMA"
Cinerama Festival in Seattle
By Dave Strohmaier
Cinerama at the Pictureville
By Thomas Hauerslev
Canadian 70mm and Cinerama screenings
By Bill Kretzel
Ideal Theatre 1961
3-strip in Barcelona, Spain
By Ramon Lamarca
I was browsing through newspapers listings yesterday and I was amazed and the huge amount of blow-ups they had in Spain
---
CINERAMA FILM MUSIC
A musical Journey around the World in fantastic stereophonic Cinerama Sound
By Gerhard Witte
As I already owned the musical scores of several Cinerama films I thought, "most likely a simple compilation of the scores". My guess was wrong. This new 2-CD set is really a surprise and a listening pleasure. It assembles the musical highlights of all 5 Cinerama travelogue film scores together, cleverly compiled and digitally restored from the 35mm magnetic Cinerama films.
Liner notes for "The Brothers Grimm" 2-CD
By Jim Lochner
The Wonderful World of the Brothers Grimm was a pet project of producer George Pal, better known for such sci-fi/fantasy films as Destination Moon
"Brothers Grimm" soundtrack released by Film Score Monthly
This 2CD set presents a key work relating to fantasy filmmaker George Pal, composer Leigh Harline, and the widescreen Cinerama film process
---
Cinerama's 50th Anniversary
By Greg Kimble
"THIS IS CINERAMA!" - These three words changed movies forever, just as Al Jolsen's ad libbed, "You ain't heard nothing yet" had done in 1927. It was September 30, 1952 at the Broadway Theater in Manhattan
---
Matchline Elimination
By Richard C Babish
Matchline elimination begins in the camera and continues through the film handling process to the final projection. In the camera, four possible sources of trouble exist. These are edge vignetting, or masking, edge reflection, scratching and pressure exposure.
Using the Cinerama Camera
By Harry Squire
The Cinerama camera presents problems not found in other motion picture cameras. The following material is a discussion of the features that have been observed or points of knowledge that have been gained from experience in using the camera.
How Cinerama got the name "Cinerama"
By Richard C Babish
Fred Waller called a meeting of all the employees and offered to award a prize of a case of champagne to the one who came up with the most appropriate name. The winner was Waldo McLaury.
Cinerama Test Shots
By Lowell Thomas
We are starting off with this 35mm picture so you may the better judge of what you are now to see and her. We call it - C I N E R A M A
So This Is Still Cinerama
By Chace Productions, Inc
Cinerama, the format that earned it's designer, Fred Waller, the nickname "The Man Who Blew Up The Movies", made a return engagement to Chace Productions in the fall of 1998.
Adding the Sound to Cinerama
By Hazard E. Reeves
In 1940 Fred Waller, the inventor of Cinerama, invited me to a demonstration of his new process in the Rockefeller carriage house on West 55th Street in New York. Like everyone else who saw it at that time, I was tremendously impressed with it
The Atomic Age-In CINERAMA
In the Himalayas, is the Indus River, noted for its strong and swirling currents. In the middle of these rapids, last July 20, a boat containing eight men and a three-eyed Cinerama camera suddenly capsized.
Journey To The Stars
By
Darrin Scot
When THE SEATTLE WORLD FAIR opened last summer the "hit of the show" was the Spacearium featuring a new space motion picture system created and constructed by Cinerama for the Boeing Co. and the United States Science Exhibit.

• Go to The Cinerama page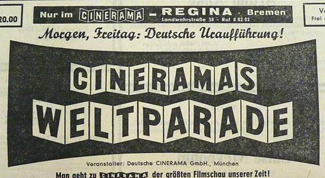 • Go to "The Best of Cinerama" in Germany


• Go to Cinerama Remaster

• Go to Louis de Rochemont's "Windjammer" in Cinemiracle
---
"IN THE PICTURE" IN CINERAMA
CINERAMA 2012 - First day of shooting "In the Picture"
By Michael J Cahill
It is Saturday January 14, 2012 and today the Barn is the centerpiece for a brief scene in an all-new short film for Cinerama called "In the Picture", produced by Anthony Saenz and directed by Dave Strohmaier.
"In the Picture" - Now Shooting
By Strohmaier / Hauerslev
Wednesday November 2nd, 2011 will be the first time the Cinerama camera will shoot 3 strip since "How The West Was Won" over 50 years ago.
---
"SEVEN WONDERS OF THE WORLD" IN CINERAMA
Log of "Seven Wonders" in Cinerama
By Richard J. Pietschmann
We were given permission to photograph and record a close-up of the Pope, and in order to get the camera close enough it was necessary to build a temporary scaffold for the camera and blimp.
Letters Sent Home
By Richard J. Pietschmann
If all goes well today with the schedule, we will leave this afternoon for Agra to do the Taj Mahal sequence.. Will be there two or three days and then expect to leave for Darjeeling
---
"HOW THE WEST WAS WON" IN CINERAMA
How The West Was Won - in Cinerama (1983)
By Greg Kimble
Digital restoration of HOW THE WEST WAS WON
By Rick Mitchell
The "special screening" that ended last weekend's "The Reel Thing-XX" was a digital presentation of MGM's "How The West Was Won" scanned at 2K from original negatives, ultimately yielding a 6K image.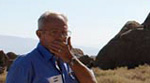 "West" Film Locations
By Tom March
I first encountered the Lone Pine Film Festival while travelling through Lone Pine searching out old film locations from "How the West Was Won"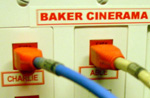 "How the West Was Shown"
By Paul Rayton
Paul has very kindly taken a few shots of Sunday's event at the Cinerama Dome in Hollywood.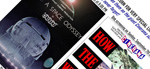 Large format at the Cinerama Dome
By David Strohmaier
Even if you don't get your favorite seats please come and register your vote for more large format screenings at the Dome. We need your support today!
"How the West Was Won" screening at the Dome
By Richard Greenhalgh with Rick Mitchell
"This is Cinerama"'s Cinerama Dome
---
..in Cinerama "Renault Dauphine" Tentative shooting script
By Cinerama Inc.
The sequence must be presented in such a way that there is a humorous angle which remove it from the category of a strictly "educational" commercial film.
---
THE INTERNATIONAL CINERAMA SOCIETY
In October 1985 a group of movie enthusiasts got together and formed the "International Cinerama Society" with the ultimate goal of re-creating an authentic, three projector, seven-track sound Cinerama installation.
Willem Bouwmeester
By Howard Rust
Willem's role in life was defined when his dad took him to the cinema at age 14 to see Cinerama. In 1992 he discovered that NMPFT was seeking a new attraction to add to it's collection. For him the logical choice could only be Cinerama.
Wide Visit With Willem
By Thomas Hauerslev
We have often talked about his Cinerama files and at our meeting in June 2009, we decided to meet in Rotterdam to find rare and unique material for this page.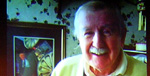 John Harvey's Cinerama Achievements Recognized
By Bill Lawrence
The NMPFT felt it was in place to pay tribute to John with a special award - a scroll - , thanking him for his contribution to revitalize Cinerama. Thanks to John's enthusiasm, Cinerama has again been made available to the public.
Keith Swadkins
By Howard Rust
A true Cinerama enthusiast, typed, edited, a Cinerama newsletter that he posted to similarly minded enthusiasts all over the world, at his own expense. All correspondence traveled either by surface or airmail, the cost of which all came out of his own pockets.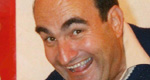 Who is David Coles?
At the impressionable age of 12 my mother took me to the Sydney Plaza Theatre to see "Seven Wonders of the World" and I immediately became a Cinerama addict - determined to find out all about this wondrous process.

New Zealand guy, David Bogorad, Howard Rust
Willem interview on DVtape
TICS Newsletters as PDF Issues: 1, 2, 3, 4, 5, 6, 7, 8, 9, 10, 11, 12, 13, 14, 15, 16, 17, 18, 19, 20, 21 & 22. TICS' Cinerama Theatre List issue 18

Cinerama Preservation Society: Quarterly Newsletter, issue 1, Fall 1997
---
RAMA AND MORE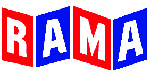 All the RAMAs in the World
All readers are invited to send in their RAMAS. See the list as it grows longer and longer.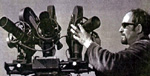 "This is New Zealand" 3-strip EXPO Film From New Zealand
In 1969, New Zealand had to promote itself to the world at the Expo 70 in Japan. The star attraction was a revolutionary 20-minute film made that introduced viewers to New Zealand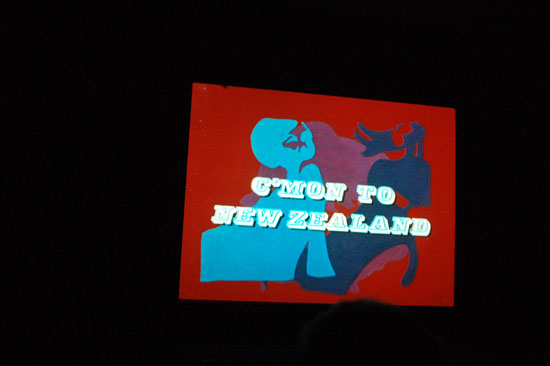 "This is New Zealand"
By Bob Jessopp
Tena koto, Tena Koto, Tena Koto, Katoa. Welcome. Here is a little background information to New Zealand's one and only 3 camera, 3 projector wide screen Film Production.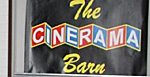 The Cinerama Barn
By Paul Samuels
Ever since I saw Cinerama in 1952, I was so deeply affected by it that I only knew that I wanted it. That event sparked my interest in photography, optics and all the rest.
---
CINERAMA FILMS
"This is CINERAMA" (1952)
"Cinerama Holiday" (1955)
"Seven Wonders of the World" (1956)
"Search for Paradise" (1957)
"Cinerama South Seas Adventure" (1958)
"Renault Dauphine" (Commercial short) (1959)
"The Wonderful World of the Brothers Grimm" (1962)
"How The West Was Won" (1962)
"In The Picture" (2012)

"Cinerama's Russian Adventure"
"The Best of Cinerama"

More details on this list
---
COMING SOON ABOUT VITARAMA
Vitarama Staff list

Pioneers of the Giant Deep Curved Screen

Fred Waller's "Dolphin Akwa-Skees" advertising

Excerpt from Lowell Thomas's Broadcast May 18, 1954 on the occasion the Fred Waller's passing
---
COMING SOON ABOUT CINERAMA
History of Cinerama: A Story of technological Innovation and Industrial Management
By Thomas Edward Erffmeyer (1985)

Cinerama, It's History and Development
By Hikmet Labib Avedis Aghanigian (Thesis, 1965)

"This is Cinerama"...is still alive
By Otto Lang

"Cinerama Holiday" Breakdown Reels Dialouge

CINERAMA PEOPLE
Sound by
Hazard E Reeves
Sound Engineer
Richard J. Pietschman

Wentworth D Fling
Robert L. Bendick

Assistant Cameraman
Jack Priestly
Cinerama Pilot
Paul Mantz
President Cinerama Productions Corporation
Dudley Roberts Jr
Vice President Cinerama Productions Corporation
Frank M. Smith
---
CINERAMA ADVENTURE
"Cinerama Adventure" in Telluride
By Dave Strohmaier
Telluride was terrific, Carin Anne, Me, Randy Gitsch, John Sittig and Greg Kimble were treated like Celebs. They put us up in plush condos in Mountain Village, the exclusive resort just above the town of Telluride.
"Cinerama Adventure" Cast & Credit
By Dave Strohmaier
The documentary is in Director's cut and is 100 minutes long. A lot has changed since the early versions. We have shown it around Los Angeles at several "test screenings" and also at professional documentary film maker private screenings
"The Cinerama Adventure" update
By Dave Strohmaier
Final sound mix Dolby 5.1 starts Monday Aug 11th, 2003 with new score & efx. 35mm film out of the Hi-def version starts Tuesday 12th. (Interviews are 1:33 inside of 1:85. when we cut to Cinerama its in curved Smilebox 1:85) we had to upgrade (re-do) all the Cinerama shots in Hi def.
"Cinerama Adventure" - First review
By Richard Greenhalgh
This production is simply perfect! It blends the history of the people behind Cinerama with the story of the making of the films and highlights the technical aspects of this pioneering widescreen format in an exiting and dramatic way.
READING ABOUT CINERAMA
"Nine Lives of Mike Todd", by Mike Todd Jr., and Susan M. Todd
"So Long until Tomorrow", by Lowell Thomas
"A Bird of Passage: The Story of My Life" by Otto Lang
"Around the World in 90 Years: Images from My Life's Journey" by Otto Lang
"Hollywood pilot;: The biography of Paul Mantz" by Don Dwiggins (Author)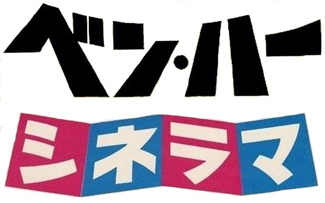 • Go to Bigger than "Ben-Hur" – My Japan Cinerama Project