7OMM CINEMA IN LONDON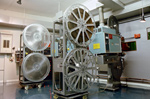 Visiting 70MM Cinemas of London's West End, September 1990
By Thomas Hauerslev
In September 1990, I visited London to see and photograph the 70mm cinemas. Looking at the pictures from London in 1990 so many years later inspired me to make a gallery to share the images for the first time. Maybe someone will see them and enjoy looking back at a time when things were different, and of course - a lot better. In fact, at least 70mm better.

• Go to 70MM Cinemas Gallery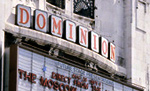 Dominion, London
By Thomas Hauerslev
The Dominion on Tottenham Ct. Road, London. More than 2000 seats in several floors. Once the home of "South Pacific" in Todd-AO where it played for 4 years and 22 weeks. A world record. Has been used a live theatre for 25-30 years, with the occasional film presentation in between.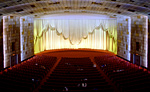 Empire, Leicester Sq., London
By Thomas Hauerslev
The magnificent Empire on Leicester Square in London, England. One of the most beautiful large cinemas of the modern age. For many years one of the the leading 70mm houses in England. Home of many 70mm premieres including "Far and Away", "Backdraft", "Black Rain", "Top Gun", "Brainstorm", "Ryan's Daughter", "Doctor Zhivago" and "Ben Hur".

• Go to Empire Cinema, Leicester Sq., London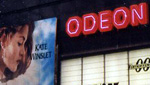 70mm at the Odeon Leicester Square
By Nigel Wolland
My first involvement with the Odeon Leicester Square came in 1978 when I was invited to help out at the Royal Film Performance, the film was Columbia Pictures', "Close Encounters of the Third Kind", the first to be presented in 70mm Dolby at the Odeon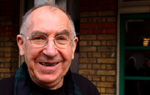 The Cinema Museum, London
By Mark Lyndon
Housed in the historic former Lambeth Workhouse, where Charlie Chaplin had spent a traumatic childhood, the Museum boasts one of the most impressive collections of cinema memorabilia in the world.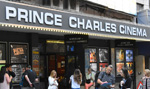 Visiting the Prince Charles Cinema in London's West End
By Thomas Hauerslev
The Prince Charles Cinema have many posters on display on their facade, many of which are of their own design. The tag "Presented in 7OMM 6 Track Dolby Stereo" is prominently placed with BIG letters on the posters. It is very nice to see this kind of showmanship still being used to promote 70mm in London. Take a look at their web site too - search for "70mm", and you can see the same logos and advertising. If you are in London, do check out their web site and go back to memory lane for some 70mm magic.

• Go to the gallery Prince Charles Cinema, London's West End, UK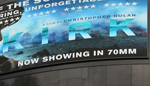 Anamorphic Weekend in London
By Mark Lyndon
And so the Pilgrim returns, oftentimes to travel great distances to bear witness to what is surely a great spiritual as well as artistic experience. One such Pilgrim was our own editor, Thomas Hauerslev, who traveled from Copenhagen to London to bear witness. As a pilgrim, albeit one residing within ten minutes walk of The BFI IMAX, it was a pleasure to host a fellow pilgrim. Like Chaucer's pilgrims before us, we were based in Southwark.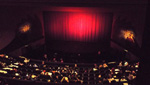 The Hateful Eight in London at The Odeon Leicester Square
By Mark Lyndon & Ben Wales
Make no mistake, this is a landmark in the history of the cinema. Odeon have risen magnificently to the challenge of catering to record breaking demand to see a film which is the talk of the town. We have never seen such massive crowds in Leicester Square, all determined to secure a seat to witness the must see film of the year, if not the century so far.
The Remains of Odeon, Tottenham Court Road, London
By John Newman
Genre Classics presenting 70mm in London
Pictureville | Harbour Lights | MGM Bournemouth | Plaza | Astor | City Screen | ABC 1+2 Shaftbury Avenue | MGM Bournemouth | The Dome |
---
BRADFORD - WIDESCREEN WEEKEND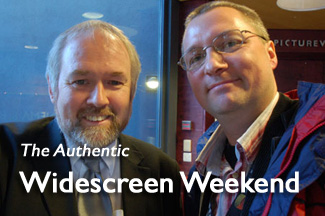 • Go to Widescreen Weekend, Bradford, England
---
FILMS IN LONDON


• Go to The Golden Age of 70mm
• Go to 70mm Film Presentations in London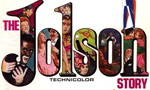 "What's On" with Udo Heimansberg
Looking through a collection of old dust covered boxes I've found some older "What's On"- Issues from my trips to London in 1969 and 1971/72. My first trip to London was in August 1969. Of course my main reason was not at all sightseeing but visiting record shops to buy soundtrack albums and going to the movies, especially those running 70mm films. I didn't care much about "Swinging London"- which I regret today…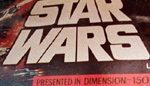 "Star Wars" Presented in Dimension 150
By Derek Young
When "Star Wars" premiered in London in 1977, it was the last film to be presented in Dimension 150 at the Odeon Marble Arch


• Go to A collection of London's 7OMM Royal Premieres
• Go to Gallery: 7OMM Royal Premieres
This is Cinerama...at the London Casino
By W. G. Altria
The London Casino Theatre was selected, after an exhaustive survey, as the best available in London for the showing of Cinerama. Nevertheless, considerable difficulties had to be overcome to make it entirely suitable for the purpose.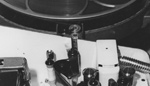 DP70 at the Casino in London
By Peter Philips
The pictures are taken of the left hand DP70 projector and two show it laced up with one of the reels of "Zulu". I used to know the Chief Engineer for Cinerama at the time and I made several visits to the Casino and got shown around.
Cinestage 34mm in London
When "Around the World in 80 Days" originally opened in London, England in 1957, it was not in 70mm Todd-AO, but in the 35mm Cinestage format. The Cinestage format was a reduction from the 65mm 24 fps. negative with 6-track sound coming from a separate 35mm dubber.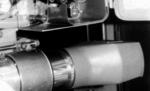 D-150, Coliseum, London
By Harry Rigby
I have just come across these two photos I took at the Coliseum in London. It shows the D150 lens nicely.
---
IMAX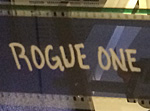 Rogue One: A Star Wars Story - The IMAX Experience
By Ronan Nissenbaum
This was definitely the best presentation of "Rogue One" that I had seen so far but then again I am biased towards film presentation. Firstly I'll begin with the cons. The film was very dark at certain times, not like it wasn't being projected bright enough, or that the print was under-exposed, it was that the print was just far more contrasty than the digital presentations, and in some scenes it was almost too contrasty.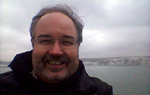 "Interstellar" at the BFI IMAX in London
By Ulrich Rostek
The IMAX sequences – grainless, razor sharp, and amazingly detailed, backed up by that marvelous almost SENSURROUND -like sound – really gave me that hyper realistic first person experience which I not even sensed with our beloved Cinerama. This visual impression soon dragged me into the movie – not leaving much brain capacity to think about the one or the other logical disruption of the plot and the somewhat overloaded storyline.
Interstellaring in London
By Mark Lyndon
And yet, 70mm projection cannot be taken for granted. Even as "Interstellar" is smashing a box office records and Hollywood film directors are committing to 70mm principal photography and prints; there are cinema chains that are removing, yes removing 70mm projection from their houses. Who advises them, the captain of the Titanic?

• Go to The art of film projection is not dead yet
PEOPLE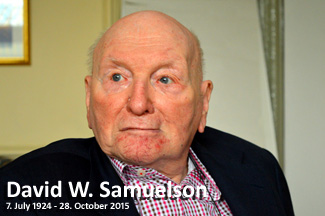 • Go to David Samuelson: A Lifetime with the Movies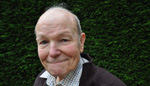 A Conversation with Sir Sydney Samuelson
By Thomas Hauerslev
Sydney Samuelson gives a fascinating insight about his work with the international and British film industry in the 1960s and 70s. Sir Sydney and his three brothers managed Samuelson Film Service in London, a company which supplied all the technical equipment for film productions all over the world. Their costumers included David Lean, Stanley Kubrick, and Ken Annakin. In this conversation Sydney reveals a little bit about what went on in the movie business, during the time of "2001: A Space Odyssey", "Ryan's Daughter" and may others.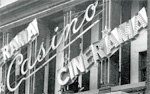 Ken Draper interviewed
By Mikael Barnard
I started work at the Casino on 19 September 1954, eleven days before opening night on 30 September. We had to pick it up quickly but we did many rehearsals and were well prepared. I started with the début screening of This is Cinerama, and then in 1956 we ran Cinerama Holiday. I left in 1957 for a job at MGM British Studios at Borehamwood where I worked in the preview theatre
---
CIRCLORAMA

Projecting Circlorama in London
by James Robertson

Memories of Circlorama

The true history of Circlorama 1962-65
By Stanley Long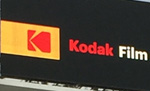 Kodak is making investments in introducing 65mm film processing in Europe
By Kodak
Kodak will open and operate a motion picture film-processing lab in New York City later this year, which will service 35mm, S16, Super 8 film processing and scanning. Kodak is also working with partners to sustain film processing capabilities around the world. In London, Kodak is making investments in introducing 65mm film processing in a region that has seen a huge increase in major productions shot on film.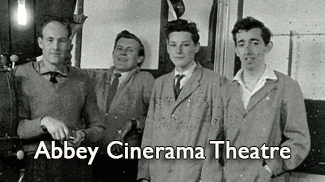 • Go to Abbey Cinerama Theatre - Liverpool U.K.
---
ENGLAND

• Go to 70mm Cinema and Film in England
---