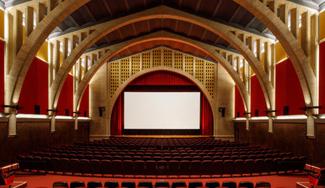 • Go to The Hollywood Legion Theater
• Go to Gallery: The Hollywood Legion Theater
---
70MM PRESENTATIONS IN:

By Mike Coate
---
70MM FILM AND CINEMAS IN...

• Go to
70mm Engagements in Rochester, NY
By Jim Barg
When I moved back to Rochester from London last year, I had the time to research for any information regarding local 70mm engagements, and the results are presented here.
Showcase Presentations in Honolulu
By Claude Ayakawa & Michael Coate
Continuing the "Showcase Presentations in…" series, we now proudly present: Honolulu, Hawaii. A Chronology of Large Format and Roadshow Exhibition, 1957-Present. The Cinerama Theatre was located on the outskirts of downtown Honolulu near the Waikiki district. It was once the Pawaa Theatre, a neighborhood house that was converted in 1962 to a 3-strip Cinerama venue for the Hawaii premiere of "The Wonderful World of the Brothers Grimm" at which time the theatre was renamed the Cinerama.
Showcase Presentations in Chicago
By Michael Coate, Tim O'Neill and Tamir Sharif
The duration of the engagements, measured in weeks, has been included for each entry in parenthesis following the cinema name. Note that some of the presentations included in this listing may have been presented in 35mm during the latter weeks of engagement due to print damage and the distributor's unwillingness to supply a 70mm replacement print or because the booking was moved to a smaller, 35mm-only auditorium within a multiplex.
---