TODD-AO PREMIERE LIST

• Go to Todd-AO Premiere List
---
TODD-AO FEATURE FILMS

• Go to Fred Zinnemann's "Oklahoma!" in Todd-AO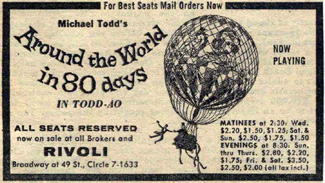 • Go to "Around the World in 80 Days" in Todd-AO
FotoKem Restores "South Pacific"
FotoKem used its Imagica "Bigfoot" scanner to digitally recapture the faded glory of "South Pacific," the 1958 65mm Todd AO classic. 20th Century Fox tapped FotoKem's Large Format Group for the photochemical preservation and video mastering on the project, taking advantage of the facility's 65mm scanner and its high speed 4K transfer capabilities.

• Todd-AO Film Data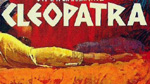 Howard Terpning and Joseph L. Mankiewicz's "Cleopatra"
By Gerhard Witte
A look at the different "Cleopatra" posters and the controversy surrounding the making of the famous poster art. Howard Terpning is a painter and illustrator of our time. He is the most renowned and honored Western artist painting today.
Todd-AO at "Sea"
By Thomas Hauerslev


Ron Fricke was very pleased to know "Baraka" was shown

in a Copenhagen swim bath. It was one of his original ideas to have it shown outside regular cinemas

• Baraka credits
• Baraka - A Visual Journal
TODD-AO TEST FILMING
Todd-AO 65mm Test
By Thomas Hauerslev
Wednesday 9 February 1994, review of a very interesting reel of 65mm film which had been discovered at the Nederlands Filmmuseum in Amsterdam.
---
The Miracle of Todd-AO Final review May 1, 1956
Todd-AO's intense feeling of realism and its possibilities for intimacy and emotional participation convinced Richard Rodgers and Oscar Hammerstein that this was the medium in which to present on the screen their American classic, "Oklahoma!"

• Go to Full credits for "The Miracle of Todd-AO"
Full credits for "The March of Todd-AO"
Louis de Rochemont Associates has produced for Magna Theatres a colorful and absorbing 1500 foot film to be shown as a prologue to the roadshow engagements of "South Pacific".
"Man in the 5th Dimension"
By Thomas Hauerslev
One of the most unique and rarely seen Todd-AO films ever produced, was a 28 minute film filmed in 1963 to be shown exclusively at the Billy Graham Pavilion at the 1964-65 Worlds Fair in New York
Full credits for "CineSpace 70"

Demonstration Film in four major parts. Purpose of the demonstration film is to show the merits of filming with updated 65mm Todd-AO cameras. Following examples are included: zoom, steadicam, low light, high speed, slow motion, time lapse, CU´s to infinity, aerial, under water, exterior, people, nature, daytime, nighttime, extreme wide angle to telephoto etc.
---

• Go to You are in the Show with Todd-AO