LATEST 7OMM NEWS AND FEATURES
What is the correct colour of a DP70?
By Clive Woodward
We are puzzled by trying to work out the correct colour to repaint them. Ours are a brownish 'hammertone' / 'hammertex' colour. I note from photos on your website many appear to be grey. Even the brown on our units varies from part to part. Do you know of the 'official' original colour for DP70 projectors?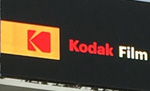 Kodak is making investments in introducing 65mm film processing in Europe
By Kodak
Kodak will open and operate a motion picture film-processing lab in New York City later this year, which will service 35mm, S16, Super 8 film processing and scanning. Kodak is also working with partners to sustain film processing capabilities around the world. In London, Kodak is making investments in introducing 65mm film processing in a region that has seen a huge increase in major productions shot on film.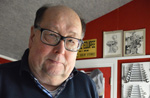 Une Visite Chez Monsieur Cinerama
By Martial DASSONVILLE
François CARRIN est plus connu à l'ALICC sous le pseudo de Mr. CINERAMA. En effet, notre conseiller à la rédaction d' Infos-Ciné est passionné par les techniques d'écran large. Il a consacré toute sa vie professionnelle aux activités de métreuréconomiste de la construction. En marge de sa profession, il a été projectionniste dans un cinéma de la banlieue de Valenciennes de 1963 à 1973, à Quiévrechain, petite ville de 7000 habitants à la frontière belge.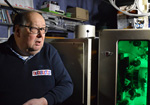 En Conversation Avec François Carrin
By Martial DASSONVILLE
François CARRIN. S'intéresser à l'écran large, au triple écran, avoir été projectionniste et avoir fréquenté ces installations un peu hors normes, ce n'est pas courant à l'ALICC. François nous explique donc son CINEMA PARADISIO personnel.
Scent of Mystery at the TCM Classic Film Festival 2016
By Dave Strohmaier and Tom March
The 2016 TCM Classic Film festival is a really big Hollywood event held over four days between April 28 and May 1 in the heart of Hollywood. The Cinerama contribution was the Mike Todd, Jr.'s "Smell-O-Vision" Cinerama Dome screening of "Scent of Mystery". It screened on May 1 at 10:00AM to a full house. It was hosted by LEONARD MALTIN - Film Critic and Historian with a special guest appearance by BEVERLY BENTLEY who played the decoy Sally Kennedy in the film.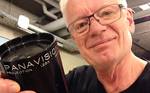 Orla Nielsen shows "The Hateful Eight" in Aalborg
By Thomas Hauerslev
You can't keep a man down who want to show 7OMM! That statement seems to be true with Orla Nielsen from Aalborg in Denmark. Orla Nielsen opens a temporary cinema to show "The Hateful Eight". The local multiplex declined Orla's offer to set up 7OMM screenings earlier this year. Instead, Theatre Nordkraft's manager Jakob Jørgensen came to the rescue and offered his theatre to Orla for a limited season.


Gallery "The Hateful Eight", Roadshow, Aalborg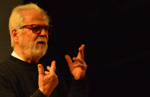 It's All in the Writing. Jan Harlan in Denmark
By Thomas Hauerslev
While I was in New York working for a data processing company I got to know Stanley very well – he was already married to my sister since 1957. This was in 1963/64. After that I continued with my work in Germany and Switzerland. Stanley worked with Arthur C. Clarke in New York while I was there to prepare "2OO1" but the family later moved to England to film "2OO1" at the MGM studios in Borehamwood. I lived in Zurich then doing my job but visited Stanley and the family from time to time in England.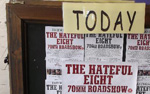 70mm Arrives in Barnsley
By Ben Wales
In the South Yorkshire Town of Barnsley was history in the making with the UK's third venue to screen the 70mm Roadshow "The Hateful Eight". For those who have never been or heard of Barnsley, it is once known for the Coal Mining and Glass Making and Brass Bands and now 70mm at the former Odeon Cinema now called The Parkway Cinema.
Varnsdorf Presents "The Big Fisherman" in Super Panavision 70
By Zdenek Stepanek
As a large pearl of our 70mm Weekend we present film "The Big Fisherman" from 1959, directed by Frank Borzage. The film tells the biblical story of the angler Peter who became a follower of Jesus. The story is not only about Peter's redemption and forgiveness, but also about a young Arab-Jewish girl Fara.


• Go to Varnsdorf Presents "The Big Fisherman"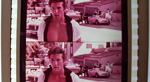 The 70mm Trailer Anomaly
By Brian Walters
Some of the excellent sounding 70mm trailer examples were for "The Fly", "Commando" and "Full Metal Jacket", all wonderfully dynamic sounding trailers that far exceeded the sound of the feature presentations which were to be in 35mm stereo optical sound only. The picture quality of these trailers, even though only blow ups from 35mm, was also usually superior because of the improved brightness, picture stability and improved definition from longer focal length lenses employed with 70mm projection.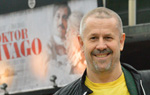 Julie, Sebastian and Zhivago
Sebastian Rosacker Interview
I usually say about 200 times, but I have no idea. Many times at home, in my home theatre as well. It has everything. Best photo, best picture, best actors and actresses, best music, you name it. It has it. It is the Zhivago character I like the most. He is a man not seeking revenge. How bad the situation, no revenge. That is big. That is what appeals to me because that is the future actually. I don't think we will have wars in the far future. Zhivago is a man of the future. I have read the book, and this the theme in the book.
KRRR! 2016 Festival Report
By Hans Hanessler
Yesterday I came back from the 70 mm festival in Krnov. In all it was about 26 hours of films to watch, but I left some minutes off. The travelling by car to Krnov is about 900 km. So I stopped at Pilzen on the way to Krnov and also on the way back. There you can drink the good Pilzner beer in an very old pub from 1648. The weather in Krnov was rain and only 7 degrees Celsius temperature. There is only one hotel left in town and they were some other visitors of the festival from Sweden.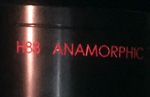 THE HATEFUL EIGHT 70mm ROADSHOW Screening in BARNSLEY!
By Rob Younger
Once again the Parkway Cinema Barnsley is leading the way! Every screening will have a personal introduction from me and we will be inviting interested parties into the projection room after the show. There are just three towns/cities in the UK where the full experience of "The Hateful Eight" 70mm Roadshow can be enjoyed as the director intended; London, Edinburgh and BARNSLEY! This will be the first time that any 70mm film has been screened to an audience in Barnsley, let alone a Roadshow!
Loading
---
IN7OMM e-NEWSLETTER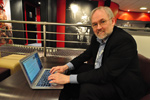 in70mm.com publishes an e-mail newsletter which is sent to users. If you want to join or discontinue, please send an e-mail to Bill Lawrence, in70mm.com. 802 readers already signed up.

• Go to e-Newsletter page
• See Past Issues
---
IN70MM.COM PARTNER

• Go to 12. Todd-AO 70mm-Festival: Come and enjoy the world of LARGE FORMAT film. From vintage classics to the latest Roadshow 70mm films, all of which proudly carry trade names of large format motion picture processes. Join us and be part of this unique event and share the excitement together with visitors from all around the world - including Austria, Switzerland, Holland, Germany, Denmark, England, USA, Japan, Sweden and France - and many more.
in70mm.com is proud to be associated with one of the finest cinemas in Europe, Schauburg Kino, home of the annual Todd-AO Festival in Karlsruhe, Germany.

• Go to Schauburg Cinerama | Todd-AO Festival
---
WHAT PEOPLE HAVE SAID ABOUT IN70MM.COM
I continue to be impressed by the dedication you have to the continuing wellbeing of 70mm. I would like you to have met my colleague and friend, the late Robert Gottschalk, founder and driving force of Panavision. He was of the unshakeable opinion that picture quality, real picture QUALITY, depended on a big piece of negative, the bigger the better.

All good wishes, Sir Sydney Samuelson, December 2009

• Go to Testimonials
• Go to Sir Sydney
---
THE 70MM NEWSLETTER
The original idea was

"Encourage film makers to produce and make new films in 65mm, present them in 70mm with 6-track discrete digital sound on big curved screens".

"The 70mm Association Newsletter" was the "voice" of The International 70mm Association.

For 7 years, when the magazine was produced regularly, it was edited and published in Copenhagen. The magazine was never a commercial venture - nor was it intended to be. It had a lot of fans and the number of subscribers climaxed in 2000. The last issue was published in the fall of 2001. Special edition issues 68, 69 & 70 have been made for the Widescreen Weekend.

• Go to The 70mm Newsletter | Back issues

• Go to Presented in 70mm Dolby Stereo
---
TODD-AO PAGE
Todd-AO Birth date
By Brian O'Brien
On October 15th, 1952 I received a phone call from a Michael Todd in New York City, who wished to come to see me at Rochester that evening. I had never heard of Todd, but it seems that he is a well-known Broadway producer.

• Go to Todd-AO | Filmed in Todd-AO | The First Movie Produced By Todd-AO | Walter Siegmund Remembered

• Go to Quentin Tarantino's "The Hateful Eight"
---
COMING TO IN70MM.COM

• 1930's Large Format Equipment at the USC Archive
By Dan Sherlock
• The Ultimate Grimm Report
By Gerhard Witte
• Sales Manual For Louis De Rochemont's Windjammer
By The Cinemiracle Process
• Visit to La Geode, Paris
By Thomas Hauerslev
• Visit to Futuroscope, Poitiers
By Thomas Hauerslev
• Visit to Kinepolis, Bruxelles
By Thomas Hauerslev
• Georges Loisel's list of 7OMM in Paris
By Olivier Rousseau
• Vintage articles about Todd-AO, Showscan, Panavision & Dolby
• Brian O'Brien, Jr.'s Todd-AO Scrapbook
Coming soon
• Rare black/white images from American Optical Company
Coming soon
• "Oklahoma!" on opening night at the Rivoli
Coming soon
---
RAMA and FUN
THE RAMA PAGES
All readers are invited to send in their RAMAs. The "Rama" pages, now in its 8th year. More than 100 new and vintage RAMAs documented so far. Send your RAMA now!

• Go to 2008 | 2009 | 2010 | 2011
• Go to 2012 | 2013 | 2014 | 2015