LATEST 70MM NEWS AND FEATURES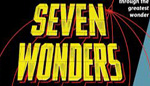 Flicker Alley presents "Seven Wonders of the World" and "Search for Paradise"
Flicker Alley, in association with Cinerama, Inc., releases two historic gems - Seven Wonders of the World and Search for Paradise - presented in brand new, beautifully restored editions. Release Date: November 11, 2014. Flicker Alley and Cinerama, Inc. invite you to celebrate the rich spectacles of Cinerama's Seven Wonders of the World and Search for Paradise, both newly restored and never before seen on home video. Both Deluxe Blu-ray/DVD Combo Editions are available for pre-order on the Flicker Alley website.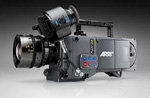 ALEXA 65 - le 70 mm redevient le format d'excellence au cinema
Jacques Morell
On attendait la sortie imminente de la nouvelle caméra Panavision numérique 65mm développée avec le concours de la NASA. L'information est parue en début d'année avec une photo d'une version prototype. Et depuis plus rien. Surprise! La bonne nouvelle est venue d'Allemagne. ARRI, dont les différentes versions de caméras numériques de la gamme ALEXA sont la référence depuis des années sur les plateaux de tournages en Europe et dans le monde entier, sera non seulement la marque leader du cinéma 35mm numérique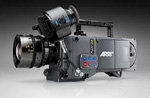 ALEXA 65 - The splendor of 70mm is reborn
By Jacques Morell
We were waiting for the new Panavision digital 65mm camera developed with NASA engineers. The information has been published in January with a picture of the prototype. And no more news 9 months later… The breaking news is coming from Germany! ARRI is the leader of digital 35mm cameras all over the world with its complete range of ALEXA cameras.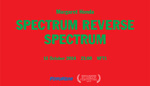 Spectrum Reverse Spectrum
By BFI
A film made not with a camera but by exposing 70mm print stock to precisely calibrated colored light in a film printer, resulting in a uniform field of color with no frame lines. The color moves gradually through the visible light spectrum from violet to red, then back to violet. Symmetrical in its construction, it is the same film shown starting from either end and is not rewound between screenings. The film can be presented only by means of a 70mm film projector.
A Visit to ARRI in München
By Thomas Hauerslev
Gerhard welcomed us by the end of the train platform and drove us to Türkenstrasse 89, the home of the ARRI Group, the world leading manufacture of motion picture cameras and everything else a movie production needs. The ARRI name was certainly not unfamiliar to me. ARRI have made cameras in all formats, size and shapes since 1917, and had recently moved into the digital world too.

• Go to the gallery A Visit to ARRI in München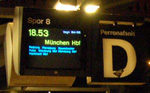 Re-visiting Large Format With Gerhard Fromm
By Thomas Hauerslev
In the late 1990s, Mr. Gerhard Fromm invited me to come to München to talk about movies and cameras and in 2009 I was on my way to see him. I left Copenhagen on a cold Thursday January night, and I was not travelling alone for this epic adventure. My friend of many years, Orla Nielsen joined me en-route and boarded the City Night Line train in Odense. The following morning we would arrive - by train - in south Bavaria to look for traces of the MCS 70 film process.

• Go to Re-visiting Large Format With Gerhard Fromm
---
Schauburg Cinerama Premieres New "Oklahoma!" DCP 2. October 2014
By Born & Hauerslev
Fred Zinnemann's beloved OSCAR winning musical "Oklahhoma!" (1955) will have it's European DCP premiere at one of the most prestigious 70mm cinemas; the Schauburg in Karlsruhe, Germany. It is a single screening of the new and much anticipated digital 4K restoration of this classic musical by Rodgers & Hammerstein.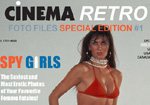 Cinema Retro Issue #30 and "Foto Files #1: Spy Girls" Special
By Worral & Pfeiffer
Our new line of special issues is called Foto Files. The images are derived from the Cinema Retro archives. Our premiere issue is dedicated to "Spy Girls" of the 1960s and 1970s. It's an 80-page magazine that emphasizes rare and exciting photographs of those actresses who were "deadlier than the male" in some of the best retro spy movies ever made!
Poster Displays from 10th Todd-AO 70mm Festival, 2014
Less than 100 films were made in 65mm. Still, those titles

have

acquired such a

n

aura of mystique, that fans are flying

in from

around the world to see

them

. Here is a preview of the famous poster displays from the Schauburg Cinerama in Karlsruhe, as we are approaching the 10th Todd-AO Festival in October 2014
FLAMMENDE JAHRE. Der erste 70mm Panorama-Spielfilm
Von Ruth Pergen & Klaus Zunker
Der Mensch ist groß. Aber wie schwer ist es, seine Größe, seine Größe in Leid und in Freude, zu erkennen und schwerer noch zu gestalten. Der berühmte ukrainische Schriftsteller und Regisseur Alexander Dowshenko besaß diese Menschenliebe und diese künstlerische Meisterschaft, in all seinen Werken dem Menschen ein Denkmal zu setzen.
---
AFI's Spectacular 70MM Festival
By Howard B Hass
On Sunday, I found myself in the historic auditorium of the AFI Silver, at the "70mm Spectacular, Part 3" watching the first ever Todd-AO movie, "Oklahoma!". This screening was from the new DCP restoration, made from the 65mm negative. The film, especially its colors, looked gorgeous, really phenomenal. The scenery and costumes looked great. As wonderful as it looked, no 4k DCP has the resolution of 70mm.
Earth Shattering: Coasters, Quakes, Battles, Sounds and Lawyers
By Andreas Fuchs
"Why would you want to know about Sensurround," Mark Collins, director of projection technology at Marcus Theatres, wonders after I asked while we were talking about Cine-Sation. "Ah, that's right … 1974 … Earthquake …" The November 15 release of the Universal Studios film not only created a heightened sense of involvement with the action on the screen, not unlike the in-seat transducers discussed, but also an entire genre of disaster movies that has been accompanying us all the way to today.
Widescreen Weekend 2014
By Mark Trumpeteler
This year's Widescreen Weekend was well attended with, as always, a busy schedule. It was good to see local cinemagoers coming in to create a few "full houses" or near "full houses" for a number of the screenings. With its now established policy of providing a seamless integration between showing film prints and DCPs, the absence of faded "magentavision" prints and programming intervals that provide sufficient time for meals, refreshments, socialising and networking – it's a formula that delegates seem to really enjoy.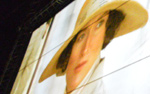 Open-Air 70MM Movie Magic at Rungstedlund. Projecting "Out of Africa" at 140 Amperes
By Thomas Hauerslev
Orla and I like to show 70mm like this. We prefer to do it with the authentic 70mm print from 1986. It's an analogue experience with reels to carry, lenses to focus, buttons to push and dowsers to pull. It's large format 70mm film and the audience sits right in front of you and can hear the film-loops making their characteristic projector noise. It's very "reel" and authentic and not as sterile as modern cinema has become. The audience can see what you are doing and what they are paying for. This is real people behind the projector. It's a unique experience.
CIRCARAMA at the Swiss Museum of Transport in Lucerne
By Gerhard Witte
On the 50th anniversary of EXPO 64, CIRCARAMA can be experienced again for the first time with a restored version of the same film at a special exhibition at the Swiss Museum of Transport in Lucerne from 1 August and is expected to be shown there until 31 December 2014. For this screening, the nine 35mm films for the 360 degree projection have been digitised. The individual segments and the sound were synchronized. Colour changes that had occurred over the years were corrected.
CIRCARAMA im Verkehrshaus der Schweiz in Luzern
Von Gerhard Witte
Zum 50-jährigen Jubiläum der EXPO 64 ist CIRCARAMA mit dem gleichen, nun restaurierten Film ab dem 1. August im Verkehrshaus der Schweiz in Luzern in einer Sonderausstellung erstmals wieder erlebbar und soll dort noch bis zum 31. Dezember 2014 vorgeführt werden. Für die Wiederaufführung digitalisierte man die neun 35mm-Filme für die 360-Grad-Projektion. Die einzelnen Segmente und der Ton wurden synchronisiert. Alterungsbedingte Farbveränderungen wurden behoben.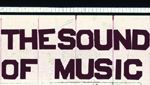 "Meine Lieder-Meine Träume" in Germany
By Udo Heimansberg
In the southern part of Germany in the Frankfurt branch of 20th Century Fox there was a guy who hated this end of the film and cut it off himself. A far relative of Robert Wise wrote to the producer/director about this screening, and their reaction came immediately. The film was completed again and there might have been only a handful of screenings at the time.
The Hateful Eight - in 65mm??
By Thomas Hauerslev

It's a 70mm blow-up logo created by Paramount 30+years ago, stacked on top of a vintage 1953 CinemaScope logo by 20th Century Fox with a "Super" added in the middle. The combined "logo" is gibberish - and simply shows nobody knows anything in the Weinstein camp. It does not make any sense, except if "The Hateful Eight" is shot in Super 35, and then blown up to 70mm for limited engagements.
Cinerama Birthday Bradford Celebrates Cinerama's 60th. Anniversary
By Mark Trompeteler
The largest number of core delegates, in the region of 180, that the museum staff can ever remember attending the Widescreen Weekend gathered at the museum's Pictureville Cinema in late April. Not only to celebrate all things widescreen, but particularly this year [2012], Cinerama's sixtieth birthday.
Widescreen Weekend 2013
By Mark Trompeteler
The National Media Museum's annual festival of all things widescreen was again held earlier this year in Bradford, in the UK. Mark Trompeteler reports on a very successful and enjoyable event which included acknowledgement of Cinemascope's 60th Birthday.
---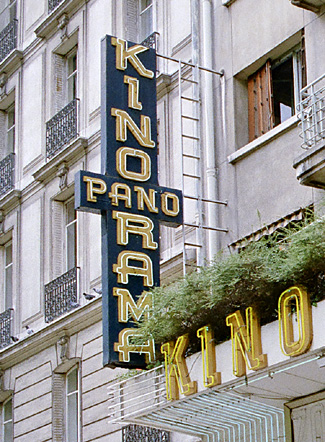 • Go to A Picture Visit to Kinopanorama in Paris, 1990
---
Restoring 70mm Movie Musical Oklahoma! at 30fps
By Bryant Frazer
The restoration premiered April 10 at the Chinese Theater, but the restoration process actually began about nine years ago. At that time, FotoKem had the opportunity to assess the degraded quality of the film's camera negative, which was badly faded. At that point, Fox asked that a new interpositive be made.
Schauburg Celebrates Sensurround's 40th Anniversary
By Thomas Hauerslev
The Schauburg Cinerama cinema in Karlsruhe is proudly celebrating the 40th anniversary of SENSURROUND and shows "Earthquake" in 70MM in October 2014 during the 10th Todd-AO Film Festival. Cinema manager Herbert Born has started preparing this special performance: "It takes a lot of preparation. We are bringing in - literally - a truckload of subwoofers to re-create SENSURROUND.
70mm Retrospective in Paris
By Johan Wolthuis
The Paris 70mm Retrospective was launched in a most extraordinary way with a lecture by Jean-Pierre Verscheure in French; entitled "Une Histoire du format 70mm". In a marathon three and a half hour power point presentation on the giant screen, he showed the audience beautiful images of the history of widescreen in 70mm, accompanied with short clips from various 70mm films.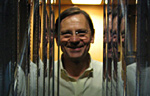 Gulliver Arane 65/70mm Laboratory in France
By Thomas Hauerslev
In July 2008 I met with Francois Carrin, who had arranged a tour at the only remaining large format film laboratory in Europe - the Gulliver Arane, in the Paris suburb of Clichy. I was very excited to go and looked forward to see the laboratory. On a previous attempt to see a 65mm/70mm laboratory, I visited Technicolor in London, but when I arrived, they would not allow me to take pictures. I hoped this visit in Paris would be a lot better. Arane Gulliver turned out to be all I could wish for.

• Go to Gulliver Arane 65mm/70mm Laboratory (gallery)
---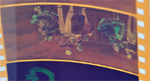 The restoration of the Todd-AO feature Oklahoma
By Paulo Roberto P. Elias
Come 2014 and we were finally granted the result of years of lab work trying to recover the original elements of the Todd-AO feature "Oklahoma!", directed by the renowned Fred Zinemann, and released for theatrical exhibition in 1955.


• Go to A restauração do clássico Todd-AO "Oklahoma"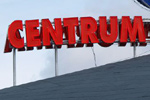 Centrum Panorama Varnsdorf, Czech Republic
By Pavel Nejtek
I became owner of the cinema in 2001. My final decision to buy the cinema from the city Varnsdorf was influenced by opinions of structural engineers, builders and designers that cinema could be saved with reasonable expenses. However, it was mainly the desire to reopen in the past prestigious and thriving 70mm cinema.


• Go to Centrum Panorama Varnsdorf
"Interstellar" Goes IMAX 70MM
...a page in progress
This is a page in progress with stories about Christopher Nolan's new film "Intersellar", which is being released in IMAX 70mm by November 2014. The idea is to update the page regularly with information about IMAX cinemas showing the film in 70mm, bits and pieces, links and stills as they become available. You - the reader - is invited to contribute with information, reviews, adverts etc - anything you see fit to share.

• Go to The Hateful Eight - in 65mm??
---
Loading
---
IN70MM e-NEWSLETTER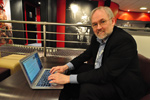 in70mm.com publishes an e-mail newsletter which is sent to users. If you want to join or discontinue, please send an e-mail to Bill Lawrence, in70mm.com.

• Go to e-Newsletter page
• See Past Issues
---
---
IN70MM.COM PARTNER
in70mm.com is proud to be associated with one of the finest cinemas in Europe, Schauburg Kino, home of the annual Todd-AO Festival in Karlsruhe, Germany.

• Go to the Schauburg Kino | Todd-AO Festival
---
WHAT PEOPLE HAVE SAID ABOUT IN70MM.COM
I continue to be impressed by the dedication you have to the continuing wellbeing of 70mm. I would like you to have met my colleague and friend, the late Robert Gottschalk, founder and driving force of Panavision. He was of the unshakeable opinion that picture quality, real picture QUALITY, depended on a big piece of negative, the bigger the better.

All good wishes, Sir Sydney Samuelson, December 2009

• Go to Testimonials
---
THE 70MM NEWSLETTER
The original idea was

"Encourage film makers to produce and make new films in 65mm, present them in 70mm with 6-track discrete digital sound on big curved screens".

"The 70mm Association Newsletter" was the "voice" of The International 70mm Association.

For 7 years, when the magazine was produced regularly, it was edited and published in Copenhagen. The magazine was never a commercial venture - nor was it intended to be. It had a lot of fans and the number of subscribers climaxed in 2000. The last issue was published in the fall of 2001. Special edition issues 68, 69 & 70 have been made for the Widescreen Weekend.

• Go to The 70mm Newsletter | Back issues
---
TODD-AO PAGE
Todd-AO Birth date
By Brian O'Brien
On October 15th, 1952 I received a phone call from a Michael Todd in New York City, who wished to come to see me at Rochester that evening. I had never heard of Todd, but it seems that he is a well-known Broadway producer.

• Go to Todd-AO | Filmed in Todd-AO | The First Movie Produced By Todd-AO | Walter Siegmund Remembered
---
RAMA
THE RAMA PAGES
All readers are invited to send in their RAMAs. The "Rama" pages, now in its 6th year. More than 100 new and vintage RAMAs documented so far. Send your RAMA now!

• Go to 2008 | 2009 | 2010 | 2011 | 2012 | 2013
---

• Go to Stanley Kubrick's "2OO1: A Space Odyssey"

• Go to Fred Zinnemann's "Oklahoma!" in Todd-AO

• Go to P T Anderson's "The Master" in System 65

• Go to Mike Todd Jr.'s "Scent of Mystery" in Smell-O-Vision
Paul Rayton Remembers "Scent of Mystery" in 3 minutes and 49 seconds
By Thomas Hauerslev
I believe the odours were directed towards us by little pipes in between the seats in front of us. I remember a scent of some shaving cream, and a couple of other smells, vaguely. I didn't have the complaint about the smell lingering afterwards, which apparently was one of them – but still I was getting some smells. But OK – it was a process, but possibly not perfect.
---
COMING TO IN70MM.COM

• Sales Manual For Louis De Rochemont's Windjammer
By The Cinemiracle Process
• New 6-track Magnetic Head
By Clemens Sherer
• Vintage articles about Showscan, Panavision & Dolby
---
65/70MM WORKSHOP
"We thought at the time that there wouldn't be many places to play this in 70mm, but we were pleasantly surprised. There are still a lot of projectors, at least in US, that are 35mm and 70mm combined."

- Paul Thomas Anderson

• Go to 65/70mm Workshop
"Violet" Partly Photographed in 8-perf 65mm
By Bas Devos, director
We shot in an 8-perf format to approach the 4:3 ratio. We wanted to achieve a heightened reality for certain shots. Approx. 12 min in the films final cut is 65mm footage. This includes a monolithic ending sequence of 6½ min. Due to the length of an 8 perf 65mm reel, we had to cut the shot in two parts and stich it together in post to have one fluent 6½ min shot.
Sunset Song Filming in 65mm
Director Terence Davies has begun principal photography in Scotload on "Sunset Song", a film adaptation of Lewis Grassic Gibbon's 1932 classic novel. To capture the landscape, the filmmakers have chosen to shoot on 65mm film, a creative decision that the producers say "will ensure depth, clarity and emotional impact on the screen".
---
---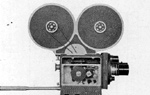 Introduction to Projection and Wide Film (1895-1930)
By Rick Mitchell (posthumously)
It is the intention of this book to deal with the subject of "Wide Screen" as it relates to the mainstream theatrical motion picture industry and its history, with reference, where appropriate, to its effect upon such related areas as documentary, industrial, and non-theatrical production and exhibition. Notable techniques and processes, the events and situations within the industry which precipitated their introduction, and the subsequent loss of popularity of some them will be covered mostly in chronological order as new developments were generally founded upon, or a reaction to, a previous one.

• Go to W.K.L. Dickson and the 1.33:1 Frame
• Go to Projection and Wide Film (1895-1930)
---
Todd-AO Equipment Catalog
By Thomas Hauerslev
A catalog made - but never used officially - by Brian O'Brien, Jr. when the entire range of equipment was ready for production of the first movie "Oklahoma!" in 1954. Including rarely seen images of the Todd-AO Distortion Correction Printer, Mark III. A document to explain the equipment made for the Todd-AO Corporation manufactured by American Optical company between 1953-56.

• Go to Vol I | Vol II | Vol III | Vol IV | Vol V | Vol VI | Mark III Printer
More Todd-AO from Robert Weisgerber:
• Sales Brochure #1
• Sales Brochure #2
• AP65 65mm camera Brochure
---
Kenneth Branagh's "HAMLET" on 65mm
By Eastman Kodak
"We shot on 65mm film because we see our "Hamlet", the complete Hamlet, as an epic film. An epic film demands an epic format. One which gives us absolute quality. One that gives nearly four times the picture information in each frame, relative to 35mm.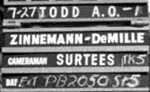 Newly Restored Oklahoma! to open TCM Classic Film Festival
This unique 4k presentation, painstakingly restored from 65mm Todd-AO elements by Twentieth Century Fox and Fotokem, will be screened at 30 frames per second — the same frame rate as when the film was originally released in 1955. The original 6 - track soundtrack has been also restored and re - mastered at Twentieth Century Fox, in collaboration with End Point Audio and Chase Audio by Deluxe.
Todd-AO Conference 1954 at American Optical Company Research Center
By Brian O'Brien, Jr
The people on the picture are from left to right: Skyler Sanford, Bob Surtees, Brian O'Brien, Jr., Walter Siegmund, Mike Todd, Steve Macnielle, Fred Zinneman, Art Miller, Brian O'Brien, Oscar Hammerstein, Arthur Hornblow
---
---
RECENT NEWS
• The Last Cinerama Wrap Party
• 70MM "Hamlet" in Ireland
• Krrr! Means not only Krnov, but also a sound of roaring film projector
• William Wyler's "BEN-HUR"
• Arromanches 360
• We saw NAPOLEON on Sunday in Amsterdam
• Around The 70mm World In Thirty Seven Days
• "Streets of Fire", The 70mm Engagements
• I was there - in a small way - at the birth of Todd-AO
• New Cinerama Restorations
• Reflections on The 70mm Aalborg Film Festival

• Go to 2014 news
---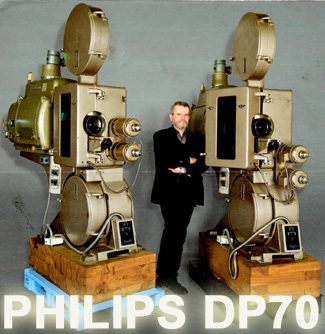 • Go to DP70 / The Todd-AO Projector
Retired DP70s in Casablanca
By Thomas David Boehm
Some months ago Rainer and friend from Norway travelled to Morocco, where he discovered old 70mm projectors on display in the lobby of the CINEMA RIF in Casablanca. He made the attached photos and asked me to send them to you.