LATEST 70MM NEWS AND FEATURES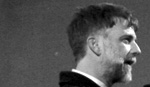 "Inherent Vice" Red Carpet 70mm Premiere in Paris
By Jean-Luc Peart
Producer JoAnne Sellar, Joaquin Phoenix and Paul Thomas Anderson were present, for the a brief Q&A before the screening. The screening was perfect. It's a blow-up, well done, nice contrast, perfect 70mm projection stability and brightness. 1.85:1 ratio as expected.
German Release of "El Cid"
By Gerhard Witte
Samuel Bronston's epic premiered in 70mm in Hamburg at the impressive "Ufa-Palast am Gänsemarkt" on 25.05.1962. On the same day the movie also debuted at the Berlin Cinerama Capitol-Filmtheater. "El Cid" ran at the "Ufa-Palast" for 14 weeks until 30.08.1962.
Kinopanorama around the World
By Alain Dorange
This is a listing as complete as possible of the countries in the world where the Kinopanorama three strip movies were exhibited. From Russia to Belgium. From Sweden to Japan. Kinopanorama was everywhere. Alain Dorange has all the details for you. Get the overview in this page, and send any additional Kinopanorama season to the editor.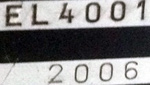 Magnificent 70mm Cinemas of Casablanca
By Dr HASSAN BELKADY
I was happy to hear that you are interested by the DP70s exposed at the hall of my cinema RIF. They have been renewed and they have been running since 2000 until 2013. I created a museum of 35mm and 70mm at the entrance of cinema RIF with Victoria 8 Cinemecanica, Westrex and DP70 projectors from my 3 cinemas ABC, RITZ & RIF in Casablanca.
Miramax Films Presents "El Cid"
"El Cid is one of the greatest epic films ever made. Anthony Mann's sense of composition, his use of space, and his graceful camera movements bring to life an ancient tapestry where the transformation of an ordinary man into a legend becomes almost a mystical experience." Martin Scorsese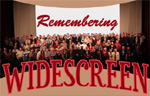 "REMEMBERING WIDESCREEN" on Blu-ray
By Wolfram Hannemann
A documentary about a very special "family" gathering which happens once a year in Bradford, UK - the "Widescreen Weekend" at the National Media Museum. If you ever wondered what "Widescreen Weekend" is all about, this brand new documentary may give you all the answers you need. Mostly filmed during 2013's "Widescreen Weekend" at the National Media Museum in Bradford (UK), Wolfram Hannemann's short film concentrates not just on the people running the festival, but on some of the regular delegates as well.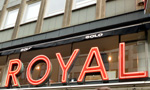 "Search for Paradise" Cue Sheet
The soundtrack of a Cinerama feature could be formatted as 6-track stereo, with mono surround or as 7 or even 8 track stereo with stereo surrounds. In some films surround format would change within the feature. The projectionist would follow a cue sheet indicating when sound channels had to be changed during the performance. This is an example from Malmø in Sweden.
70mm, Cinerama and Cinemiracle shown in Sweden
By Thomas Hauerslev
Which large format films were shown in Sweden in 70mm, Kinopanorama or Cinerama? See the list and let in70mm.com know if you can add more details to it. All contributions: titles, dates and adverts are most welcome. Many 70mm prints are archived in cold conditions near Stockholm at the official Swedish State Film Archive.
Remastering the soundtrack of "The Best Of Cinerama"
By Robert Weisgerber
Sepia Records and I have started the editing process for a CD release of "The Best Of Cinerama." What makes this different than the other Sepia Cinerama CD's is that the source elements are 35mm 7-track full coats of the production. The full coats are a mixture of the only surviving Cinerama 7-track audio of Act I, with narration and Act II, the music and effects without narration
The Latest Word on DAVID LEAN'S Film of DOCTOR ZHIVAGO
By METRO-GOLDWYN-MAYER
"Doctor Zhivago" is playing to record breaking business in its second week at the Loew's Capitol Theatre in New York and the Paramount Theatre in Hollywood with both engagements having the largest advance sales of any Metro-Goldwyn-Mayer roadshow attraction in the history of the company. David Lean's film of Boris Pasternak's Nobel Prize winning novel completed its second capacity week at the Loew's Capitol, January 5, with a smashing gross of $70,224.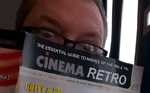 Cinema Retro Magazine Goes Curved in Issue #31
By Thomas Hauerslev
Cinema Retro is essential reading. The latest issue is no exception. Contributions from Raymond Benson, DVD, books and music CD reviews of films from that era, Gareth Oven takes us back to Pinewoods Past plus the usual entertaining articles about long forgotten films of the 60s and 70s. 64 pages in full (Techni)color. Cinema Retro magazine is unique, and if you are tired of (or don't give a dam about most) contemporary films - and adore the films from the 60s and 70s, THIS is THE magazine for you.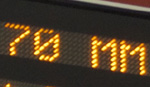 Is it possible that there is still life in the 70mm format?
By Bill Kallay
It's an entertaining film and Anderson has clearly loosened up on being too serious. The film is lighthearted, if not a little slow, and the acting is well done. I laughed quite a few times and thought that Joaquin Phoenix commands the screen. I also enjoyed the sense that I felt like I was back in 1970 when the film take place. I was also reminded of how much I miss seeing 70mm in a large theatre.
70mm, Cinerama and Cinemiracle films shown in Norway
Edited by Thomas Hauerslev
Which large format films were shown in Norway in 70mm, Kinopanorama or Cinerama? See the list and let in70mm.com know if you can add more details to it. All contributions: titles, dates and adverts are most welcome. Many 70mm prints are archived in cold conditions near the Arctic Circle in the official Norwegian State Film Archive.
11th Oslo 70mm Festival, January 2015
By Jan Olsen
The Norwegian film institute proudly presents the 11th Oslo 70mm festival 23. January - 4. February 2015. The program is a mix of vintage original prints, blow-ups and restored classics. This festival, dedicated to a movie format that was introduced more than 50 years ago, is a dream for many movie fans around the world.
"Inherent Vice" is released in70mm
When private eye Doc Sportello's ex-old lady suddenly out of nowhere shows up with a story about her current billionaire land developer boyfriend whom she just happens to be in love with, and a plot by his wife and her boyfriend to kidnap that billionaire and throw him in a loony bin…well, easy for her to say.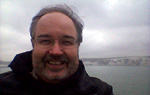 "Interstellar" at the BFI IMAX in London
By Ulrich Rostek
The IMAX sequences – grainless, razor sharp, and amazingly detailed, backed up by that marvelous almost SENSURROUND -like sound – really gave me that hyper realistic first person experience which I not even sensed with our beloved Cinerama. This visual impression soon dragged me into the movie – not leaving much brain capacity to think about the one or the other logical disruption of the plot and the somewhat overloaded storyline.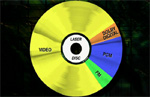 65mm Negative Sources and 4K Screens
By Paulo Roberto P. Elias
Up to the 1970's anyone who wished to enjoy watching a feature film at home would have to resort to some sort of projector, mostly 16 mm equipment, then rent the film, and learn how to set up everything. The video disc changed all that. The movie industry was still struggling to survive, with theater installations closing down permanently everywhere. Film libraries were beginning to fade way or get stuck forever in the vaults of the studios.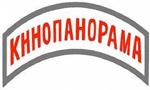 "Great is my Country" in Kinopanorama
Otherwise, this Soviet "cinerama," which is being presented here by the Soviet Ministry of Culture in conjunction with the Soviet exhibition at the Coliseum, is a generally handsome and impressive wide-screen-and-color travelogue, notably short on people and propaganda and long on spectacular views.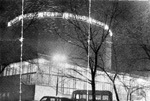 Europe's Largest Panorama Cinema in Moscow
The largest panorama cinema "Mir" [Peace] in Europe opened in Moscow on the 28th of February [probably 1958]. The first audience for the first performance were all the craftsmen and architects who had participated in the construction of this mile stone cinema.
Interstellaring in London
By Mark Lyndon
And yet, 70mm projection cannot be taken for granted. Even as "Interstellar" is smashing a box office records and Hollywood film directors are committing to 70mm principal photography and prints; there are cinema chains that are removing, yes removing 70mm projection from their houses. Who advises them, the captain of the Titanic?

• Go to The art of film projection is not dead yet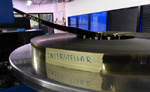 70MM is back to ARCADIA CINEMA - FIRST LOVE NEVER DIES
By Francesco Gualeni
When Mr. Piero Fumagalli heard about that possibility, he asked Warner Bros Italy for a 70MM print beside the 4K Digital version. The 70MM print arrived from London on Monday the 3rd of November 2014 in 8 film cans all locked. Mr. Piero Fumagalli himself inspected each reel making sure the film was free of any damages.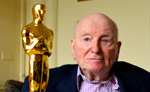 Visiting David Samuelson
By Mark Lyndon
These days, David is confined to a wheelchair in a care home in North London, complete with fiercely protective staff. Luckily, on the day, they came to accept and even welcome our presence. We were here to bear witness to greatness. David Samuelson retains a dogged and defiant Churchillian spirit - a point blank refusal to bow to the ravages of time and fortune.
Introduction of CinemaScope
By David Samuelson
Fox's introduction of CinemaScope proved to be every bit as momentous as the introduction of sound, and the cinema has benefitted from the continued development and perfection of an imperfect original invention. The fidelity of the sound in "The Jazz Singer" (1927) is a long way from the sound we experience in the cinema today, and so it is with anamorphic lenses. Chretien, Skouras, Sponable and Gottschalk would not believe the image quality we see on our screens today.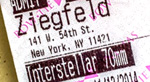 ....one performance, one review (your results may vary)
By Vince Young
It had been years since I had set foot in the Ziegfeld, now about to enter its 45th year of existence, since it had gone through two changes in ownership after the original Walter Reade Organization. I wanted to see if a 70mm presentation nowadays could hold a candle to similar wide-gauge engagements in the past.
Cinerama's Search For Paradise CD Soundtrack
The sound track to the 1957 SEARCH FOR PARADISE was only issued in Mono on vinyl but this CD release has been mixed from the original movie sound track in stereo. Composed by Dimitri Tiomkin and with him conducting the Cinerama Symphony Orchestra, the score sounds glorious. Opera star Robert Merrill sings on the solo numbers on the sound track and also on the pop versions.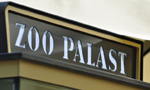 "INTERSTELLAR" in 70mm at the Zoo Palast cinema in Berlin
By Gerhard Witte
"Interstellar" - a visually stunning science-fiction epic with a running time of 169 minutes. The movie is certainly, as is the case with many things in life, a question of taste. I will be brief and say only this. I had a certain amount of difficulty in following the partially meta-physical "extra-terrestrial" content, particularly in the second half of the film. Maybe I am just lacking the necessary powers of imagination.


• Go to "INTERSTELLAR" im Berliner Zoo-Palast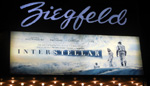 "Interstellar" in 70MM at the Ziegfeld in New York
By Howard Haas
Countless movie premieres and special events like Dr. Who screenings are hosted at the Ziegfeld. But, with more than 1100 seats, the Ziegfeld was designed for movies to be exclusively only there before opening wide, and in the multiplex era, the Ziegfeld's future is in grave doubt. The Ziegfeld is the last huge single screen movie theater still showing daily movies in New York City so I am happy to enjoy a movie there, and was doubly happy to see the 70mm epic "Interstellar" there.

• Go to Dennis Furbush's Gallery: "Interstellar" in 70MM at the Ziegfeld in New York, November 2014
"Interstellar" Now Playing in 70MM
By in70mm.com readers
Just went through a wormhole and then through a black hole - can we do that again please? WOW! The IMAX experience now made me falling in love with the film by putting everything into the right perspective. To sum it up: if you have not seen INTERSTELLAR in IMAX 15/70 you haven't seen it at all.

• Go to 11th Oslo 70mm Festival, January 2015
---
THE 70MM RUMOUR MILL
MARCH 2015

"The 2015 European Cinerama Festival Tour" is starting soon - news and dates to follow. David Strohmaier is also starting to work on the restoration of the 70mm shorts "Shellerama" & "Bridge to Space".


A local non-profit arts group in Ottawa, Ontario, Canada has acquired the 35mm/70mm equipment from the Museum of Canadian History (formally the Museum of Civilization). This equipment will be put to good use when their new cinema is built in the coming year.


"The Hateful Eight" will be presented with anamorphic projector lenses at a 2.75:1 aspect ratio, and the film will have an overture and an intermission.


• Go to The 70mm Rumour Mill
---

• Go to KRRR! 70MM SEMINAR KRNOV
---

• Go to Miramax Films Presents "El Cid"

Go to David Lean's Film of "Doctor Zhivago"

• Go to The Hateful Eight - in 65mm?
---
FILMS IN 70MM
• Todd-AO
• Ultra Panavison 70
• MCS 70 - Superpanorama
• Super Panavision 70
• ARRI 765
• DEFA 70
• Dimension 150
• Super Technirama 70
• Sovscope 70
• Showscan

• Chronological premiere list of major 70mm films
---
---


• Go to Interview & People


• Go to Short stories

• Go to Super Panavision 70
---
---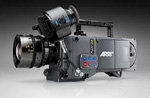 ALEXA 65 - le 70 mm redevient le format d'excellence au cinema
Jacques Morell
On attendait la sortie imminente de la nouvelle caméra Panavision numérique 65mm développée avec le concours de la NASA. L'information est parue en début d'année avec une photo d'une version prototype. Et depuis plus rien. Surprise! La bonne nouvelle est venue d'Allemagne. ARRI, dont les différentes versions de caméras numériques de la gamme ALEXA sont la référence depuis des années sur les plateaux de tournages en Europe et dans le monde entier, sera non seulement la marque leader du cinéma 35mm numérique

• Go to ALEXA 65 - The splendor of 70mm is reborn
---
COMING TO IN70MM.COM

• Sales Manual For Louis De Rochemont's Windjammer
By The Cinemiracle Process
• David Samuelson interview
By Lyndon / Hauerslev
• Kinopanorama Cinemas
By Alain Dorange
• 2014 Schauburg Festival Report
By Thomas Hauerslev
• Walters Siegmund's Todd-AO Barn Findings
• Brian O'Brien, Jr.'s Todd-AO Scrapbook
• Unknown Ultra Panavision 70 short Film
• Vintage articles about Todd-AO, Showscan, Panavision & Dolby
---
IN70MM RULE #106
"How to handle a woman?
There's a way," said the wise old man,
"A way known by ev'ry woman
Since the whole rigmarole began."
"Do I flatter her?" I begged him answer.
"Do I threaten or cajole or plead?
Do I brood or play the gay romancer?"
Said he, smiling: "No indeed.
How to handle a woman?
Mark me well, I will tell you, sir:
The way to handle a woman
Is to love her...simply love her...
Merely love her...love her...love her."

Loading
---
IN70MM e-NEWSLETTER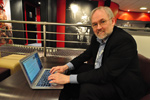 in70mm.com publishes an e-mail newsletter which is sent to users. If you want to join or discontinue, please send an e-mail to Bill Lawrence, in70mm.com.

• Go to e-Newsletter page
• See Past Issues
---
---
IN70MM.COM PARTNER
in70mm.com is proud to be associated with one of the finest cinemas in Europe, Schauburg Kino, home of the annual Todd-AO Festival in Karlsruhe, Germany.

• Go to the Schauburg Kino | Todd-AO Festival
---
SCHAUBURG 2015 TODD-AO FESTIVAL
The 11th "Todd-AO 70mm Festival" will take place from 9-11 October 2015. For three days in October Filmtheater Schauburg in Karlsruhe (Germany) will celebrate the world of LARGE FORMAT film, by offering

a series of epic films in 70mm -

the HD of film formats.

Once again CINERAMA, Super Technirama 70, DEFA 70, Todd-AO, Panavision 70 and Super Panavision 70 will light up on the large 18 meter curved Cinerama screen.

• "in 70mm" is unlike anything you have ever seen - a High Definition movie experience with extremely sharp images and crystal clear 6 track stereo.
• "in 70mm" is very realistic, almost three dimensional and can make everything you have ever seen pale into insignificance. But don't take our word for it - come and see for your self.

• Go to Schauburg Cinerama, Karlsruhe, Germany
---
WHAT PEOPLE HAVE SAID ABOUT IN70MM.COM
I continue to be impressed by the dedication you have to the continuing wellbeing of 70mm. I would like you to have met my colleague and friend, the late Robert Gottschalk, founder and driving force of Panavision. He was of the unshakeable opinion that picture quality, real picture QUALITY, depended on a big piece of negative, the bigger the better.

All good wishes, Sir Sydney Samuelson, December 2009

• Go to Testimonials
---
---
THE 70MM NEWSLETTER
The original idea was

"Encourage film makers to produce and make new films in 65mm, present them in 70mm with 6-track discrete digital sound on big curved screens".

"The 70mm Association Newsletter" was the "voice" of The International 70mm Association.

For 7 years, when the magazine was produced regularly, it was edited and published in Copenhagen. The magazine was never a commercial venture - nor was it intended to be. It had a lot of fans and the number of subscribers climaxed in 2000. The last issue was published in the fall of 2001. Special edition issues 68, 69 & 70 have been made for the Widescreen Weekend.

• Go to The 70mm Newsletter | Back issues

• Go to Presented in 70mm Dolby Stereo
---
RAMA and FUN
THE RAMA PAGES
All readers are invited to send in their RAMAs. The "Rama" pages, now in its 6th year. More than 100 new and vintage RAMAs documented so far. Send your RAMA now!

• Go to 2008 | 2009 | 2010 | 2011 | 2012 | 2013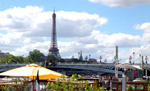 26 Things Movies Taught You
By Bill Kallay
Rather than wasting bullets, megalomaniacs prefer to kill their archenemies using complicated machinery involving fuses, pulley systems, deadly gasses, lasers and man-eating sharks, which will allow their captives at least 20 minutes to escape.
---

• Go to Stanley Kubrick's "2OO1: A Space Odyssey"

• Go to Fred Zinnemann's "Oklahoma!" in Todd-AO

• Go to P T Anderson's "The Master" in System 65

• Go to Mike Todd Jr.'s "Scent of Mystery" in Smell-O-Vision
---

• Go to Presented in 70mm Dolby Stereo
---
NOW SHOOTING IN 65MM
Sunset Song Filming in 65mm
Director Terence Davies has begun principal photography in Scotland on "Sunset Song", a film adaptation of Lewis Grassic Gibbon's 1932 classic novel. To capture the landscape, the filmmakers have chosen to shoot on 65mm film, a creative decision that the producers say "will ensure depth, clarity and emotional impact on the screen".
"Violet" Partly Photographed in 8-perf 65mm
By Bas Devos, director
We shot in an 8-perf format to approach the 4:3 ratio. We wanted to achieve a heightened reality for certain shots. Approx. 12 min in the films final cut is 65mm footage. This includes a monolithic ending sequence of 6½ min. Due to the length of an 8 perf 65mm reel, we had to cut the shot in two parts and stich it together in post to have one fluent 6½ min shot.
---
65/70MM WORKSHOP
"We thought at the time that there wouldn't be many places to play this in 70mm, but we were pleasantly surprised. There are still a lot of projectors, at least in US, that are 35mm and 70mm combined."

- Paul Thomas Anderson

• Go to 65/70mm Workshop
---
---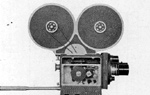 Introduction to Projection and Wide Film (1895-1930)
By Rick Mitchell (posthumously)
It is the intention of this book to deal with the subject of "Wide Screen" as it relates to the mainstream theatrical motion picture industry and its history, with reference, where appropriate, to its effect upon such related areas as documentary, industrial, and non-theatrical production and exhibition. Notable techniques and processes, the events and situations within the industry which precipitated their introduction, and the subsequent loss of popularity of some them will be covered mostly in chronological order as new developments were generally founded upon, or a reaction to, a previous one.

• Go to W.K.L. Dickson and the 1.33:1 Frame
• Go to Projection and Wide Film (1895-1930)
---
TODD-AO PAGE
Todd-AO Birth date
By Brian O'Brien
On October 15th, 1952 I received a phone call from a Michael Todd in New York City, who wished to come to see me at Rochester that evening. I had never heard of Todd, but it seems that he is a well-known Broadway producer.

• Go to Todd-AO | Filmed in Todd-AO | The First Movie Produced By Todd-AO | Walter Siegmund Remembered
---
---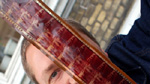 How to Create the Best experience in the Cinema
By Thomas Hauerslev
Films like "Titanic" and "Braveheart" should have been shot in 65mm simply because they are "big" movies. But shooting in 65mm doesn't need to be limited to the obvious mega productions. Small independent movies would benefit enormously with the sharper picture. I'd enjoy seeing films like "Enemy of the State", "As Good As It Gets" and "You've Got Mail" and many more, shot on 65mm stock and presented in 70mm. I and most of our readership would certainly seek out cinemas presenting films in 70mm.
---
RECENT NEWS
• Interstellar: La Magia Del 70mm
• Grand Mercure, INTERSTELLAR
• Tony Cutts Passed Away
• Projectionist is bringing 70mm back
• The 10th Todd-AO 70mm festival
• Kinopanorama Paris Update
• "Holiday In Spain" released on Blu-Ray
• "Interstellar" opens in 5/70 and IMAX 70MM

• Go to 2015 news