LATEST 70MM NEWS AND FEATURES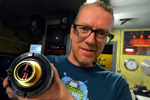 A Visit to the Filmhouse in Edinburgh, Scotland
By Thomas Hauerslev
Some months ago I wrote an e-mail to the Chief Technician David Boyd saying I would be in Edinburgh on vacation, and if possible, I'd like to come and visit him, and see his DP70s. David was quick and said I would be very welcome indeed. I arrived on a Thursday morning around 10:45 in the last week of July, and David was there to give me the big tour.

• Go to the gallery: Filmhouse, Edinburgh
---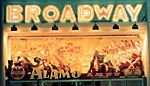 Broadway "Spaciovision" Theatre, Paris, France
By Christian Karl
Other major and significant theatre dedicated to the widescreen 70mm was the Broadway which was opened by one of the managers of the Kinopanorama the first April 1977 with the process "Spaciovision" on his large curved screen given for 380m2.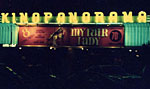 Kinopanorama Theatre, Paris, France
By Christian Karl
My first movie at the Kinopanorama was "Lawrence of Arabia" and my first in 70mm, a real discovery and experience, in January 1975, followed by about forty more memorable visits (including "West Side Story"- a few times, "El Cid", "War and Peace", "The Sound of Music", "My Fair Lady", "Lawrence of Arabia" restoration ...) until December 1989 with "Indiana Jones and the last Crusade".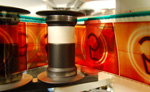 Goodbye 70mm IMAX Projector
By Vaughan, McGregor and van der Post
When IMAX opened at the NMeM in 1983, a little over 10 years after the IMAX technology premiered in Japan, it was the first ever IMAX cinema in Europe and contained Britain's largest cinema screen. This summer we say goodbye to the good old 70mm IMAX projector at Picturehouse at National Media Museum, as it will be converted to digital and the cinema will be refurbished.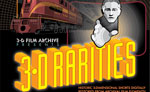 3-D Film Archive, Proudly Presents "3-D RARITIES"
By Bob Furmanek
We've just had three sold out showings at the Museum of Modern Art in New York. Traditionally, New York audiences can be tough and they loved it. Many films got applause from young and old alike and word-of-mouth was excellent following each performance. We want people around the world to see these beautifully restored treasures on the big screen. For the Cinerama fans, we have stereoscopic footage taken on a roller-coaster from 1922!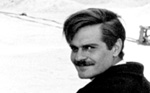 Omar Sharif Passed Away
By Mark Lyndon
We must bid him a very fond farewell. For 70mm aficionados, "Lawrence of Arabia", regarded by many as the greatest film ever made, was a true triumph of the art and science of cinema. "Doctor Zhivago", was a rôle which made him the brightest star in the film firmament, adored and idolised by millions. He left this world, like his great Zhivago, after a fatal heart attack.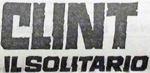 Spaghetti Western in Super Technirama 70
By Gerhard Schwach
Some years ago I recorded a Spaghetti Western from 1967 which was shot in Super Technirama 70! The German Title was "Tal der Hoffnung", the italian one "Clint il Solitario" but I have doubts that it was ever shown in Germany or Austria in cinemas.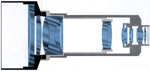 T-Kiptagon Für 70mm Breitfilm
By ISCO, Göttingen
Für den 70mm Breitfilm kommen große Bildwände in Betracht, die auch möglichst voll ausgenutzt werden sollen. Dabei treten hinsichtlich der Brennweitenfestlegung Schwierigkeiten auf. Hier hilft das T-Kiptagon, bei dem die Möglichkeit besteht, die Brennweiten mit einem entsprechenden Vorsatz zu verändern, und zwar um ca. ± 8 %.
The German Travelogue "Flying Clipper – Traumreise unter weißen Segeln" in Germany and in the USA
By Gerhard Witte
"Flying Clipper", perhaps a German answer to the successful Cinemiracle movie "Windjammer", had its World Premiere at Munich's "Royal-Palast" on Goetheplatz on Wednesday, December 19, 1962. The travelogue is the first German feature film production shot in the new wide-gauge film process called "MCS 70" which had been developed by Modern Cinema Systems (MCS) Film KG.


• Go to Der Reisefilm "Flying Clipper – Traumreise unter weißen Segeln" in Deutschland und in den USA
"Inherent Vice," directed by Paul Thomas Anderson
Press by Warner Brothers
"Inherent Vice," an adaptation of Thomas Pynchon's seventh and funniest novel, is the seventh film written and directed by Paul Thomas Anderson—and the very first film adaptation ever of Pynchon's legendarily inventive, culturally kaleidoscopic work. A surf noir, the story dives headlong into the smoky haze and neon afterglow of the American counterculture via a psychedelic spin on the classic detective yarn.
"Interstellar" directed by Christopher Nolan
Press by Warner Brothers
Acclaimed filmmaker Christopher Nolan directs an international cast in "Interstellar." With our time on Earth coming to an end, a team of explorers undertakes the most important mission in human history: travelling beyond this galaxy to discover whether mankind has a future among the stars.
Panavision and the Resurrecting of Dinosaur Technology
By Tyler Purcell
After seeing the 70mm test footage, there was a rousing applause. The next thing we saw was a DCP version of the material and it really shows how proper film projection truly trumps digital. The blacks were mushy and undefined, the highlights were clearly peaking and the whole image looked flat. All of that beautiful depth seen in the film projection was lost. We sadly realized this format, developed in the 50's, is still better then all the money we've thrown at conventional digital projection.
June 1990, Restored "Lawrence of Arabia" premieres in Copenhagen, Denmark
By Thomas Hauerslev
The restored "Lawrence of Arabia" opened in 70mm and six-track Dolby Stereo SR at the prestigious Imperial Bio, 31. May. Much to the surprise of everyone - not least the distribution company, "Lawrence" played extremely well for 4 weeks. There were two shows a day, for a price of DKK 40/45 pr. ticket. The gross was DKK 853.000 in 29 days and 58 performances.

• Go to the gallery: "Lawrence of Arabia" in 70MM Dolby Stereo on DP70 #1644, Imperial Bio, Copenhagen, Denmark, 31. May 1990 - 28. june 1990
---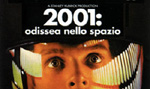 Open Air "2OO1: A Space Odyssey" & "Interstellar" in Italy
By Donatella Miceli
Two special events (on Friday 26 and Saturday, June 27), two extraordinary science fiction movies, "2001: A Space Odyssey" by Stanley Kubrick and "Interstellar" of Christopher Nolan, which will be screened in 70mm format that offers a brighter and clearer resolution, three times higher than the standard screening format.
"SAVAGE PAMPAS" will get a 4k digital restoration
By Thomas Hauerslev
Schauburg Digital Division will scan a pristine original 70mm print from the first release in 1966, which came directly from the 65mm camera original. This print already has the color corrections, but it is faded. The print will be cleaned and scanned at 4K Resolution. Schauburg's scan expert Vincent Koch will restore the color.
11. Todd-AO 70mm-Festival 2015
By Born & Hauerslev
We have launched the 11th instalment of the "Todd-AO 70mm Festival" to be held from 9 - 11 October 2015 at the Schauburg Cinerama in Karlsruhe, Germany. For three days in October Filmtheater Schauburg celebrates the world of LARGE FORMAT film, by offering a series of epic films in 70mm - the HD of film formats.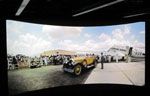 The 2015 European Cinerama Festival Tour in Oslo
By Anders M Olsson
I've seen these films many times, but only on deeply curved screens, and on my own smallish TV. Never before had I seen them on a large flat screen. When seated at least halfway back into the cinema, the smilebox process made the illusion of a curved screen complete. If I hadn't known better, I could have sworn that I was actually sitting in front of a curved screen.

• Go to Gallery: Cinerama Remaster, Oslo, Norway
70MM in Varnsdorf - a new hope?
By Ulrich Rostek
Hard times for a 70mm addict. The traditional Widescreen Weekend in Bradford was shifted to October and business kept me away from Krnov. So I felt happy, when an up till then unknown event was announced on "In70mm.com". Once again I took a long journey only to watch a couple of movies. Imbedded in a beautiful landscape not too far away from either the German or the Polish border the Czech smalltown Varnsdorf is not the center of the world and tourist attractions are somewhat limited.


• Go to: 70MM in Varnsdorf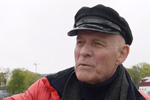 Sold Out "Windjammer"
By Randy Gitch
After 22 days on marquees and movie screens, the 2015 European Cinerama Festival Tour has closed its' last show in Oslo, Norway with a sold-out presentation of "Windjammer: The Voyage of the Christian Radich" at the Norwegian Film Institute's Cinemateket. The film is a Norwegian favorite.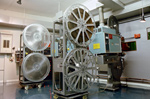 Visiting 70MM Cinemas of London's West End, September 1990
By Thomas Hauerslev
In September 1990, I visited London to see and photograph the 70mm cinemas. Looking at the pictures from London in 1990 so many years later inspired me to make a gallery to share the images for the first time. Maybe someone will see them and enjoy looking back at a time when things were different, and of course - a lot better. In fact, at least 70mm better.

• Go to 70MM Cinemas Gallery
---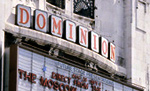 Dominion, London
By Thomas Hauerslev
The Dominion on Tottenham Ct. Road, London. More than 2000 seats in several floors. Once the home of "South Pacific" in Todd-AO where it played for 4 years and 22 weeks. A world record. Has been used a live theatre for 25-30 years, with the occasional film presentation in between.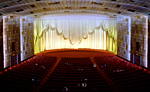 Empire, Leicester Sq., London
By Thomas Hauerslev
The magnificent Empire on Leicester Square in London, England. One of the most beautiful large cinemas of the modern age. For many years one of the the leading 70mm houses in England. Home of many 70mm premieres including "Far and Away", "Backdraft", "Black Rain", "Top Gun", "Brainstorm", "Ryan's Daughter", "Doctor Zhivago" and "Ben Hur".

• Go to Empire Cinema, Leicester Sq., London
---
RECENT NEWS
• "We keep you alive to serve this ship"
• The First 70MM IMAX Cinema in England
• 70mm-Superpanorama Amüsement
• HTWWW's "World Preview" in Paris
• Smilebox® Wows On Curved Or Flat Screens
• Cinerama 70mm short subject remastering work completed
• An Incol 70/35 projection booth as found
• Portland, Oregon USA 70mm Update
• 70mm Film Festival in Centrum Panorama Varnsdorf

• Go to 2015 news
THE 70MM RUMOUR MILL
AUGUST 2015

The Hateful 8 has a web site

Prince Charles Cinema in London is looking into re-installing 70mm

• Go to The 70mm Rumour Mill
---

• Go to in70mm.com auf Deutsch
---

• Go to Motion pictures photographed in Ultra Panavison 70
---

• Go to Films in 70mm and 35mm Cinema Digital Sound
---
FILMS IN 70MM
• Todd-AO
• Ultra Panavison 70
• MCS 70 - Superpanorama
• Super Panavision 70
• ARRI 765
• DEFA 70
• Dimension 150
• Super Technirama 70
• Sovscope 70
• Showscan

• Chronological premiere list of major 70mm films
---

Go to David Lean's Film of "Doctor Zhivago"
---
---


• Go to Interview & People


• Go to Short stories

• Go to Super Panavision 70
---
---
Introduction of CinemaScope
By David Samuelson
Fox's introduction of CinemaScope proved to be every bit as momentous as the introduction of sound, and the cinema has benefitted from the continued development and perfection of an imperfect original invention. The fidelity of the sound in "The Jazz Singer" (1927) is a long way from the sound we experience in the cinema today, and so it is with anamorphic lenses. Chretien, Skouras, Sponable and Gottschalk would not believe the image quality we see on our screens today.
---
---
RAMA and FUN
THE RAMA PAGES
All readers are invited to send in their RAMAs. The "Rama" pages, now in its 6th year. More than 100 new and vintage RAMAs documented so far. Send your RAMA now!

• Go to 2008 | 2009 | 2010 | 2011 | 2012 | 2013 | 2014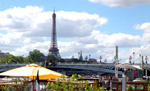 26 Things Movies Taught You
By Bill Kallay
Rather than wasting bullets, megalomaniacs prefer to kill their archenemies using complicated machinery involving fuses, pulley systems, deadly gasses, lasers and man-eating sharks, which will allow their captives at least 20 minutes to escape.
---
COMING TO IN70MM.COM

• Sales Manual For Louis De Rochemont's Windjammer
By The Cinemiracle Process
• David Samuelson interview
By Lyndon / Hauerslev
• Visit to La Geode, Paris
By Thomas Hauerslev
• Visit to Futuroscope, Poitiers
By Thomas Hauerslev
• Visit to Kinepolis, Bruxelles
By Thomas Hauerslev
• Remastering The Best of Cinerama
By Dave Strohmaier
• Brian O'Brien, Jr.'s Todd-AO Scrapbook
Coming soon
• Vintage articles about Todd-AO, Showscan, Panavision & Dolby
• "The Golden Head"
By Gerhard Witte
• George Florence and The Astor
By Eric White

Loading
---
IN70MM e-NEWSLETTER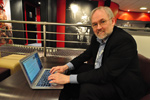 in70mm.com publishes an e-mail newsletter which is sent to users. If you want to join or discontinue, please send an e-mail to Bill Lawrence, in70mm.com.

• Go to e-Newsletter page
• See Past Issues
---
---
IN70MM.COM PARTNER
in70mm.com is proud to be associated with one of the finest cinemas in Europe, Schauburg Kino, home of the annual Todd-AO Festival in Karlsruhe, Germany.

• Go to Schauburg Cinerama | Todd-AO Festival
---
SCHAUBURG 2015 TODD-AO FESTIVAL
11. Todd-AO 70mm-Festival 2015
KARLSRUHE, May 2015 / in70mm.com news. We have launched the 11th instalment of the "Todd-AO 70mm Festival" to be held from 9 - 11 October 2015 at the Schauburg Cinerama in Karlsruhe, Germany. For three days in October Filmtheater Schauburg celebrates the world of LARGE FORMAT film, by offering a series of epic films in 70mm - the HD of film formats.

We feel our 2015 program has it all: Space adventures, Musical, Drama, War, Nazis, Religion, Music, Songs, Mystery, Cars, Chases, Panzer, Adventure, Revenge and true love. Bring your family, your children, your grand mother to see the films again in a big cinema.

One of very few original cinemas, still equipped with 70mm projectors. The huge screen is 18 meters wide, curved and covered by a "Cinerama red" curtain. It's the perfect framework to present 70mm in the splendour of 6-track magnetic sound. For 2015, a brand new Harkness screen will be installed prior to the festival. No expenses are spared to give you the very best experience.

Herbert Born
Filmtheater Schauburg

• Go to Schauburg Cinerama, Karlsruhe, Germany
• Go to Schauburg Cinerama, Picture Presentation
The Greatest Show in Todd-AO: Mission Report from Karlsruhe
By Thomas Hauerslev
The Todd-AO Festival at the Schauburg is not only pretzel, sekt, schnitzel and Hoepfner's hefewize, it is indeed about going to the movies in style. An experience all by itself. Seeing the films at the Schauburg like seeing the films as they were originally presented - in a big cinema, on a a huge curved screen with red curtains and a Gong. It's all about showmanship and presentation, and very few cinemas do it better than the staff of the Schauburg.
---

• Go to Todd-AO 70mm-Festival 2015
---
WHAT PEOPLE HAVE SAID ABOUT IN70MM.COM
I continue to be impressed by the dedication you have to the continuing wellbeing of 70mm. I would like you to have met my colleague and friend, the late Robert Gottschalk, founder and driving force of Panavision. He was of the unshakeable opinion that picture quality, real picture QUALITY, depended on a big piece of negative, the bigger the better.

All good wishes, Sir Sydney Samuelson, December 2009

• Go to Testimonials
• Go to Sir Sydney
---
THE 70MM NEWSLETTER
The original idea was

"Encourage film makers to produce and make new films in 65mm, present them in 70mm with 6-track discrete digital sound on big curved screens".

"The 70mm Association Newsletter" was the "voice" of The International 70mm Association.

For 7 years, when the magazine was produced regularly, it was edited and published in Copenhagen. The magazine was never a commercial venture - nor was it intended to be. It had a lot of fans and the number of subscribers climaxed in 2000. The last issue was published in the fall of 2001. Special edition issues 68, 69 & 70 have been made for the Widescreen Weekend.

• Go to The 70mm Newsletter | Back issues

• Go to Presented in 70mm Dolby Stereo

• Go to Stanley Kubrick's "2OO1: A Space Odyssey"
---

• Go to Presented in 70mm Dolby Stereo
---
---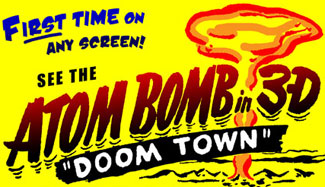 • Go to "3-D RARITIES"
---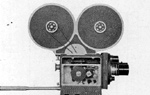 Introduction to Projection and Wide Film (1895-1930)
By Rick Mitchell (posthumously)
It is the intention of this book to deal with the subject of "Wide Screen" as it relates to the mainstream theatrical motion picture industry and its history, with reference, where appropriate, to its effect upon such related areas as documentary, industrial, and non-theatrical production and exhibition. Notable techniques and processes, the events and situations within the industry which precipitated their introduction, and the subsequent loss of popularity of some them will be covered mostly in chronological order as new developments were generally founded upon, or a reaction to, a previous one.

• Go to W.K.L. Dickson and the 1.33:1 Frame
• Go to Projection and Wide Film (1895-1930)
---
TODD-AO PAGE
Todd-AO Birth date
By Brian O'Brien
On October 15th, 1952 I received a phone call from a Michael Todd in New York City, who wished to come to see me at Rochester that evening. I had never heard of Todd, but it seems that he is a well-known Broadway producer.

• Go to Todd-AO | Filmed in Todd-AO | The First Movie Produced By Todd-AO | Walter Siegmund Remembered
---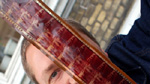 How to Create the Best experience in the Cinema
By Thomas Hauerslev
Films like "Titanic" and "Braveheart" should have been shot in 65mm simply because they are "big" movies. But shooting in 65mm doesn't need to be limited to the obvious mega productions. Small independent movies would benefit enormously with the sharper picture. I'd enjoy seeing films like "Enemy of the State", "As Good As It Gets" and "You've Got Mail" and many more, shot on 65mm stock and presented in 70mm. I and most of our readership would certainly seek out cinemas presenting films in 70mm.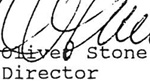 70mm Presentations - Letters from Directors
By Paul Rayton
Back in the heydays of 70mm exhibition of movies, it was not uncommon for a projectionist to open a shipping case of a 70mm title and find a "personal" letter from someone associated with the film. Typically it would be signed by the Director, or the Producer. Subjects addressed would be things like the illumination level on screen, and the audio playback level. Apparently many cinemas typically ran sound a bit too low. These messages were typically reminding us projectionists to run the sound at the "Dolby Standard" of a fader setting of "7".
---
NOW SHOOTING IN 65MM

• Go to The Hateful Eight - in 65mm?
• Go to Sunset Song Filming in 65mm