• Go to in70mm.com news 2017
---
LATEST 7OMM NEWS AND FEATURES
"Solomon and Sheba": The 70mm Engagements
By Mike Coate
70-millimeter presentations of "Solomon and Sheba" in North America. The film's 70mm prints consisted of full-frame imagery derived from Super Technirama photography and featured discrete six-channel stereophonic sound. These were arguably the best cinemas in which to experience this film.
"The Last Valley": The 70mm Engagements
By Mike Coate
"The Last Valley" was among four confirmed first-run films released in 1971 with 70mm prints for selected engagements. The ABC/Cinerama release was directed by James Clavell and starred Michael Caine and Omar Sharif. These were continuous performance, general release bookings (i.e. not roadshow…although roadshow style program booklets were made available).
"Far and Away": The 70mm Engagements
By Mike Coate
"Far and Away" was among ten confirmed first-run films released in 1992 with 70mm prints for selected engagements. One-hundred sixty-three 70mm prints of the film were reportedly struck for distribution in North America, which places it among the industry's ten-highest large-format print orders in history and the highest in Universal Studios' history.
"Amadeus": The 70mm Engagements
By Mike Coate
"Amadeus" was among sixteen confirmed first-run films released in 1984 with 70mm prints for selected engagements. The Saul Zaentz Company production and Orion release — directed by Milos Forman and starring F. Murray Abraham and Tom Hulce — opened exclusively in a 70mm limited release on September 19th.
Flying Clipper, Wiederaufführung der englischen Sprachfassung in digital restaurierter 4K Version
Von Schauburg Cinerama Press Bureau
Am Vorabend unseres traditionellen Todd-AO 70mm-Filmfestivals präsentieren wir den Film erstmals in einer digitalen 4K-Version, die von einer original 70mm-Kino-Kopie abgetastet und hochwertig digital restauriert wurde. Zu unserer Sondervorstellung am 21. September um 20 Uhr erwarten wir prominente Gäste, die maßgeblich bei der Entstehung des Films beteiligt waren.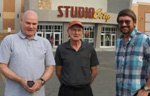 Cinerama's 65th Anniversary Event at the Cooper in Casper
By Strohmaier, Gitsch and March
Casper's Cooper Auditorium has hosted a special Cinerama Weekend over three days to celebrate the 65th anniversary of Cinerama in the heart of Wyoming's famed Cowboy Country. The Cooper proved the perfect venue for the event. Wyoming Theater's owner Randy Pryde has built this special auditorium at his Studio City Mesa West theater complex as an homage to the glorious Cooper Theater.
"Murder on the Orient Express" in the splendour of 7OMM
By Thomas Hauerslev
A Worldwide in-progress 7OMM Presentation Premiere list which has been has been edited based on internet foras, reports by in70mm.com's readers and theater web sites. This page is

based on information sent in by YOU! Call your local cinema and ask for the authentic 7OMM Experience. Just as the director want you to see his film.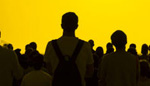 Margaret Honda's 70mm Kurzfilm "Spectrum Reverse Spectrum"
Von Gerhard Witte
"Spectrum Reverse Spectrum" ist ohne Kamera entstanden, indem 70mm-Filmmaterial mit genau kalibriertem Farblicht auf einer optischen Bank belichtet wurde. Das brillante, riesige Bild erzeugt eine intensive Wahrnehmungserfahrung, die wiederum den eigenen Körper bewusst werden lässt.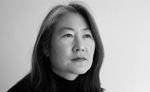 Margaret Honda's 70mm short, "Spectrum Reverse Spectrum"
By Gerhard Witte
"Spectrum Reverse Spectrum" is a camera-less film made by exposing 70mm print stock to precisely calibrated colored light in a film printe. The subjective visual effects of the film, enhanced by the size and brilliance of 70mm projection, make you aware of the act of watching and so remind you of the body you inhabit.
DEFA 70 – More than just a question of the format!
By Ingolf Vonau
Cinema was understood as an ideological and cultural conveying institution under an absolute leadership of the communist party and their hierarchical administrative practice. The focus of the DEFA 70mm project was, therefore, to maintain the attractiveness of cinema going, and to enhance it with 70mm wide film technology.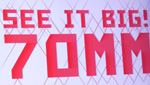 Mission Report: See It Big in 70mm
By Howard Haas
All Russian films had brief introductions by a museum curator and by guest curator Max Carpenter who organized them. My favorite of the trilogy was "The Story of Flaming Years" because the WW2 scenes and cinematography were so great in 70mm. Seeing these Russian films on the big screen, was definitely a once in a lifetime opportunity, and made for an exciting day!

• Go to Oslo 7OMM Festival
• Go to Gallery 12th 70mm Film Festival Oslo, Norway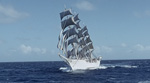 "WINDJAMMER" to set sail soon in a new digital version
By Randy Gitsch
"WINDJAMMER: THE VOYAGE OF THE CHRISTIAN RADICH" to set sail soon in a new digital version. Widescreen film fans around the world will be thrilled to hear that a new, sharper, clearer version of the 1958 three-panel picture has now been created by the Cinerama Restoration Team. Its theatrical rollout is now nearing its kick-off and will lead to a new Blu-ray launch next spring.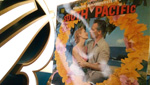 Record Breaking Film in all its 70mm - Todd-AO Glory on Blu Ray!!
By Mark Lees
Final performance - 30th September 1962 - Total run 4 Years 5 months 2 Weeks !! a total of 232 Weeks. They only had two 70mm prints in that time the number of screenings at this Cinema 2,551 performances!! in London an unbroken, record run that will probably never be equalled!!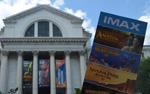 Smithsonian Shouldn't Destroy the Natural History Museum's IMAX Theater
By James Hyder
The Smithsonian Institution's National Museum of Natural History in Washington, DC, is planning to close its 18-year-old Samuel C. Johnson IMAX Theater on Sept. 30. The plan had not been announced publicly and only came to light in mid-July, when a group of distinguished giant-screen film producers, led by Jonathan Barker of SK Films and Taran Davies of Cosmic Picture, published an open letter calling for the decision to be delayed or reversed.
Mancini's complete score of "The Great Race"
By Gerhard Witte
The 3-cd box set with an epic art design by Jim Titus. The included booklet gives detailed information about Mancini's score and the movie. The original film score is on CD1 and CD2, and on CD3 is represented the LP-version released in 1965 – here Mancini's album arrangements use a smaller group of players than the original film score.
---

• Go to 13. Todd-AO 70mm-Festival
---

• Go to in70mm.com auf Deutsch
---

• Go to "Flying Clipper" in MCS 70 Superpanorama

• Go to "FLYING CLIPPER" In 4K von der original 70mm Kinokopie restauriert
---
The 7OMM Engagements
By Mike Coate
The following are lists of the 70mm first-run engagements of a hand full of film titles in North America:

• "Blue Thunder"

• "Bring on the Night"

• "Amadeus"

• "Far and Away"

• "Hoffa"

• "Lifeforce"

• "The Lost Boys"

• "The Last Valley"

• "Pink Floyd: The Wall"

• "Predator"

• "The Road Warrior"

• "Rocky III"

• "Solomon and Sheba"

• "Star Trek: The Motion Picture"

• "Star Trek II: The Wrath of Khan"


• Go to 70mm Engagements
• Go to in70mm.com's list of films blown up to 7OMM

---
Todd-AO How It All Began
By Brian O'Brien, Jr.
Finally, he called one night and said "OK Doctor, I give up. I have been looking into the companies you mentioned and American Optical looks like the best bet. What do I do now?" "Fine" said my dad, "I am having lunch with Walter Stewart, President of AO next Tuesday. Why do you not come up to Southbridge and have lunch with us?".


• Go to Todd-AO - Wie alles begann
---
RECENT NEWS
• Widescreen Weekend 2017
• Margaret Honda's "Spectrum Reverse Spectrum" in 70mm
• A Brief History of Wartime
• Anamorphic Weekend in London
• Superior Quartz Products Xenon Lamps for Large Format Projection
• "Dunkirk" in 70mm IMAX at the Langley theater
• "Dunkirk": 70mm Film Projectors Ready to Go!
• Showcase Presentations in Honolulu

• Go to 2017 News

in70mm.com Mission:
• To record the history of the large format movies and the 70mm cinemas as remembered by the people who worked with the films. Both during making and during running the films in projection rooms and as the audience, looking at the curved screen.
• in70mm.com, a unique internet based magazine, with articles about 70mm cinemas, 70mm people, 70mm films, 70mm sound, 70mm film credits, 70mm history and 70mm technology. Readers and fans of 70mm are always welcome to contribute.
---
SEARCH 70MM.COM
Loading
---
WHAT PEOPLE HAVE SAID ABOUT IN70MM.COM
I continue to be impressed by the dedication you have to the continuing wellbeing of 70mm. I would like you to have met my colleague and friend, the late Robert Gottschalk, founder and driving force of Panavision. He was of the unshakeable opinion that picture quality, real picture QUALITY, depended on a big piece of negative, the bigger the better.

All good wishes, Sir Sydney Samuelson, December 2009

• Go to Testimonials
• Go to Sir Sydney
---
THE 70MM RUMOUR MILL
SEPTEMBER 2017

BFI IMAX in London will soon present a series of 7OMM IMAX titles - watch Now showing in 70mm in a theatre near you! for details

Interstellar
Dunkirk
Inception
The Dark Knight Rises
Batman: The Dark Knight

• Go to The 70mm Rumour Mill
---
IN7OMM e-NEWSLETTER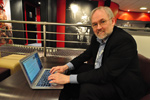 in70mm.com publishes an e-mail newsletter which is sent to users. If you want to join or discontinue, please send an e-mail to Bill Lawrence, in70mm.com. 902 readers already signed up.

• Go to e-Newsletter page
• See Past Issues
---
IN70MM.COM PARTNER
in70mm.com is proud to be associated with one of the finest cinemas in Europe, Schauburg Kino, home of the annual Todd-AO Festival in Karlsruhe, Germany.

• Go to Schauburg Cinerama | Todd-AO Festival
---

• Go to Chronological premiere list of major 70mm films
---

• Go to "La Fayette" in CINERAMA

• Go to "Dunkirk" filmed in 65mm with IMAX cameras
---

• Go to The RAMA Pages
• Go to Alphabetical listing of Ramas
---
COMING SOON TO IN70MM.COM
•

Cinemiracle Theatre Survey


By R. H. McCullough
• Visit to Futuroscope, Poitiers
By Thomas Hauerslev
• Visit to Kinepolis, Bruxelles
By Thomas Hauerslev
• Visit to La Geode, Paris
By Thomas Hauerslev
• Georges Loisel's list of 7OMM in Paris
By Olivier Rousseau
• Rare black/white images from American Optical Company
Coming soon
• "Oklahoma!" on opening night at the Rivoli
Coming soon
• Vintage articles about Todd-AO, Showscan, Panavision & Dolby
• Plannung und Einrichtung von Breitfilmtheatern
By Kino-Technik, 1959