LATEST 70MM NEWS AND FEATURES
Cinema 180 in Denmark
By Thomas Hauerslev
There were at least four Cinema 180 70mm installations in Denmark between late 1970s and mid 1990s. In this page you can see images from three of them. The only installation I remember was in Aalborg, where I took some notes when I visited in 1991.
Cinerama unterm Sternenhimmel
Von Cameron Glendinning
Es begann, als mir zu Ohren kam, dass ein gewisses Lager geräumt werden sollte, in dem sich viele Cinerama-Filme befanden. Ein paar bestimmte Jungs hatten die Leute dort belogen und ihnen vorgegaukelt, sie wollten das Magnetfilm-Material wiederverwenden, während sie in Wahrheit nur die Soundtracks anhören wollten.
Seeing "War and Peace" in 70mm is so rare. It is like a very fine wine. You HAVE to appreciate it
By Bal, Pol, Lyndon, Wolthuis and Hauerslev


Show it in 70mm and they will come. The EYE museum respectfully showed the film in 70mm, and the audience did come, and in greater numbers than expected.

The presentation was a marvel to behold. The three projectionists did a fantastic job keeping the film in focus and steady throughout the performance.
A refrigerator and a DP70, please
By Gerhard Witte
The Saturn electronics store on Tauentzienstraße 9 in Berlin's Europa Center has exhibited an authentic Todd-AO DP70 70mm projector in their department of Hi-Fi and electronics. The machine can be seen on the third floor in the Megastore's HiFi department.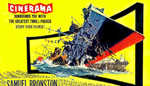 My Cinerama Memories from Detroit
By Robert Jameson
I had first gone to see "This is Cinerama" with my parents in 1953 but was too young to appreciate or remember the experience. Later, When I was older my family took me to see "South Seas Adventure" and it made a permanent impact. The Music Hall then showed "Windjammer", repeated "Seven Wonders" and all the rest, however, I had never seen Search for Paradise until the performance at the Dome last year.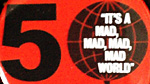 A 50th Anniversary with some disappointments but lots of laughter and happiness
By Sebastian Rosacker
It was a digital 4K screening. The film was beautifully restored with sparkling and sharp colors, projection and sound. If the atmosphere was high before the film, it was if possible even higher now. Lots of laughter was heard through the auditorium and for every new celebrity that entered the screen there was a warm applause. And the question is if there really exists another film with so many celebrities than "IT'S A MAD, MAD, MAD, MAD WORLD".


Ett 50-årsjubileum med några besvikelser men massor av skratt och glädje
---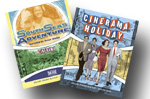 Flicker Alley presents CINERAMA HOLIDAY and SOUTH SEAS ADVENTURE
Flicker Alley and Cinerama Inc. are pleased to announce the home video digital premieres of "Cinerama Holiday" (1955) and "South Seas Adventure" (1958). Both films will be released in Deluxe Combo Blu-ray/DVD editions in conjunction with the 50th Anniversary of Pacific Theatres' historic Cinerama Dome in Hollywood, California. These two widescreen treasures will be presented in the "Smilebox" curved screen simulation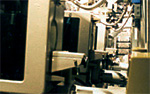 Looking for Grauman Chinese's DP70s
By Kurt Wahler
Researcher Kurt Wahlner is looking for information on the installation dates for the 3 Norelco DP70s the theatre had for many years. He is researching a page on projectors and sound systems for his Grauman's Chinese fan site. He is trying to piece together the history of all the projection and sound systems for the Chinese over the years, and there have been a good number.
"Fortress of Peace" 70MM Remastering In 2K Digital
By Dave Strohmaier
I took both existing 70mm prints from the vaults down to Todd-AO in Hollywood for a digital transfer from the original 6 channel magnetic striped print. We brought both 70mm prints to make sure to check that at least one of them would have a usable track. A few days later I got a call from the guys at Todd AO transfer room and they said the sound on the prints was fine and the new digital track was ready for pick up.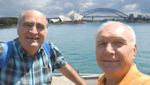 In The Picture - Tom Down Under
By David Coles
Tom March spent a week in Sydney and had been looking forward meeting in person John H. Mitchell - the man who has been keeping the 3-strip flame alive Down Under for over 35 years. A two night 'Cinerama Festival' was held, with "In The Picture" and a variety of 3-strip items shown on Friday evening, and a feature "The Best of Cinerama" being screened on the Saturday.
"War and Peace" in Amsterdam 9. November 2013
Sergei Bondarchuk's epic film will be shown in Amsterdam at the EYE film museum on 9. November 2013. The presentation will be in original Sovscope 70. First half is very faded Eastman color, but the second half is reported to be in "glorious" Orwo color. This print runs 5 hours and 37 minutes. The sound is of course 6-track magnetic, however, some wear and tear is to be expected from this rare print. The print is in Russian with Dutch and French subtitles. This screening is introduced by Gerwin van der Pol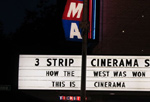 From Sweden to Seattle
By Anders M Olsson
There are only three places in the world where you can see real three-projector Cinerama, and Seattle has the potential to become the very best of them. Like its "siblings" in Bradford and Los Angeles, the cinema should be able to attract fans from all over the world.

• Go to From Sweden to Seattle Gallery

• Go to Från Sverige till Seattle
---
Seattle Cinerama 70mm Film Festival 2013
By Howard B. Haas
The marquee listed 8 epic 70mm films, for the three week 70mm Film Festival of September 2013. I had traveled from Philadelphia for my first visit to Seattle, for the 2nd week of the festival, for what was to be an exhilarating experience of enjoying some of the most famous ever 70mm movies on a 90 feet wide screen.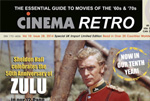 Cinema Retro Announce 2014 Season
By Dave Worral and Lee Pheiffer
The 60's and 70's were probably the greatest period ever for the film industry - an era that brought the cinemagoer a choice of several classic movies released every week, film posters that were works of art, and ice cream usherettes that brought your ice pop to your seat - and wore stockings too! CINEMA RETRO is devoted to those great films of the 60's and 70's.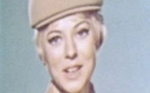 2001italia.blogspot.it
By Simone Odino
Rising from the ashes of my former web site, a naïve attempt made in the late '90s, my blog focuses on curios perspectives about the movie, with the intention to celebrate the craft of the talented people whose contribution to the movie is neglected, forgotten or otherwise limited in general recognition.


• Go to 2001italia.blogspot.it
Loading
---
70MM FESTIVAL COMING UP
KRRR! 9th 70mm Film Fest Krnov 2014
By Klima & Tomesek
One of the main task of the 70mm festival is to recall now unused film format which dazzled visitors in its time by brilliant display of details in picture and and insurmountable sound to nowadays public - DESPITE ALL THE DRAWBACKS THAT OLD AND WORN-OUT COPIES OF 70mm FILMS BRING.
Widescreen Weekend, Bradford, 2014
By Jennifer Hall
The dates for the next Widescreen Weekend are 10 – 13 April 2014. The one change to note here is that Widescreen Weekend commences on Thursday evening with a double bill and concludes after the last show on Sunday evening. We will be announcing programme information in January 2014 and will be in touch in December to update you and let you know when passes will be on sale.
---
IN70MM e-NEWSLETTER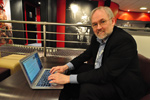 in70mm.com publishes an e-mail newsletter which is sent to users. If you want to join or discontinue, please send an e-mail to Bill Lawrence, in70mm.com.

• Go to e-Newsletter page
---
IN70MM.COM PARTNER
in70mm.com is proud to be associated with one of the finest cinemas in Europe, Schauburg Kino, home of the annual Todd-AO Festival in Karlsruhe, Germany.

• Go to the Schauburg Kino | Todd-AO Festival
---
WHAT PEOPLE HAVE SAID ABOUT IN70MM.COM
I continue to be impressed by the dedication you have to the continuing wellbeing of 70mm. I would like you to have met my colleague and friend, the late Robert Gottschalk, founder and driving force of Panavision. He was of the unshakeable opinion that picture quality, real picture QUALITY, depended on a big piece of negative, the bigger the better.

All good wishes, Sir Sydney Samuelson, December 2009

• Go to Testimonials
---
THE 70MM NEWSLETTER
The original idea was

"Encourage film makers to produce and make new films in 65mm, present them in 70mm with 6-track discrete digital sound on big curved screens".

"The 70mm Association Newsletter" was the "voice" of The International 70mm Association.

For 7 years, when the magazine was produced regularly, it was edited and published in Copenhagen. The magazine was never a commercial venture - nor was it intended to be. It had a lot of fans and the number of subscribers climaxed in 2000. The last issue was published in the fall of 2001. Special edition issues 68, 69 & 70 have been made for the Widescreen Weekend.

• Go to The 70mm Newsletter | Back issues
---
THE MASTER AT BIFFEN 17. FEBRUARY 2013
---
"BARAKA" IN TODD-AO, AT DGI Byen, 10. AUGUST 2000
---
TODD-AO PAGE
Todd-AO Birth date
By Brian O'Brien
On October 15th, 1952 I received a phone call from a Michael Todd in New York City, who wished to come to see me at Rochester that evening. I had never heard of Todd, but it seems that he is a well-known Broadway producer.

• Go to Todd-AO | Filmed in Todd-AO | The First Movie Produced By Todd-AO | Walter Siegmund Remembered
---
RAMA
THE RAMA PAGES
All readers are invited to send in their RAMAs. The "Rama" pages, now in its 6th year. More than 100 new and vintage RAMAs documented so far. Send your RAMA now!

• Go to 2008 | 2009 | 2010 | 2011 | 2012
---
COMING TO IN70MM.COM
• A Visit to ARRI In München
By Thomas Hauerslev
• Sales Manual For Louis De Rochemont's Windjammer
By The Cinemiracle Process
• Photo visit to Gulliver Arane 65/70mm Laboratory
By Thomas Hauerslev
• Photo visit to Cinema Circulaire 360
By Thomas Hauerslev
• New 6-track Magnetic Head
By Clemens Sherer
• VistaRama cinemas in Spain
By Ramon Lamarca
• Panorama Blue
By Dan Scherlock
• Vintage articles about Showscan, Panavision & Dolby
---
---
65/70MM WORKSHOP
"We thought at the time that there wouldn't be many places to play this in 70mm, but we were pleasantly surprised. There are still a lot of projectors, at least in US, that are 35mm and 70mm combined."

- Paul Thomas Anderson

• Go to 65/70mm Workshop
Kenneth Branagh's "HAMLET" on 65mm
By Eastman Kodak
"We shot on 65mm film because we see our "Hamlet", the complete Hamlet, as an epic film. An epic film demands an epic format. One which gives us absolute quality. One that gives nearly four times the picture information in each frame, relative to 35mm.