• Go to in70mm.com news 2017
---
LATEST 7OMM NEWS AND FEATURES

• Go to "La Fayette" in CINERAMA
Mancini's complete score of "The Great Race"
By Gerhard Witte
The 3-cd box set with an epic art design by Jim Titus. The included booklet gives detailed information about Mancini's score and the movie. The original film score is on CD1 and CD2, and on CD3 is represented the LP-version released in 1965 – here Mancini's album arrangements use a smaller group of players than the original film score.
Widescreen Weekend 2017
Cinerama pioneers Dave Strohmaier and Randy Gitsch return to our shores once more and enable us to screen their final digital restoration of the historic 3-panel Cinemiracle travelogue "Windjammer", showing on Pictureville's deeply curved, louvered Cinerama screen.
"Lawrence of Arabia: The Director's Cut" — The 70mm Engagements
By Mike Coate
The "Lawrence of Arabia" re-release was among eighteen confirmed first-run films (and two re-issues) released in 1989 with 70mm prints for selected engagements. The Sam Spiegel production and Columbia release was directed by David Lean and starred Peter O'Toole, Alec Guinness and Omar Sharif.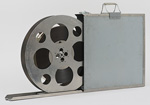 Margaret Honda's "Spectrum Reverse Spectrum" in 70mm
Von/by KW Institute for Contemporary Art
Margaret Honda presents her color-field film "Spectrum Reverse Spectrum" (2014). The camera less film mines the entirety of the available color spectrum of the 70mm print stock as a fluctuating entity between a physical, industrially produced body, and an elusive philosophical concept that reveals the gulf between the measurable and experiential.
A Brief History of Wartime
By Mark Lyndon
Nolan applies this dictum by ditching conventional plot and narrative structure in favour of something far more complex and subtle. Dialogue as in Kubrick's "2001" is used very sparingly. Underpinning the frantic timing, suspense and action of "Dunkirk" is a deeply philosophical meditation on the nature of time itself and how it is perceived. Time, is the great theme and preoccupation of Nolan's film works, principally "Inception", "Interstellar" and now "Dunkirk".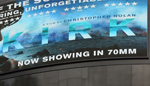 Anamorphic Weekend in London
By Mark Lyndon
And so the Pilgrim returns, oftentimes to travel great distances to bear witness to what is surely a great spiritual as well as artistic experience. One such Pilgrim was our own editor, Thomas Hauerslev, who traveled from Copenhagen to London to bear witness. As a pilgrim, albeit one residing within ten minutes walk of The BFI IMAX, it was a pleasure to host a fellow pilgrim. Like Chaucer's pilgrims before us, we were based in Southwark.

• Go to gallery "Dunkirk" in London, 29th, July 2017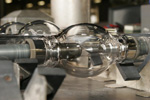 Superior Quartz Products Xenon Lamps for Large Format Projection
By Dennis Losco Jr
Our family owned and operated company is passionate about what we do, hence the 60th anniversary and because we share this enthusiasm with our staff, they tend to stay! We understand the importance of reliability, nobody wants lost shows due to lamp failures and we offer 1200 hours warranty for the theatres peace of mind. Theatres who use our lamps enjoy these benefits. We realize large format theatres are unique, so we have made it possible to arrange payment plans to spread the costs.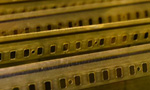 "Dunkirk" in 70mm IMAX at the Langley theater
By Scott Pickering
I forgot how smooth IMAX film is on screen. And the detail mixed in with that. Shots from air showing the water and beach areas for example were very detailed. I didn't care much for the hand held work in the film, as it was too jarring to watch. But I understood why they shot it that way. IMAX works better when the image is steady so you can actually see the detail in the shots.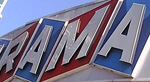 "Dunkirk": 70mm Film Projectors Ready to Go!
By David Granadino
Having seen the film at the Cinerama Dome and Universal City Walk IMAX, I must say that this film was made for IMAX and works well in this medium. The huge IMAX screen swallowed the viewer into the picture with clear sharp pictures. The Cinerama screen surrounded the viewer in great huge panoramic scenes but in softer tones. Both theaters surrounded the audience with clear and high volume sound.
"Custer of the West": The Roadshow Engagements
By Mike Coate
A historical listing of the roadshow engagements of "Custer of the West" in North America. These presentations utilized 70mm prints derived from Super Technirama photography and were projected onto large, deeply-curved screens and featured discrete six-track stereophonic sound. The seating was reserved at advanced prices with an average of ten scheduled screenings per week. The cinemas in which these special presentations played also sold souvenir programs.

• Go to: 70mm Engagements
Showcase Presentations in Honolulu
By Claude Ayakawa & Michael Coate
Continuing the "Showcase Presentations in…" series, we now proudly present: Honolulu, Hawaii. A Chronology of Large Format and Roadshow Exhibition, 1957-Present. The Cinerama Theatre was located on the outskirts of downtown Honolulu near the Waikiki district. It was once the Pawaa Theatre, a neighborhood house that was converted in 1962 to a 3-strip Cinerama venue for the Hawaii premiere of "The Wonderful World of the Brothers Grimm" at which time the theatre was renamed the Cinerama.

• Go to: 70mm Engagements
---

• Go to 13. Todd-AO 70mm-Festival. September, 2017

• Go to "Dunkirk" filmed in 65mm with IMAX cameras
---

• Go to "Flying Clipper" in MCS 70 Superpanorama

• Go to "FLYING CLIPPER" In 4K von der original 70mm Kinokopie restauriert
---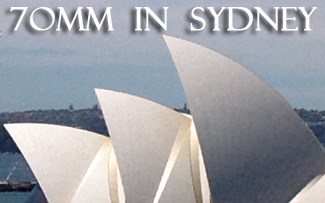 • Go to 70mm Release Summary Sydney
• Go to cinemas: Centre on George Street | Pitt Centre | Hoyts Entertainment Centre | Village Cinema City
• Go to format: CinemaScope 55 | Panavision | Spherical | Super Panavision 70 | Super Technirama 70 | Todd-AO | Ultra Panavision 70 | VistaVision
---

• Go to in70mm.com's IMAX Page
---

• Go to The RAMA Pages
• Go to Alphabetical listing of Ramas
---
Todd-AO How It All Began
By Brian O'Brien, Jr.
Finally, he called one night and said "OK Doctor, I give up. I have been looking into the companies you mentioned and American Optical looks like the best bet. What do I do now?" "Fine" said my dad, "I am having lunch with Walter Stewart, President of AO next Tuesday. Why do you not come up to Southbridge and have lunch with us?".


• Go to Todd-AO - Wie alles begann
---
COMING SOON TO IN70MM.COM
•

Cinemiracle Theatre Survey


By R. H. McCullough
• Visit to Futuroscope, Poitiers
By Thomas Hauerslev
• Visit to Kinepolis, Bruxelles
By Thomas Hauerslev
• Visit to La Geode, Paris
By Thomas Hauerslev
• Georges Loisel's list of 7OMM in Paris
By Olivier Rousseau
• Rare black/white images from American Optical Company
Coming soon
• "Oklahoma!" on opening night at the Rivoli
Coming soon
• Vintage articles about Todd-AO, Showscan, Panavision & Dolby
• Plannung und Einrichtung von Breitfilmtheatern
By Kino-Technik, 1959

in70mm.com Mission:
• To record the history of the large format movies and the 70mm cinemas as remembered by the people who worked with the films. Both during making and during running the films in projection rooms and as the audience, looking at the curved screen.
• in70mm.com, a unique internet based magazine, with articles about 70mm cinemas, 70mm people, 70mm films, 70mm sound, 70mm film credits, 70mm history and 70mm technology. Readers and fans of 70mm are always welcome to contribute.
---
SEARCH 70MM.COM
Loading
---
WHAT PEOPLE HAVE SAID ABOUT IN70MM.COM
I continue to be impressed by the dedication you have to the continuing wellbeing of 70mm. I would like you to have met my colleague and friend, the late Robert Gottschalk, founder and driving force of Panavision. He was of the unshakeable opinion that picture quality, real picture QUALITY, depended on a big piece of negative, the bigger the better.

All good wishes, Sir Sydney Samuelson, December 2009

• Go to Testimonials
• Go to Sir Sydney
---
THE 70MM RUMOUR MILL
SEPTEMBER 2017

BFI IMAX in London will soon present a series of 7OMM IMAX titles - watch Now showing in 70mm in a theatre near you! for details

Interstellar
Dunkirk
Inception
The Dark Knight Rises
Batman: The Dark Knight

• Go to The 70mm Rumour Mill
---
IN7OMM e-NEWSLETTER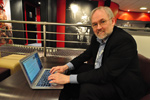 in70mm.com publishes an e-mail newsletter which is sent to users. If you want to join or discontinue, please send an e-mail to Bill Lawrence, in70mm.com. 902 readers already signed up.

• Go to e-Newsletter page
• See Past Issues
---
IN70MM.COM PARTNER
in70mm.com is proud to be associated with one of the finest cinemas in Europe, Schauburg Kino, home of the annual Todd-AO Festival in Karlsruhe, Germany.

• Go to Schauburg Cinerama | Todd-AO Festival
---

• Go to Chronological premiere list of major 70mm films
---
Widescreen In Malaya
By Alain Dorange
Malaya was a British Federal State composed of what are today Malaysia and Singapore. Malaysia became independent on August 31st 1957 and its island (Pulau Singapura) became an independent Republic on August 9th 1965. Malaya (and also Japan as well as Hong Kong) did experience the development of the widescreen processes from Europe and the US more or less at the same time.

• Go to Widescreen In Malaya - Newspaper Advertising
We Would "Proudly" Wait Three Days in Line
By Omid Kayvan
We would "proudly" wait three days in line to see the March 1971 Columbia Pictures re-release of "Lawrence of Arabia" in 70MM, which was only shown in one Cinema (same venue as 1963 presentation), the Central Cinema. Our family took turns standing in line during those three days! There must have been over Thousand people at any given time, either trying to push or shove others out of line, or sneak into the line as Black Marketers
---

• Go to Mike Todd's "Around the World in 80 Days"
Brian O'Brien, Jr. tracks American Optical Co's development of the Todd-AO process
By Thomas Hauerslev
Between 1953 and 1956, Brian O'Brien, Jr.'s secretary made a scrapbook with newspaper and trade magazine clips about the development of Todd-AO. A green ring binder with 132 pages of clippings, adverts and stories about one of the most significant films formats from the 20th century. It has been one of my goals to make all this available on in70mm.com for many years. Here it is as PDF files, and organized page by page in a very low-tech manner.
---
The 7OMM Engagements
By Mike Coate
The following are lists of the 70mm first-run engagements of a hand full of film titles in North America:

• "Lawrence of Arabia"

• "Custer of the West"

• "Divine Madness"
• "Fame"
• "Let's Spend the Night Together"
• Showcase Presentations in Honolulu

• Showcase Presentations in Nashville

• Go to 70mm Engagements
• Go to in70mm.com's list of films blown up to 7OMM

---
RECENT NEWS
• "SEE IT BIG!" 70MM Series
• "Dunkirk" Production Notes
• "Dunkirk": A personal first impression
• Report of the BFI "Dunkirk" preview
• Seeing a 7OMM presentation of "WONDER WOMAN"
• The Captains and the Kings depart

• Go to 2017 News