• Go to in70mm.com news 2017
---
LATEST 7OMM NEWS AND FEATURES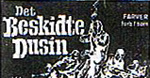 Cinema Retro's Issue 38 now Shipping
By Thomas Hauerslev
Issue 38 just arrived in Copenhagen with a wealth of information about films from the '60s and '70s. Cover story this time is 17 page special about "The Dirty Dozen" from 1967 written by Brian Hannan. The classic WW2 film was blown up to 70mm, and presented as a road show feature - the tag line was: "Presented in Spectacular GIANT SCOPE of 7OMM"
Widescreen In Malaya
By Alain Dorange
Malaya was a British Federal State composed of what are today Malaysia and Singapore. Malaysia became independent on August 31st 1957 and its island (Pulau Singapura) became an independent Republic on August 9th 1965. Malaya (and also Japan as well as Hong Kong) did experience the development of the widescreen processes from Europe and the US more or less at the same time.

• Go to Widescreen In Malaya - Newspaper Advertising
---
• • Go to Schauburg's Technicolor Film Festival
---
We Would "Proudly" Wait Three Days in Line
By Omid Kayvan
We would "proudly" wait three days in line to see the March 1971 Columbia Pictures re-release of "Lawrence of Arabia" in 70MM, which was only shown in one Cinema (same venue as 1963 presentation), the Central Cinema. Our family took turns standing in line during those three days! There must have been over Thousand people at any given time, either trying to push or shove others out of line, or sneak into the line as Black Marketers

• Go to Mike Todd's "Around the World in 80 Days"
---
Presentation and cast/credit of Michael Todd's "Around the World in 80 Days"
Edited by Thomas Hauerslev
"Around the World in 80 Days" was filmed simultaneously in two different film speeds: Todd-AO standard of 30 frames pr. second, and Todd-AO sub-standard 24 frames pr. second, for the 35mm reduction prints. Both negatives are 65mm wide.

• Go to "Around the World in 80 Days" Advertising"
---
Showcase Presentations in Chicago
By Michael Coate, Tim O'Neill and Tamir Sharif
The duration of the engagements, measured in weeks, has been included for each entry in parenthesis following the cinema name. Note that some of the presentations included in this listing may have been presented in 35mm during the latter weeks of engagement due to print damage and the distributor's unwillingness to supply a 70mm replacement print or because the booking was moved to a smaller, 35mm-only auditorium within a multiplex.

• Showcase Presentations in Cincinnati

• Showcase Presentations in Louisville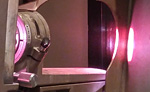 DP70s back at work at the Paramount Theatre in Peekskill, NY
By Helge Bernhardt
I've been working over the last months with the current operators of the Paramount Theatre in Peekskill (NY, US), on getting the projection booth up and running again! The theater hasn't run film in over 15 years and are ready to give it another try.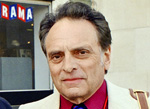 Keith Swadkins Passed Away
By Bill Lawrence UPDATED
It is with sadness that we received the news that Keith Swadkins had passed away. Keith had long been a great champion of Cinerama, passionate fan of the format and films, and a friend to fellow enthusiasts around the world. Many will have met and developed a friendship with him at the Widescreen Weekend in Bradford each year, as Keith and his wife Brenda turned up to renew old acquaintances and impress newcomers with his knowledge.
Cinérama Itinérant (Itinerama) Cinerama's Mobile Tent Theatres
By Gerhard Witte
A top priority of Nicolas Reisini, CEO of Cinerama, Inc. from '60 to '63, was to bring 3-strip projection to the widest possible audience, above all to the population in the countryside. Consequently, he created in a showmanly way a portable Cinerama, the so-called "Itinerama" which premiered in France in Mantes-la-Jolie on Monday, 4 September 1961 – "Why go to Paris or London to experience Cinerama, when Cinerama can come to you?!"
Notes from the 12th 7OMM Seminar in Krnov, Czech Republic
By Thomas Hauerslev
I like the fact it is actually real film - scratches, dust and all - shown on film projectors by people for people. I appreciate that someone is doing the work upstairs that requires skills, expertise, and an understanding of showmanship. An experience with Reel People projecting a film for you. It's the real thing! It does not get more authentic than this.

• Go to gallery 12th 7OMM Seminar Gallery

• Go to Loďc LEDEZ - The French Master Projectionist
---
---
"Dunkirk" in the splendour of 7OMM


Where to see the film in 5/70 & 15/70 (IMAX)


Want to see "Dunkirk" on real film, in the splendour of 7OMM? This is a Worldwide in-progress 7OMM Presentation Premiere list which has been has been edited based on internet foras, reports by in70mm.com's readers and theater web sites. Please note, this list is based on facts, and readers calling their local cinemas, asking for the authentic 7OMM Experience, as the director want you to see his film.
---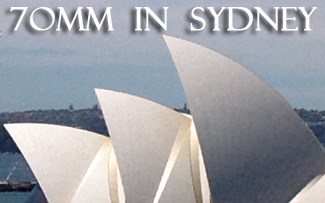 • Go to 70mm Release Summary Sydney
• Go to cinemas: Centre on George Street | Pitt Centre | Hoyts Entertainment Centre | Village Cinema City
• Go to format: CinemaScope 55 | Panavision | Spherical | Super Panavision 70 | Super Technirama 70 | Todd-AO | Ultra Panavision 70 | VistaVision
---

• Go to in70mm.com's IMAX Page


• Go to Interview & People

• Go to DP70 / The Todd-AO Projector News
---

• Go to The RAMA Pages
• Go to Alphabetical listing of Ramas
---
COMING SOON TO IN70MM.COM

•

Cinemiracle Theatre Survey


By R. H. McCullough
• Visit to Futuroscope, Poitiers
By Thomas Hauerslev
• Visit to Kinepolis, Bruxelles
By Thomas Hauerslev
• Visit to La Geode, Paris
By Thomas Hauerslev
• Georges Loisel's list of 7OMM in Paris
By Olivier Rousseau
• Brian O'Brien, Jr.'s Todd-AO Scrapbook
Coming soon
• Rare black/white images from American Optical Company
Coming soon
• "Oklahoma!" on opening night at the Rivoli
Coming soon
• Vintage articles about Todd-AO, Showscan, Panavision & Dolby
• Widescreen In Malaya
By Alain Dorange
• Plannung und Einrichtung von Breitfilmtheatern
By Kino-Technik, 1959

in70mm.com Mission:
• To record the history of the large format movies and the 70mm cinemas as remembered by the people who worked with the films. Both during making and during running the films in projection rooms and as the audience, looking at the curved screen.
• in70mm.com, a unique internet based magazine, with articles about 70mm cinemas, 70mm people, 70mm films, 70mm sound, 70mm film credits, 70mm history and 70mm technology. Readers and fans of 70mm are always welcome to contribute.
---
SEARCH 70MM.COM
Loading
---
THE 70MM RUMOUR MILL
MAY 2017

"Wonder Woman" in 5/70 June 2nd in the US is confirmed at Grand Lake Theater and LOOK Cinemas. 10 locations total.

collider.com reports that "The Death and Life of John F. Donovan" set in London, England by French-Canadian director Xavier Dolan, is filmed in parts in 65mm with Panavision's System 65 (according to imdb.com). No release date yet, but likely to debut at a film festival this fall. The synops goes like this: A decade after the death of an American TV star, a young actor reminisces the written correspondence he once shared with the former, as well as the impact those letters had on both their lives.

"Phantom Thread" rumored to get a 70mm release 25. December 2017

"Flying Clipper" will be available on DVD/BD and UHD-4K-BD from 28 July 2017. The movie is now available for Theatres with 4K DCP's with German and English-6-channel-DTS-sound.

• Go to The 70mm Rumour Mill
---
IN7OMM e-NEWSLETTER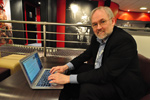 in70mm.com publishes an e-mail newsletter which is sent to users. If you want to join or discontinue, please send an e-mail to Bill Lawrence, in70mm.com. 902 readers already signed up.

• Go to e-Newsletter page
• See Past Issues
---
IN70MM.COM PARTNER
in70mm.com is proud to be associated with one of the finest cinemas in Europe, Schauburg Kino, home of the annual Todd-AO Festival in Karlsruhe, Germany.

• Go to Schauburg Cinerama | Todd-AO Festival
---

• Go to Chronological premiere list of major 70mm films
---
WHAT PEOPLE HAVE SAID ABOUT IN70MM.COM
I continue to be impressed by the dedication you have to the continuing wellbeing of 70mm. I would like you to have met my colleague and friend, the late Robert Gottschalk, founder and driving force of Panavision. He was of the unshakeable opinion that picture quality, real picture QUALITY, depended on a big piece of negative, the bigger the better.

All good wishes, Sir Sydney Samuelson, December 2009

• Go to Testimonials
• Go to Sir Sydney
---
The 7OMM Engagements
By Mike Coate
The following are lists of the 70mm first-run engagements of a hand full of film titles in North America:
• "Superman"
• "Superman II"
• "Superman III"

• Showcase Presentations in St. Louis

• Showcase Presentations in Cincinnati
• Showcase Presentations in Louisville
• Showcase Presentations in Chicago

• Go to 70mm Engagements
• Go to in70mm.com's list of films blown up to 7OMM
---
RECENT NEWS
• Remastered: Mission Report from Widescreen Weekend 1996
• Stereo-70 Three-Dimensional Cinematography in Russia
• Cinema Digital Sound - System Overview
• Widescreen Weekend 1996
• VistaVision Strikes Back
• 70mm Film Weekend in Centrum Panorama Varnsdorf, Czech Republic
• "2OO1" in 7OMM sells out at the ARCADIA
• Showcase Presentations in Philadelphia

• Go to 2017 News