LATEST 70MM NEWS AND FEATURES
My 47-year Odyssey with "2OO1"
By Edward Oines
I first saw '2OO1' as a not quite 14 year old in January 1969. It was being shown at the smallest theater in Sioux Falls, SD, and was leaving in 2 days, and I had to convince my mother to let my then 18 year old brother to take me on a school night. My memories were mainly of being struck by how realistic everything looked, when compared to Star Trek. I was hooked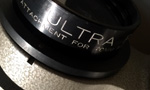 Brand new DP75 70MM Projector for sale
By Herbert Born
Complete Philips / Kinoton DP75 70MM Projector for sale at the Schauburg Cinerama in Karlsruhe in Germany. The machine have only 11 hours of running time and is as such brand new. The DP75 is equipped for 70mm, complete with DATASAT 70MM reader and Panavision's Ultra Panavision 70 projection lens. The machine is ready to Show "The Hateful Eight" in Ultra Panavision 70.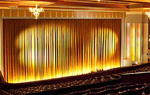 George Florence and 70mm at The Astor
By Eric White
George Florence, the cinema's long-time proprietor, has a deep passion for film in general and 70mm presentation in particular. He considers film to be superior as a medium to anything similar, particularly in the area of sound reproduction. Magnetic analogue recording and reproduction gives superior results to digital processes. Many digital remixes are inferior and George fears that unique original four and six track mixes for classic films may be lost.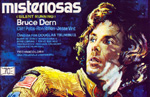 Douglas Trumbull's "Silent Running" screens in Bradford
By Lisa Brook, Widescreen Weekend Coordinator
As a very special addition to Widescreen Weekend 2015 our keynote guest Douglas Trumbull presents his directorial sci-fi masterpiece "Silent Running", offering an in-depth introduction to this much loved classic. In a future where Earth's vegetation is extinct the last examples of plant life are cultivated in eco-domes aboard vast space craft Valley Forge.
Todd-AO Festival Preparations
By Born & Hauerslev
The Todd-AO Festival is due to begin in a week from now. Here is a quick look behind the scenes about all the preparations which goes into this remarkable weekend. Festival planning actually starts a few days after the previous weekend has ended and continues through the year. The first 70mm prints starts to arrive in early August. Projection team are quality checking each reel of vintage 70mm film which has been brought out of the freezers after many years in storage.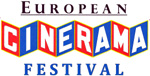 The 2015 European Cinerama Festival Tour
Randy Gitsch and Dave Strohmaier are comign to Denmark and Sweden to present a slate of motion pictures they've digitally re-mastered, in a traveling film festival in Malmø and Copenhagen. Each venue will program from a roster of available titles, including features and short-subjects originally from 3-panel and 70mm.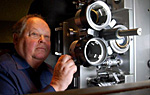 The man with the camera. Coburg's film historian
By Manfred Romboy
Jürgen A. Brückner, born in 1941, virtually inherited the passion for films. In 1938 his father, Rudolf Brückner, a factory owner in Coburg, bought a Siemens film camera. His father bought the camera so that he could film both of his sons at the time. It was no surprise that the crafty Jürgen managed to get his father´s camera´s up and running when he was a child. This meant that much of his fathers stock of undeveloped film got drastically reduced!


• Go to Der Mann mit der Kamera. Coburgs Filmchronist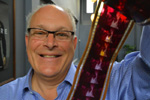 My father never really talked about the motion picture business
Cyrus Todd in Conversation
I worked in the motion picture business for about four years in New York, and then I moved back to Ireland became a chef. I did that for about twenty years. My legs have gotten old and I decided to find something else. And a friend of a friend said I should get into the appliance business – there was somebody looking for help, and instead of standing behind a stove and cooking, now I stand in front of them and sell them!
A musical Journey around the World in fantastic stereophonic Cinerama Sound
By Gerhard Witte
As I already owned the musical scores of several Cinerama films I thought, "most likely a simple compilation of the scores". My guess was wrong. This new 2-CD set is really a surprise and a listening pleasure. It assembles the musical highlights of all 5 Cinerama travelogue film scores together, cleverly compiled and digitally restored from the 35mm magnetic Cinerama films.
Academy Award®-Winning "My Fair Lady" is Newly Restored for Theatrical Re-Release and Special Blu-ray™/DVD
Acclaimed film historian and preservationist Robert A. Harris painstakingly restored the film to its original beauty. The 4K restoration comes from an 8K scan of the original negative and other surviving 65mm elements. Harris has previously restored such film classics as "Lawrence of Arabia," "Spartacus," "Vertigo," "Rear Window" and "The Godfather." The limited theatrical engagement will be followed by the release of the film on Blu-ray + DVD Combo Pack "My Fair Lady: 50th Anniversary Edition" from CBS Home Entertainment and Paramount Home Media Distribution, available October 27.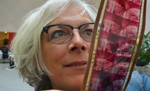 Letters and Dust Devils
Susan Jane Todd in Conversation
My father had the difficult job of following in his father's footsteps. I think my father always wanted to be a philosopher: that was his Major in college. He loved fine art – painting and sculpture. And good literature. But he got stuck with "Scent of Mystery" this because his father died. They were just about to work on a Todd-AO movie – "Don Quixote". He couldn't do it because he was in so much grief – so he made this project.
Re-constructing "The Best of Cinerama". And a new restoration of "This is Cinerama"
By Dave Strohmaier
This title that was created with select clips from all the shows, except "Windjammer". The postproduction process was performed at the Forum Theater in Los Angeles and was a bit unusual. The Cinerama editors assembled the work picture in a few months using old existing prints of the five travelogues, then cleaned and rejuvenated at Pix Fix. That's why no negatives were ever located for "Best of" in the vaults.
VistaVision presented in Horizontal Projections
By Alain Dorange
This is a list of the VistaVision movies shown in selected theatres equipped for horizontal projections. The Technirama is also shown here as it was an anamorphic VistaVision process. Ironically, most of the VistaVision demonstrations were not in horizontal but on standard 35mm vertical as, obviously, there were no correct projectors available.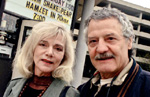 Beatrice Troller (1932 - 2015)
By Troller Family
Beatrice Stocklin Troller passed away on August 18, 2015 after a valiant battle with cancer. Beatrice was born on February 18th, 1932 in Basel, Switzerland, where she attended Kunstgewerbeschule, the school of arts and crafts. With her late husband, artist Fred Troller, she starred in the second Cinerama feature "CINERAMA HOLIDAY" (1955), directed by Robert L. Bendick and Philippe De Lacy.
SCHAUBURG 2015 TODD-AO FESTIVAL

• Go to Todd-AO 70mm-Festival 2015
• Go to "MacKenna's Gold" at the Schauburg
• On line ticket reservation here
• Todd-AO Festival Flyer (PDF)
• "Inherent Vice," directed by Paul Thomas Anderson
• "Interstellar" directed by Christopher Nolan
---
THE 70MM RUMOUR MILL
NOVEMBER 2015

"Star Wars" will get 70MM IMAX release

• Go to The 70mm Rumour Mill
---
---
FILMS IN 70MM
• Todd-AO
• Ultra Panavison 70
• MCS 70 - Superpanorama
• Super Panavision 70
• ARRI 765
• DEFA 70
• Dimension 150
• Super Technirama 70
• Sovscope 70
• Showscan

• Chronological premiere list of major 70mm films

• Go to Motion pictures photographed in Ultra Panavison 70

• Go to Super Panavision 70
---
NOW SHOOTING IN 65MM

• Go to The Hateful Eight - in 65mm?
• Go to Panavision and Resurrecting
• Go to Sunset Song Filming in 65mm
---


• Go to Interview & People


• Go to Short stories
---
---
RAMA and FUN
THE RAMA PAGES
All readers are invited to send in their RAMAs. The "Rama" pages, now in its 8th year. More than 100 new and vintage RAMAs documented so far. Send your RAMA now!

• Go to 2008 | 2009 | 2010 | 2011 | 2012 | 2013 | 2014
---

• Go to in70mm.com auf Deutsch
Restoration of "Vertigo", 1996"
By Universal Pictures
Vertigo was originally shot in VistaVision, created by Paramount in the early 50's as a non-anamorphic, wide-screen alternative to Twentieth Century Fox's CinemaScope. But VistaVision is no longer utilized and the team had to undertake a restoration which would ultimately turn a 1:85 VistaVision negative into a 70mm print. Now, a whole new generation of moviegoers will have the opportunity to be swept away by Vertigo on the big screen in 70mm.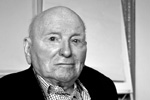 David Samuelson: A Lifetime with the Movies
By Lyndon and Hauerslev
I was a cinema newsreel cameraman, with Fox Movietone. We covered the Ascot horse racing and I was assigned to film when the Queen went down and talked to all the jockeys. We had to film that from quite a long way away, because CinemaScope was about wide screen, it didn't cross their minds to equip me with a long lens. The only CinemaScope lens I had was a wide one, and the Queen was tiny, a long way away. I took the decision, to go down from my assigned location to the ground level and film the Queen.
Loading
---
IN70MM e-NEWSLETTER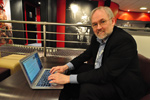 in70mm.com publishes an e-mail newsletter which is sent to users. If you want to join or discontinue, please send an e-mail to Bill Lawrence, in70mm.com. 764 readers already signed up.

• Go to e-Newsletter page
• See Past Issues
---
IN70MM.COM PARTNER
in70mm.com is proud to be associated with one of the finest cinemas in Europe, Schauburg Kino, home of the annual Todd-AO Festival in Karlsruhe, Germany.

• Go to Schauburg Cinerama | Todd-AO Festival
---
WHAT PEOPLE HAVE SAID ABOUT IN70MM.COM
I continue to be impressed by the dedication you have to the continuing wellbeing of 70mm. I would like you to have met my colleague and friend, the late Robert Gottschalk, founder and driving force of Panavision. He was of the unshakeable opinion that picture quality, real picture QUALITY, depended on a big piece of negative, the bigger the better.

All good wishes, Sir Sydney Samuelson, December 2009

• Go to Testimonials
• Go to Sir Sydney
---
THE 70MM NEWSLETTER
The original idea was

"Encourage film makers to produce and make new films in 65mm, present them in 70mm with 6-track discrete digital sound on big curved screens".

"The 70mm Association Newsletter" was the "voice" of The International 70mm Association.

For 7 years, when the magazine was produced regularly, it was edited and published in Copenhagen. The magazine was never a commercial venture - nor was it intended to be. It had a lot of fans and the number of subscribers climaxed in 2000. The last issue was published in the fall of 2001. Special edition issues 68, 69 & 70 have been made for the Widescreen Weekend.

• Go to The 70mm Newsletter | Back issues

• Go to Presented in 70mm Dolby Stereo
---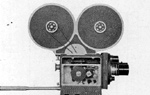 Introduction to Projection and Wide Film (1895-1930)
By Rick Mitchell (posthumously)
It is the intention of this book to deal with the subject of "Wide Screen" as it relates to the mainstream theatrical motion picture industry and its history, with reference, where appropriate, to its effect upon such related areas as documentary, industrial, and non-theatrical production and exhibition. Notable techniques and processes, the events and situations within the industry which precipitated their introduction, and the subsequent loss of popularity of some them will be covered mostly in chronological order as new developments were generally founded upon, or a reaction to, a previous one.

• Go to W.K.L. Dickson and the 1.33:1 Frame
• Go to Projection and Wide Film (1895-1930)
---
TODD-AO PAGE
Todd-AO Birth date
By Brian O'Brien
On October 15th, 1952 I received a phone call from a Michael Todd in New York City, who wished to come to see me at Rochester that evening. I had never heard of Todd, but it seems that he is a well-known Broadway producer.

• Go to Todd-AO | Filmed in Todd-AO | The First Movie Produced By Todd-AO | Walter Siegmund Remembered
---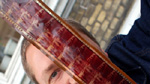 How to Create the Best experience in the Cinema
By Thomas Hauerslev
Films like "Titanic" and "Braveheart" should have been shot in 65mm simply because they are "big" movies. But shooting in 65mm doesn't need to be limited to the obvious mega productions. Small independent movies would benefit enormously with the sharper picture. I'd enjoy seeing films like "Enemy of the State", "As Good As It Gets" and "You've Got Mail" and many more, shot on 65mm stock and presented in 70mm. I and most of our readership would certainly seek out cinemas presenting films in 70mm.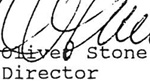 70mm Presentations - Letters from Directors
By Paul Rayton
Back in the heydays of 70mm exhibition of movies, it was not uncommon for a projectionist to open a shipping case of a 70mm title and find a "personal" letter from someone associated with the film. Typically it would be signed by the Director, or the Producer. Subjects addressed would be things like the illumination level on screen, and the audio playback level. Apparently many cinemas typically ran sound a bit too low. These messages were typically reminding us projectionists to run the sound at the "Dolby Standard" of a fader setting of "7".
Be part of Smell-O-Vision history! A campaign to re-start Mike Todd Jr's. Smell-O-Vision for future screenings of "Holiday In Spain"
"Scent of Mystery" was the first and only film to feature a sophisticated automated scent track with "each dramatic point woven into the actual presence of a smell. Help bring this recently restored Cinerama treat to the very big screen in new and improved Smell-O-Vision by supporting two pilot screenings. We need to make these scented events as great as they can possibly be so we can tour Cinema with Scent all around the world in 2016!
---
COMING TO IN70MM.COM

• Sales Manual For Louis De Rochemont's Windjammer
By The Cinemiracle Process
• Visit to La Geode, Paris
By Thomas Hauerslev
• The DP75 Story
By Colin Bainbridge
• Visit to Futuroscope, Poitiers
By Thomas Hauerslev
• Visit to Kinepolis, Bruxelles
By Thomas Hauerslev
• Brian O'Brien, Jr.'s Todd-AO Scrapbook
Coming soon
• Vintage articles about Todd-AO, Showscan, Panavision & Dolby
• "The Golden Head"
By Gerhard Witte
---
RECENT NEWS
• New Curved Harkness 70mm Screen For Schauburg
• Somaflex-65-70MM, India's First 65mm Camera
• Report from 10th International 70mm festival in KRNOV
• 70mm Returns to the Prince Charles Cinema
• 65mm / 70mm Film Scanning in the UK

• Go to 2015 news