• Go to Schauburg Cinerama, Picture Presentation
70MM is a Pretty Good Reason - Foreword for 2016
By Thomas Hauerslev
For the readers of this Festival Brochure, 7OMM is a pretty good reason. To honor the catch phrase from Quentin Tarantino's "The Hateful Eight", I have re-written it mildly for the 12th Todd-AO Festival. Of course, there are plenty of good reasons for going to the beautiful city of Karlsruhe, but for we festival guests, nothing matters like 7OMM
---
MOST RECENT TODD-AO FESTIVALS
• 2016 | Intro | Foreword | Pictures
• 2015 | Intro | Foreword | Pictures
• 2014 | Intro | Foreword | Pictures
• 2013 | Intro | Foreword | Pictures
• Go to Todd-AO Festival Year by Year
• Go to Schauburg Todd-AO Festival Archive
---
• Go to Schauburg's Technicolor Film Festival
---
TICKETS & CONTACT INFORMATION
Box office is open every day from 14:30, Saturday from 12:30 and Sunday from 9:30. Box office Telephone
+49 721 3500018

Filmtheater Schauburg
Att: Herbert Born
Marienstraße 16
76137 Karlsruhe
Germany

Mobil: 0151 - 1668 9172

• On line ticket reservation
• Todd-AO Festival 2016 Flyer (PDF)
• Hotel, use hrs.de to find acommodation
---
KARLSRUHE TRAVEL PLANNING
• Tourist in Karlsruhe
• Train Timetables
• Weather
• Google street map



Festival Hotel:


• achat-hotels.com

---
TODD-AO FESTIVAL VISITORS
"2OO1" & Jan Harlan goes to Karlsruhe
By Thomas Hauerslev
Jan Harlan will introduce a digital screening of "2OO1: A Space Odyssey" on September 29th, at the Schauburg. Jan have flown over from London especially to be with us that night. Throughout the weekend, we are quite sure, that "2OO1" in 2K, surely will be a topic of passionate discussions among the audience and 7OMM fans alike. Hopefully there will be no extremely odd things going on, and "2OO1" will look and sound better than ever. Please welcome Jan Harlan with us at the Schauburg.

• Go to Schnitzled-up with Jan Harlan in Karlsruhe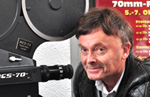 Interview with Mr Hans-Kristian Bukholm
By Thomas Hauerslev
70mm really started with me when I was 14 years old and I saw David Lean's masterpiece "Lawrence of Arabia" at a small cinema in Bergen on the west coast of Norway. Being able to count the grains of sand in the desert, that was a major thing for me when I decided to become a cinematographer.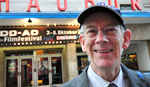 Kevin Brownlow @ the Schauburg
By Thomas Hauerslev
Kevin Brownlow gave his lecture to an enthusiastic audience on a October Friday evening. The OSCAR winner was warmly welcomed by the 70mm delegates, who all enjoyed hearing about early large format presentations
Jess Conrad visits 70mm Film Festival
By Thomas Hauerslev
Mr. Conrad was invited to Karlsruhe to attend the German 70mm premiere of the "forgotten" 9th Cinerama film "The Golden Head". This was the first time he saw the film - 45 years after the premiere.
---
GROBI.TV ABOUT HATEFUL EIGHT IN THE SCHAUBURG
---
SCHAUBURG TECHNIQUE
70MM at the Schauburg. Todd-AO Festival Report
By Thomas Hauerslev
Every year in October a group of around 200 people meet in a cinema in Baden-Württemberg, in the south of Germany. A large part of the audience comes from Germany of course, but there are guests from all over Europe, the United States and as far away as Japan. What are they doing? They are watching classic 70MM films, many of which they often have seen many times before.
The new Schauburg is unrecognizable
By Badische Neueste Nachrichten
The renovation in 1968 did not take quite as long as the almost 3 years it had taken to produce the film, and was completed, including the golden wallpaper, for approx. DM 300,000. By today's standards that is an incredibly small sum for such a conversion of Karlsruhe's first large-capacity cinema. Those responsible undertook a strategy of using technically innovative and aesthetically pleasing design techniques in order to benefit the public.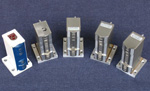 Playback of magnetic sound tracks on 70mm cinema prints at the Schauburg
By Clemens Scherer
At the Schauburg cinema in Karlsruhe the decision was made to have new sound heads manufactured, not the usual ones, but with an updated position of the pickups to reflect the average shrinkage of the prints. Running over these sound heads, all the tracks are oscillating more symmetrically to their pickups. One could consider in addition to have new guidance rollers manufactured, optimized for the now smaller prints.
---
SCHAUBURG HISTORY
Schauburg Celebrates Sensurround's 40th Anniversary
By Thomas Hauerslev
The Schauburg Cinerama cinema in Karlsruhe is proudly celebrating the 40th anniversary of SENSURROUND and shows "Earthquake" in 70MM in October 2014 during the 10th Todd-AO Film Festival. Cinema manager Herbert Born has started preparing this special performance: "It takes a lot of preparation. We are bringing in - literally - a truckload of subwoofers to re-create SENSURROUND.
Schauburg Cinerama restores "Vigilant Switzerland"
By Herbert Born
All three panels were scanned from the original and faded but mint 70mm archive prints and are now in the process of being color graded to get the original look back. "FORTRESS OF PEACE" will be shown in 70mm at the 2014 Todd-AO 70mm festival this October. An original 3-Panel-screening of the DCP's in work is planned later this year.
How Georg Fricker became the owner and operator of the last of teh Schauburg
By Peter Kohl, Karlsruhe
The great Karlsruhe cinema entrepreneur Georg Fricker is dead. He passed away last Saturday [07.06.2008] in a clinic near Munich. Though weakened by cancer and a stroke, he was still sometimes to be encountered, in his last years, as an almost anonymous member of the audiences in his own cinema, the Schauburg.
The Last Billboard Painter of Karlsruhe
By Herbert Born
We are proud to use Mr. Haas' skills on our facade. Few cinemas have room for it, but we do, and the audience appreciate the work he does
Who is Herbert Born?
Manager of the Schauburg Cinerama in Karlsruhe. I was born in the same year as CinemaScope had it's public birthday
---
SCHAUBURG AUF DEUTSCH
Die neue Schauburg ist nicht wiederzuerkennen
By Badische Neueste Nachrichten
Nicht ganz so lange wie die fast 3-jährigen Dreharbeiten hat der – trotz goldener Tapeten – die für heutige Verhältnisse verschwindend geringe Summe von ca. 300.000 DM verschlingende Kino-Umbau zum ersten Karlsruher Großraumkino gedauert. Die Strategie der Verantwortlichen bestand darin, sich die Gunst des Publikums durch technisch einschneidende und ästhetisch ansprechende Umbaumaßnahmen zu erkämpfen.
Georg Fricker ist tot
Von Peter Kohl, Karlsruhe
Der große Karlsruher Kinomacher Georg Fricker ist tot. Er starb am vergangenen Samstag [07.06.2008] in einem Klinikum bei München. Gezeichnet von einem Schlaganfall und einem Krebsleiden konnte man ihm in den letzten Jahren noch einige Male begegnen - als unscheinbarem Gast in seinem eigenen Kino, der Schauburg.
---
SCHAUBURG TODD-AO FESTIVAL HISTORY

• Go to Todd-AO Festival Archive
Schauburg's Printed Program
By Herbert Born
I'm pleased to announce the web publication of all our printed programs brochures from the past Todd-AO Festivals. Publication also include our free monthly magazine (in German) with our current program. All free of charge for on-line reading and free down-load.