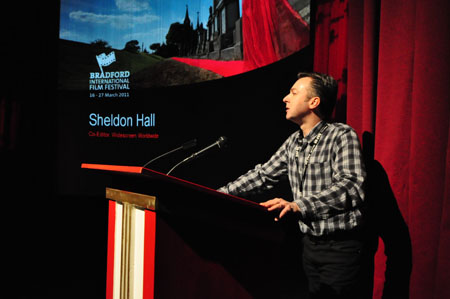 Sheldon Hall introducing "The Great Race" 2011. Image by Thomas Hauerslev

When the film we now know as 2001: A Space Odyssey was first announced for production in early 1965, with a budget of $5 million, it was under the title Journey beyond the Stars. Recalling that MGM had enjoyed a major hit with its previous Cinerama co-venture How the West Was Won (1962, but still playing in theatres three years later), Stanley Kubrick joked that his new film might have to be retitled How the Universe Was Won.

When it was finally delivered, eighteen months after its target completion date and more than twice above its projected cost, 2001 ran 167 minutes, including overture, entr'acte and exit music. It opened on 2 April 1968 at the Capitol Cinerama theatre in New York and in three other U.S. cities (Los Angeles, Boston and Washington, D.C.). The film's critical reception was generally negative, with the New York Daily News awarding it the lowest star rating of any roadshow attraction to that date. Despite this, advance box-office sales were good, and actually rose after the reviews came out. After only three public screenings in New York, Kubrick took out nineteen minutes of footage and in subsequent engagements the film got better notices, including some rave reviews from critics and highly favourable comment from industry insiders. Variety also reported praise from icons of youth culture, including Mick Jagger ("the most fantastic film I've ever seen"), John Lennon ("I see it every week") and one William Kloman ("a film for groovin', not understandin'").

Unlike regular roadshow patrons, 2001's fans did not bother to reserve their tickets in advance or sit in their allotted seats. Nor did they necessarily remain in the seats they chose to occupy: Variety reported that "a curious thing happened during most shows at most theatres" during the climactic "stargate" sequence, when viewers seated further back in the auditorium would move down to the area in front of the screen "where they would lie flat on their backs in order to experience the episode in the most head-on manner possible" (Variety, 29 January 1969, p. 19). Partly in response to such incidents and to reports of "the smoking of marijuana in the balconies", MGM changed its marketing policy on the picture. Initially promoted along conventional sci-fi lines as an "epic drama of adventure and exploration," it was billed in later ads as "The Ultimate Trip" in acknowledgement of its hallucinogenic properties and counter-cultural resonance.

2001 enjoyed its most favourable audience responses in West Coast cities, which had the highest concentration of college campuses, and the worst in Southern cities and border states – the exact reverse of the reception experienced by MGM's contemporaneous 70mm reissue of Gone with the Wind (1939). By the end of 1968, 2001 had earned a domestic rental of $8.5 million from its roadshow engagements. In January 1969 a 35mm version was put into wide general release, but in March the following year the film was reissued in 70mm prints with continuous performances at regular prices. The latter actually performed better than the 35mm release, a story that was repeated with further U.S. reissues in 1974, 1977, 1980 and of course 2001. Ultimately the film earned domestic rentals of $25.5 million and around $40 million worldwide.

More in 70mm reading:

Meeting Abel, Baker, and Charlie: The 2010 Bradford Widescreen Weekend

Wolfram Hannemann's 70mm Film Introductions

Cinerama Showcase

John Harvey "Mr. Cinerama" in Bradford

Speech for John Harvey

WSW 2010 program
Widescreen Weekend Home

Academy of the Wide Screen Weekend

Limited Time Offer!

The M.C.S.-70 Process

Internet link: