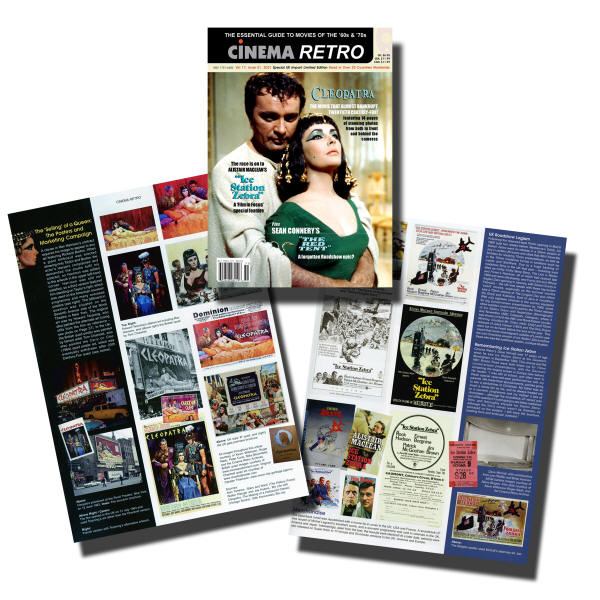 Cinema Retro's Vol 17, Issue 51 featuring "Cleopatra" (in Todd-AO) and "Ice Station Zebra (in Super Panavision 70 / CINERAMA)

The latest issue of Cinema Retro just arrived on in70mm.com's door step. And what a lovely issue, covering no less than TWO 70mm films. "Cleopatra" (in Todd-AO) and "Ice Station Zebra" (in Super Panavison 70 / CINERAMA) with a 16 page story (including page 1 and 2) about the production of the classic "Cleopatra", and no less than 10 pages about the CINERAMA Alistair Maclean spectacular "Ice Station Zebra".

• Go to Howard Terpning and Joseph L. Mankiewicz's "CLEOPATRA"
• Go to "Cleopatra" Revisited

Richard Burton and Elizabeth Tayor is a thrill on the front page of Cinerma Retro magazine issue 51, and inside you can read about construction of the sets, Liz Taylor's contract, revolts among the extras, mattes and miniatures and not least the poster campaign, which was a big scandal, and MUCH more. Here's a quote from Cinema Retro issue 51:
A clause in Rex Harrison's contract required his image to appear in any ad featuring Richard Burton. When a giant billboard was erected showing only Taylor and Burton, the actor's lawyers complained and demanded the studio fulfil his contract, so Harrison was added to the artwork in the upper left-hand corner. Harrison was still not satisfied, so a third version featured him standing on Taylor's right, which was used on the American souvenir programme and many overseas posters. The billboard in question was situated on the Seventh Avenue side of the Rivoli Theatre in New York. The original art was by Howard Terpning, who also painted the alternate art.
• Go to Howard Terpning and Joseph L. Mankiewicz's "CLEOPATRA"
• Go to "Cleopatra" Revisited
• Go to A tribute to Howard Terpning

"Ice Station Zebra" has almost disappeared from "a screen near you" despite the fact it was popular film when it came out (at least in Denmark). Most 70mm prints have been junked, and it is rarely seen at 70mm festivals. Only one German 70mm print is known to exist. The film left an impression on many people, including Cinema Retro's Dave Worrall who was 17 years of age when he saw "Ice Station Zebra" at the Gaumont, Birmingham, in September 1969. This cinema and the ABC Bristol Road were both fitted out for 70mm curved-screen presentations, with the Gaumont containing the largest screen in Europe. He recalls:
"I was still at school, and often went to these special reserved-seat performances with my parents. We made them special events, just like going to see a pantomime at Christmas. My father was as much a movie fan as me, and he always treated me to a souvenir programme and my mother a box of chocolates — although the soundtrack LP record was out of the question! I loved going to see these roadshow films, and thoroughly enjoyed Ice Station Zebra. although the film's climax wasn't as dramatic as portrayed on the posters. I still have the brochure, booking form and lenticular postcard."
in70mm.com recommends Cinema Retro, and especially Issue 51 for fans of 70mm films. If you are not already a subscriber, then hesitate no longer and sign up right away to subscribe to this unique magazine. Thanks to the loyal readers, Cinema retro has made it this far even in an era in which print magazines seem to be going the way of the leisure suit. Then again, Cinema Retro is unique, which may explain why readers are so loyal. No other magazine centers specifically on the great Golden Age of film making: the 1960s and 1970s. Every issue is unique with exclusive interviews, rare photos and insightful columns about classic and cult movies that virtually no one else covers in this kind of detail. CINEMA RETRO, now in it's 16th year of publication, is a 64-page full colour magazine and the Essential Guide to Classic Movies of the 60's and 70's.

And don't forget to check out Cinema Retro's Special Editions about "Where Eagles Dare", Clint Eastwood, 70mm film, American Westerns and James Bond's "Dr. No" to name a few. All must-haves!

Cinema Retro Magazine, and website, are long-time friends of in70mm.com. in70mm.com have collaborated with Cinema Retro Publishers Dave Worrall & Lee Pfeiffer, on several articles since the first issues in 2005.

• Go to Cinema Retro web site and subscribe today!

More in 70mm reading:

in70mm.com's Cinerama page

in70mm.com's Todd-AO Page

Panavison Large Format Motion Picture Systems

Cinema Retro's Coming Issues

"Cinema Retro" - The Golden Age of Film Making

Cinema Retro's Issues 2020

Cinema Retro's Issues 2018

Cinema Retro's Issues 2017

…in Sensurround "Earth-Shattering" - A new dimension to the motion picture

"Where Eagles Dare" - 40th Anniversary 1969 - 2009

"Kelly's Heroes" - Cinema Retro 'Movie Classics' Special

Internet link:


Cinema Retro
Cinema Retro Subscription
Cinema Retro e-bay Store