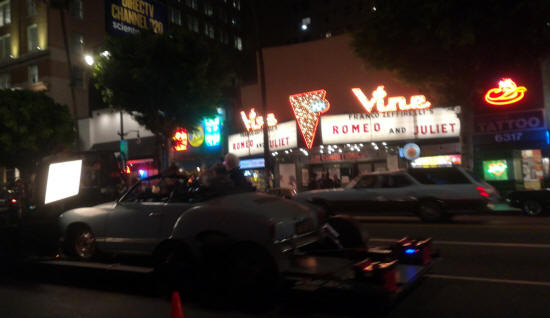 Hollywood's Vine Cinema dressed to show "Romeo and Juliet" as may have looked in 1969 during the time when "Once Upon a Time in Hollywood" takes place. Note the car on a trailer passing the cinema on 23. October 2018. Cast and crew working on a scene from "Once Upon a Time in Hollywood". Picture by August Hauerslev

"Once Upon a Time in Hollywood" will possibly be released with 7OMM prints later in 2019 says a reliable rumor. Directed by Quintin Tarantino in 35mm Panavision, the film will be blown-up to 7OMM.

In February 2018 the movie was announced by the studio in this press release

QUENTIN TARANTINO'S NINTH FILM TITLED ONCE UPON A TIME IN HOLLYWOOD; WILL STAR LEONARDO DICAPRIO AND BRAD PITT

Culver City CA – February 28, 2018 -- Quentin Tarantino's ninth film will be titled ONCE UPON A TIME IN HOLLYWOOD, and will star Brad Pitt and Leonardo DiCaprio, Sony Pictures Motion Picture Group announced today. The film will be released worldwide on August 9, 2019.

Tarantino describes it as
"a story that takes place in Los Angeles in 1969, at the height of hippy Hollywood. The two lead characters are Rick Dalton (Leonardo DiCaprio), former star of a western TV series, and his longtime stunt double Cliff Booth (Brad Pitt). Both are struggling to make it in a Hollywood they don't recognize anymore. But Rick has a very famous next-door neighbor ... Sharon Tate."

More in 70mm reading:

70mm Blow Up List 2019 - by in70mm.com

Now showing in 70mm in a theatre near you!

Quentin Tarantino's "The Hateful Eight" in Ultra Panavision 70

Internet link: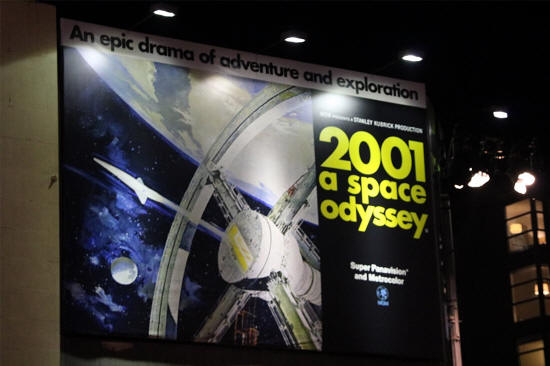 Hollywood downtown set-dressed in October 2018 with contemporary movie posters from 1969 - including this one of Stanley Kubrick's "2OO1: A Space Odyssey". Earlier in 2018 Hollywood's Cinerama Dome was window-dressed with "Krakatoa" posters (Todd-AO, 1969) for the same production. Picture by August Hauerslev

Tarantino worked with Pitt in INGLOURIOUS BASTERDS which grossed over $321 million worldwide and was nominated for eight Academy Awards®, winning for Best Supporting Actor. DiCaprio starred in the director's DJANGO UNCHAINED, which grossed over $425 million worldwide, and was nominated for five Academy Awards®, and won for Best Original Screenplay and Best Supporting Actor. His most recent film was the $532 million-grossing THE REVENANT in 2015, for which he won the Oscar® for Best Actor.

Tarantino comments:
"I've been working on this script for five years, as well as living in Los Angeles County most of my life, including in 1969, when I was seven years old. I'm very excited to tell this story of an LA and a Hollywood that don't exist anymore. And I couldn't be happier about the dynamic teaming of DiCaprio & Pitt as Rick & Cliff."

Premiere:

• 20.07.2019 Pacific's Cinerama Dome, CA, USA (Advance screening)
• 21.07.2019 Pacific's Cinerama Dome, CA, USA (Advance screening)

• 25.07.2019 Music Box Theatre, Chicago, IL, USA
• 26.07.2019 Pacific's Cinerama Dome, CA, USA
• 26.07.2019 City Cinemas Village East, NYC, NY, USA
• 26.07.2019 Alamo Drafthouse, New Mission, San Francisco, CA, USA
• 26.07.2019 Cineplex Varsity, Toronto, Canada