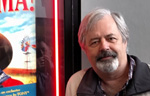 Reflections on the 60th Anniversary of Todd-AO screening of Oklahoma
By Dick Whitney
I began working at American Optical 41 years ago, and today I work for Zeiss, which is now sponsoring the Museum. They purchased AO's eyeglass business 10 years ago. My Father, Donald Whitney, began working at AO in 1947 in ophthalmic lens design. He was hired by John Davis, who later would be involved in Todd–AO.
Todd-AO Conference 1954 at American Optical Company Research Center
By Brian O'Brien, Jr
The people on the picture are from left to right: Skyler Sanford, Bob Surtees, Brian O'Brien, Jr., Walter Siegmund, Mike Todd, Steve Macnielle, Fred Zinneman, Art Miller, Brian O'Brien, Oscar Hammerstein, Arthur Hornblow
"Oklahoma!" - The First Movie Produced by Todd-AO
By Gordon Macrae
On Sunday night I will act as the host of one of the most important telecasts of my career. At that time, I will tell the story of how "Oklahoma!" was made. I will be helped in my storytelling with most of the principals from "Oklahoma!", including the wonderful team of Rodgers and Hammerstein.
The Rivoli Theatre
By John Belton
In preparation for the premiere of "Oklahoma!", the Rivoli underwent an extensive, $350,000 renovation, including the installation of a new booth and new 1600 seats

• Go to Rivoli Theatre, Idependent Film Journal
---

• Go to "Oklahoma!" Cast & Credits

• Go to 3 Falke Bio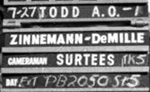 Newly Restored Oklahoma! to open TCM Classic Film Festival
This unique 4k presentation, painstakingly restored from 65mm Todd-AO elements by Twentieth Century Fox and Fotokem, will be screened at 30 frames per second — the same frame rate as when the film was originally released in 1955. The original 6 - track soundtrack has been also restored and re - mastered at Twentieth Century Fox, in collaboration with End Point Audio and Chase Audio by Deluxe.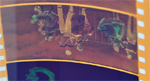 The restoration of the Todd-AO feature Oklahoma
By Paulo Roberto P. Elias
Come 2014 and we were finally granted the result of years of lab work trying to recover the original elements of the Todd-AO feature "Oklahoma!", directed by the renowned Fred Zinemann, and released for theatrical exhibition in 1955.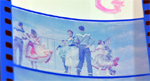 A restauração do clássico Todd-AO "Oklahoma"
Escrito por Paulo Roberto P. Elias
Depois de vários anos de esforço, foi finalmente liberada para exibição digital em cinemas e masterização para mídia a cópia restaurada do filme Oklahoma, adaptação do musical da Broadway e dirigido pelo notável Fred Zinemann. O filme foi lançado em 1955 nos Estados Unidos em cinemas adaptados para o processo Todd-AO e nos demais adaptados para a projeção em CinemaScope.
---
How Todd-AO Began
By Brian O'Brien, Jr.

My father was a college professor, uninterested in show business, and had never heard of Mike Todd, so when Mike called him late one night saying he wanted a meeting, my dad was naturally cautious.
Distortion Correcting Printing Process
By Grant Lobban
The process was originally designed to eliminate keystone distortion, distortion resulting from using a deeply curved screen, plus correcting the distortion arising from use of the extremely wide-angle lenses
"Oklahoma!" Printing Operation in the Todd-AO Mark III Printer
By Dr. Walter P. Siegmund
The American Optical Company has the responsibility of printing the release prints of the motion picture
"Oklahoma!"
. In order that this printing may have the closest supervision, it is planned that, at least for the initial stages, this printing will be done in the Research Center in Southbridge.
Description of Todd-AO Mark III Printer Principle
By Dr. Walter P. Siegmund
The problem of obtaining any given overall frame keystone correction (K-correction) along with any given droop while at the same time matching the "intrinsic" printer keystone requires the control of several factors in the printing system. The focal length of the printer lens and the bridge angle determine the intrinsic keystone. The curvature of field of the printer lens and the bridge angle determine the droop.
---
AFI's Spectacular 70MM Festival
By Howard B Hass
On Sunday, I found myself in the historic auditorium of the AFI Silver, at the "70mm Spectacular, Part 3" watching the first ever Todd-AO movie, "Oklahoma!". This screening was from the new DCP restoration, made from the 65mm negative. The film, especially its colors, looked gorgeous, really phenomenal. The scenery and costumes looked great. As wonderful as it looked, no 4k DCP has the resolution of 70mm.


Reviews:
• Go to New York Times
• Go to Hollywood reporter
• Other 1955 reviews
• Oklahoma! + "Oklahoma!"
The Samuel Goldwyn Co 1982 re-release of "Oklahoma!"
The Samuel Goldwyn Co
The re-release, to begin in November, will mark the first time "Oklahoma!" has been shown in its original form since its initial release. First dates will be in Oklahoma City, to coincide with the 75th anniversary of the state of Oklahoma, and in Los Angeles. Openings will follow in New York, San Francisco, Seattle and other key cities.