TODD-AO PROCESS HISTORY
How Todd-AO Began
By Brian O'Brien, Jr.


My father was a college professor, uninterested in show business, and had never heard of Mike Todd, so when Mike called him late one night saying he wanted a meeting, my dad was naturally cautious.

Finally, he called one night and said "OK Doctor, I give up. I have been looking into the companies you mentioned and American Optical looks like the best bet. What do I do now?" "Fine" said my dad, "I am having lunch with Walter Stewart, President of AO next Tuesday. Why do you not come up to Southbridge and have lunch with us?".
Todd-AO Birth date
By Brian O'Brien
On October 15th, 1952 I received a phone call from a Michael Todd in New York City, who wished to come to see me at Rochester that evening. I had never heard of Todd, but it seems that he is a well-known Broadway producer.
Brian O'Brien, Jr. tracks American Optical Co's development of the Todd-AO process
By Thomas Hauerslev
Between 1953 and 1956, Brian O'Brien, Jr.'s secretary made a scrapbook with newspaper and trade magazine clips about the development of Todd-AO. A green ring binder with 132 pages of clippings, adverts and stories about one of the most significant films formats from the 20th century. It has been one of my goals to make all this available on in70mm.com for many years. Here it is as PDF files, and organized page by page in a very low-tech manner.
Brian O'Brien Biography
By Walter P. Siegmund and Brian O'Brien, Jr.
Brian O'Brien was born in Denver, Colorado, in 1898 to Michael Phillip and Lina Prime O'Brien. His education started in the Chicago Latin School from 1909–1915, and continued at the Yale Sheffield scientific school where he earned a Ph.B. in 1918 and a Ph.D. in 1922. In 1922 he married Ethel Cornelia Dickerman and they had one son, Brian, Jr..
Todd-AO Conference 1954 at American Optical Company Research Center
By Brian O'Brien, Jr
The people on the picture are from left to right: Skyler Sanford, Bob Surtees, Brian O'Brien, Jr., Walter Siegmund, Mike Todd, Steve Macnielle, Fred Zinneman, Art Miller, Brian O'Brien, Oscar Hammerstein, Arthur Hornblow
TODD-AO STORY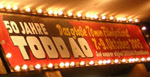 In the Splendour of 70mm
By Grant Lobban

While working on "This Is Cinerama" Michael Todd became convinced that there must be an easier way of achieving the same "wrap around" effect using only one projector and a single strip of film.
Grant's Blow-up Blog
By Grant Lobban
A blow-up is the term used to describe a print made by enlarging, or "blowing-up", smaller formats, usually those on 35mm film, but 70mm prints have also been derived from 16mm and even 8mm originals.
Todd-AO The Show of Shows
By John Belton
"Oklahoma!" was a hot ticket; even Cecil B. DeMille had trouble getting seats during the first few weeks of its run. Todd-AO was about showman-ship. It provided high quality subject matter, lavish production values, big screen entertainment, and six-track stereo magnetic sound.
The Amazing Optical Adventures of Todd-AO

By Jeff Hecht

Todd had just launched Cinerama, a wide-screen system that put the audience in the middle of the action. Yet he knew the cumbersome three-projector Cinerama system dated from before World War II, and had split with his partners even before the first Cinerama film opened.
Hollywood Comes to American Optical Co.
Roy C. Gunter Jr.

O'Brien was interested in what Todd said about Cinerama and sent Siegmund to New York to look at the system. He reported back to O'Brien that while the optical system was not really sophisticated, the audience response to the wide screen was clearly favorable.